The Trump administration is still pushing for direct stimulus payments to Americans, weeks after talks between congressional Democrats and Republicans stalled, White House chief of staff Mark Meadows says.
"I even think that we can come up with an agreement on stimulus checks to Americans and enhanced unemployment," Meadows told reporters on Aug. 22, suggesting that Democrats are the ones that need to act first. "Those issues are not as divisive as we might think."
The talks came to a halt over differences about the size and scope of the relief package. Democrats in the House passed a $3.4 trillion bill in May, while Republicans proposed a bill worth about $1 trillion.
Meadows said the White House might again take executive action if no stimulus deal is made.
"Listen, we're always looking at options that we can deploy from 1600 Pennsylvania Ave.," he said when asked about President Donald Trump issuing more executive orders. Earlier this month, Trump took executive action to continue $300-per-week stimulus payments, defer student loan payments, defer payroll taxes, and look into placing a moratorium on evictions.
"Never underestimate the dysfunction of Congress, and never underestimate the ability of this president to try to figure a way to meet the needs of the American people," Meadows added.
He didn't make clear whether Trump would attempt to issue an executive order on $1,200 stimulus payments, although Trump said earlier this month in a news conference that he would need Congress to authorize such a measure.
The relief packages are intended to offset economic damage caused by the CCP (Chinese Communist Party) virus pandemic.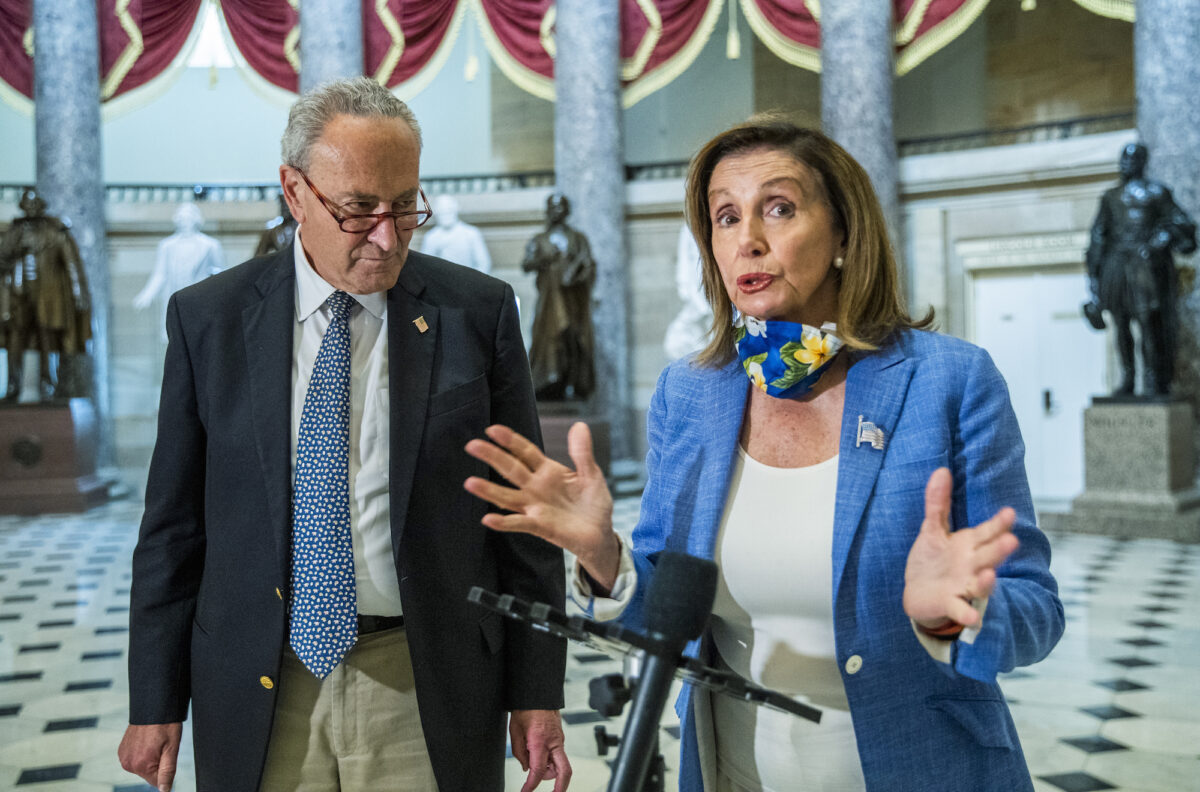 Meadows said that it's important to try to provide economic stimulus measures.
"Let's at least pass what we can all agree to," Meadows noted.
Meadows said he attempted to meet with House Speaker Nancy Pelosi (D-Calif.) to discuss moving forward with the stimulus package. Pelosi wasn't available when he arrived, he said.
"I will reach out to the Speaker. I went by. She was in a meeting, and, certainly, as Secretary [Steven] Mnuchin and I, as you know, the secretary reached out a few weeks ago," he said, referring to the Treasury secretary. "[Pelosi] made it clear at that point that there was no real need to continue to vote.
"But we're taking this vote on the House floor as a real willingness on her part to look at a more targeted solution," he added. "I know I've talked to a number of Senate colleagues as well about a more targeted solution to meet the needs."
The House convened Aug. 22 to pass measures aimed to fund the U.S. Postal Service (USPS) and preventing the agency from making organizational charges with Election Day just weeks away.
"If it's urgent enough to come back on a Saturday, you know, hurting small businesses and people that are hurt without jobs [are] certainly a priority as well," Meadows said in reference to the USPS vote.
Pelosi, in an Aug. 22 news conference, rejected the White House's push.
"He didn't say anything about schools. He didn't say anything about crushing the virus. He didn't say anything about people who are being evicted. He didn't say anything about food insecurity among millions of America's children. He didn't say anything about state and local [governments]," she said, appearing to outright reject any new Republican proposals on CCP virus relief.
It isn't clear when Democrats and the White House might meet again.