The White House has not yet finalized details on providing journalists with access to observe the operations at holding facilities for illegal immigrants at the U.S. southern border, press secretary Jen Psaki confirmed on Tuesday.
"I expect you'll know—you'll have more details soon. But our plan is to make access available, likely through a pool, and we're working to finalize those details," Psaki said while responding to a reporter's question.
This comes amid growing frustration from lawmakers and press advocacy groups over the Biden administration's media blackout at border facilities. Reporters, such as Getty Images correspondent John Moore, have complained about the lack of transparency and "zero access" along the border as the historic surge of illegal border crossings, particularly from unaccompanied minors, continues to pose a significant challenge for the administration.
Earlier this month, the Department of Homeland Security stated that Secretary Alejandro Mayorkas's trip to the border, including El Paso, Texas, "will be closed to press due to privacy and COVID-19 precautions."
When pressed to address the issue, Psaki said the administration remains "committed to transparency" but has not yet been able to provide reporters with any details or a specific timeframe about when more media access will be allowed.
"We are working through with the Department of Health and Human Services, and also the Department of Homeland Security to ensure privacy and to ensure that we are following COVID protocols," the secretary told reporters at the White House earlier this week. "We remain committed to transparency, and of course as I noted last week, we certainly want to make sure the media has access to these sites."
Earlier this week, Customs and Border Protection (CBP), Rep. Henry Cuellar (D-Texas), and Project Veritas separately released photos of unaccompanied minors—children who unlawfully enter the country without an adult—sleeping on the floor in crowded conditions.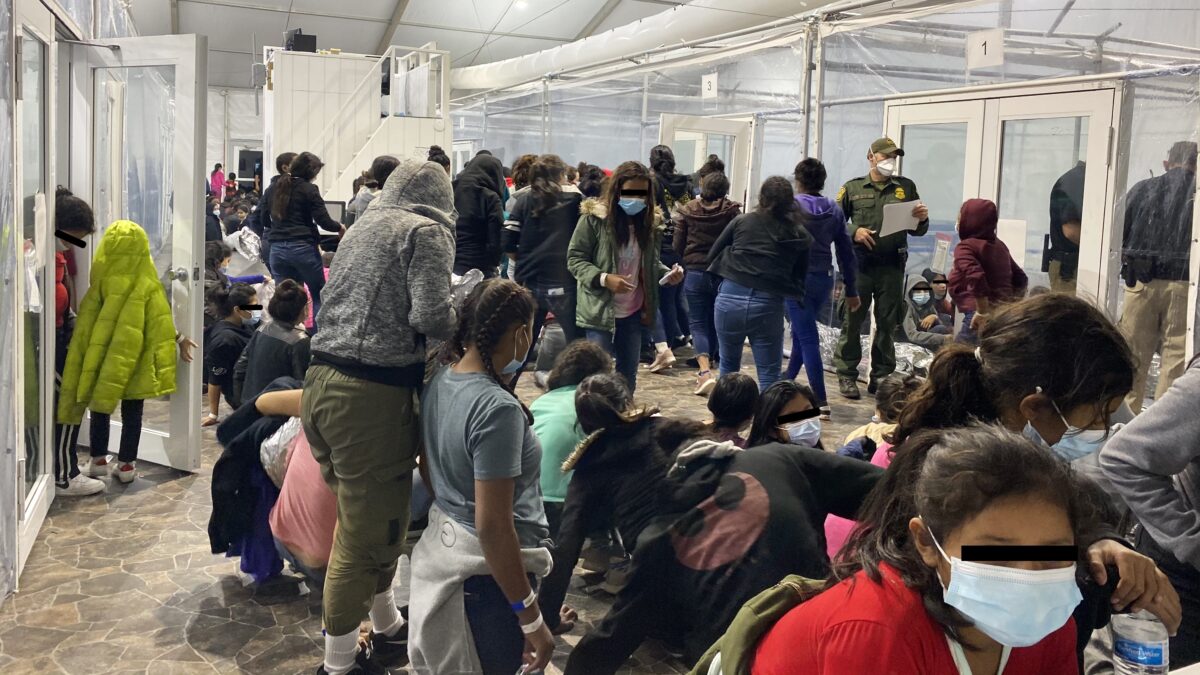 The CBP photos, which were taken in a Donna, Texas, overflow facility, show what appear to be children sleeping shoulder-to-shoulder on floor mats with what appear to be aluminum blanks—and on benches. Another photo shows a large line of male illegal immigrants waiting to be processed, while another photo shows small children inside a playpen as a TV is showing children's shows.
Meanwhile, photos of an overflow tent facility in Donna, Texas, provided by Cuellar to The Epoch Times show similar conditions, with some children also photographed sleeping on the floor without a mat.
Cuellar, whose office first shared the photos with Axios, told the news outlet that one "pod" held more than 400 unaccompanied male minors. The pods are supposed to hold a maximum of 260 people, he said.
The pods provide "terrible conditions for the children," Cuellar added, saying these children should be moved to be housed and cared for by the Department of Health and Human Services (HHS).
The administration is racing against time to address the burgeoning crisis as illegal border crossings continue to rise. Mayorkas acknowledged last week that the United States is "on pace to encounter more individuals on the southwest border than we have in the last 20 years."
President Joe Biden, who vowed to reverse his predecessor's immigration policies during his campaign, recently pleaded to Central American migrants to stay put in their "town or city or community" instead of making the dangerous trip to illegally cross into the United States.
Upon taking office, Biden reversed several Trump-era immigration policies, including his predecessor's key Migrant Protection Protocol, which sought to end the problematic "catch and release" policy and is credited for significantly stemming the flow of illegal immigrants in 2019. In a return to the Obama-era policies that facilitate "catch-and-release," asylum seekers are released into the interior of the country as they await a court hearing, often never to be seen again.
The Pentagon confirmed to reporters on Tuesday that HHS sent a request for assistance to temporarily house unaccompanied minors at two Texas military facilities.
Jack Phillips contributed to this report.