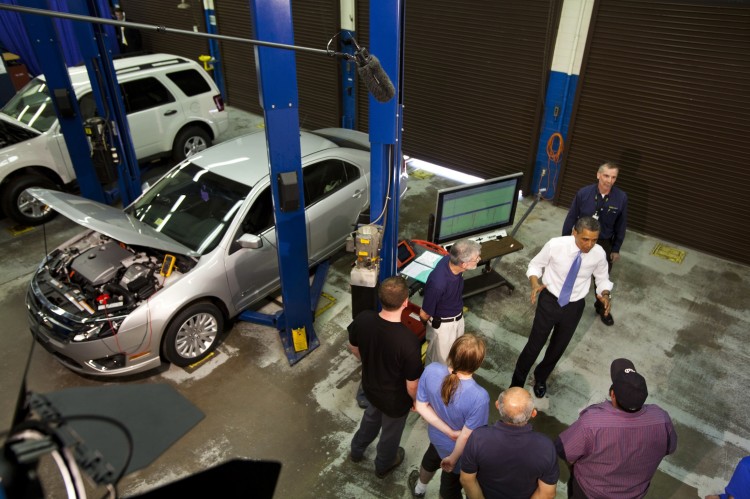 In an effort to increase the number of skilled workers in the nation's workforce, community colleges looking to partner with business and industry to meet local demands may be getting help from the federal government in the near future.
At Northern Virginia Community College on Monday, President Barack Obama addressed the issue by announcing $8 billion in funding for a proposed Community College to Career Fund, as part of his 2013 Budget Plan.
The $8 billion will be distributed through the Departments of Education and Labor.
The framework of the program partners community colleges with businesses, and provides an estimated two million students with hands-on training that targets "good-paying jobs in high-growth and high-demand industries," according to a White House press release.
"The idea isn't a novel one, it's what all community colleges do," commented Patty Keeton, executive director of workforce development at Howard Community College (HCC) in Maryland.
As Keeton recounts, two years before a manager from a local construction group contacted HCC, expressing a desire to work with the school. The manager called and said, "We don't have enough construction managers," Keeton said.
As the school worked on a solution, much time and collaboration were put into creating curriculum. Although the result was a small program, many students were attracted to it. "A lot of engineer students realized they weren't cut out for it, and decided to go for a white collar job as a construction manager," Keeton said.
Keeton explained that the decision to work with the construction company in developing skilled employees was a natural one. "You can't be a community college and not hear your community's demands," she said.
HCC recently created a project management training program for those unemployed who have degrees but need that extra certification. "We customize the classes to their schedule, and from my understanding, almost everyone of them has been placed in employment," Keeton said.
"The non-credit side [of college curriculum] especially responds to business needs," she said.
Unfortunately, Keeton says the school has endured financial losses in recent years, losing state and workforce investment funds. "We have very little financial support to offer businesses to participate. If this [budget proposal] can help business offset the costs of building a curriculum, I think this is a marvelous idea," Keeton said.
The White House says the program will bring business investment to the country. "The Community College to Career Fund will allow federal agencies to partner with state and local governments to encourage businesses to invest in America," says a WhiteHouse.gov statement. "State and local governments will be able to apply for grants to encourage companies to locate in the U.S. because of the availability of training to quickly skill up the local workforce."
The plan targets the health care, transportation, and advanced manufacturing sector—all in high demand of workers. The taxpayer funding will also pay for low-income community college students to attend internships.
According to Mike Griffith, senior policy analyst at Education Commission of the States, there are many issues involved that the plan may not touch. According to Griffith, problems such as "the quality of the education itself and getting students to successfully complete these two years" continue to worry colleges.
"We've seen some good and mixed results in some states," Griffith said. "Some states have started talking about a business partnership with community colleges, but it is not a strong partnership. That's when things tend to fail."