Treasury Secretary Steve Mnuchin and White House chief of staff Mark Meadows are calling on Congress to pass a coronavirus relief bill using leftover funds from the small business loan program, as talks again hit a snag.
"The all or nothing approach is an unacceptable response to the American people," they wrote to members of the Senate and House on Oct. 11, saying Congress should "immediately vote on a bill" that would enable the use of unused Paycheck Protection Program (PPP) funds. The PPP was authorized under March's CARES [Coronavirus Aid, Relief, and Economic Security] Act.
As of August, about $130 billion was still available in the PPP. The program was intended to provide funding for businesses to pay workers' salaries.
"Over the last few months," Mnuchin and Meadows wrote, "we have tried to work on a bipartisan basis to pass additional legislation." They reiterated that their bills are intended to provide funding for testing, vaccines, medical care, schools, small businesses, airlines, extra unemployment benefits, and provide "direct payments to American citizens."
They asserted that the House, which is controlled by Democrats, has "passed two separate partisan stimulus bills," instead of coming to a compromise with the White House and Republicans.
"It is not just about the top-line number, but also about legislation that can be passed by both the House and the Senate and signed into law by President Trump," the two said.
Their letter came about a day after House Speaker Nancy Pelosi (D-Calif.) wrote to Democrats that she's rejecting the White House's latest stimulus offer, worth $1.8 trillion, to combat the CCP (Chinese Communist Party) virus.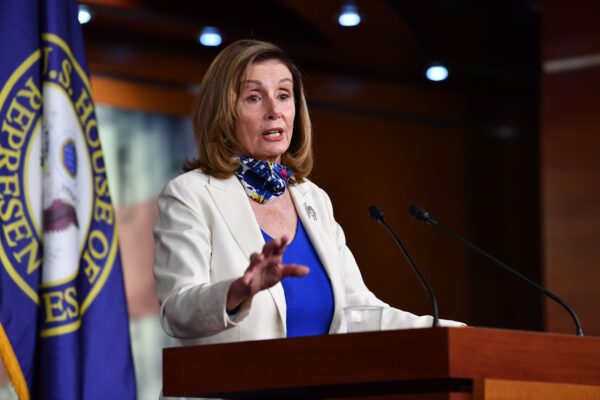 "When the president talks about wanting a bigger relief package, his proposal appears to mean that he wants more money at his discretion to grant or withhold, rather than agreeing on language prescribing how we honor our workers, crush the virus and put money in the pockets of workers," she wrote.
"At this point, we still have disagreement on many priorities, and Democrats are awaiting language from the administration on several provisions as the negotiations on the overall funding amount continue."
Mnuchin floated the $1.8 trillion proposal on Oct. 9 in a 30-minute phone conversation with Pelosi, according to the White House.
The new White House package was higher than an earlier $1.6 trillion Mnuchin offer and closer to the $2.2 trillion the Democratic-controlled House of Representatives passed last week. White House spokeswoman Alyssa Farah said the administration wanted to keep spending below $2 trillion but was eager to enact a fresh round of direct payments to individuals as well as aid for small businesses and airlines.
Meanwhile, Senate Majority Leader Mitch McConnell (R-Ky.) said he doesn't believe lawmakers will pass a stimulus package before the November election.
"The proximity to the election and the differences of opinion over what is needed at this particular juncture are pretty vast," McConnell told a news conference last week.
Reuters contributed to this report.