In an unprecedented move, a White House spokesperson said President Donald Trump wants the impeachment trial to go forward in the Senate because he would receive due process and hopes Vice President Joe Biden will be a witness.
"President Trump wants to have a trial in the Senate because it's clearly the only chamber where he can expect fairness and receive due process under the Constitution," White House spokesman Hogan Gidley said in a statement, reported the Reuters news agency on Thursday evening.
"We would expect to finally hear from witnesses who actually witnessed, and possibly participated in corruption—like Adam Schiff, Joe Biden, Hunter Biden, and the so-called whistleblower, to name a few," Gidley added, referring to House of Representatives Intelligence Committee Chairman Schiff (D-Calif.), the leader of the impeachment inquiry into the president.
The focus of the Democrat-led impeachment inquiry is a July 25 phone call in which Trump asked Ukrainian President Volodymyr Zelensky to "look into" Joe Biden and Hunter Biden, who sat on the board of a Ukrainian natural gas firm, Burisma Holdings, until earlier this year. The Ukrainian government is currently investigating Burisma's founder, whose whereabouts are unknown, for embezzling state funds.
Democrats said that Trump abused his power by allegedly withholding military aid to Kyiv in exchange for investigations or a meeting. Trump, Zelensky, Ukraine's foreign minister, and other White House officials have denied quid pro quo and bribery allegations.
Trump and other Republicans have repeatedly called on the whistleblower to testify in the House hearings and allege that the person is effectively the origin of the impeachment investigation. Democrats have said that other witnesses' testimony supersedes the original whistleblower complaint about the July 25 phone call and have added that whistleblower protection measures should be adhered to.
Republicans have also alleged that the whistleblower may have colluded with Schiff's office before the impeachment inquiry was launched, a claim that Schiff has denied. During the impeachment hearings, Schiff said he doesn't know the identity of the anonymous person.
Several top Republican senators, meanwhile, have signaled that they would call the Bidens and the whistleblower.
One of them is Senate Judiciary Committee Chairman Lindsey Graham (R-S.C.), who sent a letter to Secretary of State Mike Pompeo on Thursday requesting documents related to Biden and his communications with Ukrainian officials.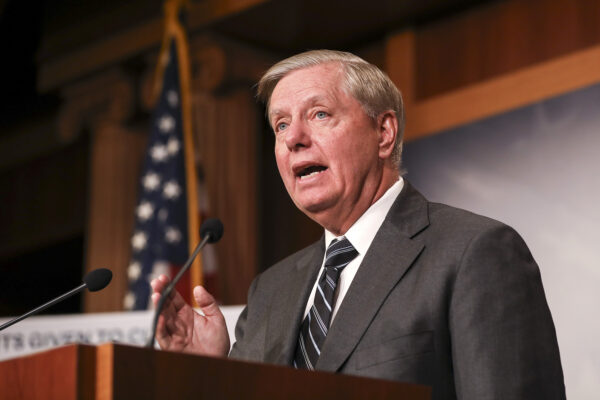 He is trying to access any calls Biden may have made to Petro Poroshenko, a former Ukrainian president, about the firing of Ukraine's top prosecutor as well as any references to Burisma.
Graham also is seeking any documents related to a meeting between Devon Archer, Hunter Biden's business partner, and former Secretary of State John Kerry.
Such documents will "assist in answering questions regarding allegations that Vice President Biden played a role in the termination of Prosecutor General [Viktor] Shokin in an effort to end the investigation of the company employing his son," he said.