House Republicans on Feb. 2 voted to remove Rep. Ilhan Omar (D-Minn.) from the House Foreign Affairs Committee (HFAC) over past comments that critics have called anti-Semitic.
The resolution passed the lower chamber along party lines, with 218 Republicans voting to remove Omar and 211 Democrats voting against the resolution. One lawmaker voted present. Three Republicans and one Democrat did not vote.
Despite some pushback from GOP critics of the move, the measure easily overcame a procedural hurdle to begin debate in a 218–209 vote along party lines on Feb. 1.
Omar has in the past been critical of the state of Israel, whose treatment of nearby Christians and Muslims in Palestine is one of the most hotly contested issues in modern geopolitics.
In 2019, Omar replied to a tweet from journalist Glenn Greenwald:
"GOP Leader Kevin McCarthy threatens punishment for [Omar] and [Rep. Rashida Tlaib (D-Mich.)] over their criticisms of Israel," the tweet reads. "It's stunning how much time US political leaders spend defending a foreign nation even if it means attacking free speech rights of Americans."
In her reply, Omar said, "It's all about the Benjamins baby."
Critics ranging from Speaker of the House Kevin McCarthy (R-Calif.) to Senate Majority Leader Chuck Schumer (D-N.Y.) said that this was a covert antisemitic trope, and many lawmakers on both sides of the aisle have in the past contended that criticism of Israel constitutes antisemitism.
"Rep. Omar's use of an anti-Semitic stereotype was offensive and irresponsible," Schumer said in a Feb. 2019 tweet.
"This kind of intolerance has no place in Congress—or anywhere in American society," he added. "No one should invoke anti-Semitic tropes during policy disagreements."
Omar later apologized for those remarks.
McCarthy has long promised that he would remove Omar from the HFAC when he got the gavel. McCarthy has contended that Omar's past comments about Israel make it a national security issue for her to serve on the committee.

Israel is commonly identified as America's most important military ally in the Middle East, and the tiny nation receives billions of dollars in financial aid from the United States.
White House, Democrats Respond
Asked about the resolution by a reporter during the White House daily press briefing on Feb. 2, Press Secretary Karine Jean-Pierre called it "a disservice to the American people."
"Omar is a highly respected member of Congress," Jean-Pierre said. "She has apologized for her comments she made in the past … and has been vocal about condemning anti-Semitism, as well as affirming our strong alliance and important partnership with Israel."

Jean-Pierre called the move to take Omar off of the HFAC "a political stunt."
House Minority Leader Hakeem Jeffries (D-N.Y.) also passionately opposed the move during a House Democrat leadership press conference the same day.
"What's going to take place on the floor today is not a public policy debate. It's not about accountability," Jeffries said. "It's about political revenge."
During the 117th Congress, Democrats used a similar process to the one being used against Omar to remove Reps. Marjorie Taylor Greene (R-Ga.) and Paul Gosar (R-Ariz.) from all of their committee assignments.

Democrats cited comments then-newly elected Greene had made about the Jan. 6 Capitol breach—comments that she had apologized for and disavowed prior to being sworn in as a lawmaker. Gosar was removed after he posted a video to social media that Democrats claimed threatened violence.
Jeffries claimed these were qualitatively distinct instances.
"The line should be drawn when there are members of Congress who are actively threatening violence against colleagues," Jeffries said, implying that Greene and Gosar's social media posts implied a true threat to other members. "We take violent threats seriously because we've lived them."

Jeffries also said the move would make it harder for Democrats and Republicans to work together moving forward.
"This kind of poisonous, toxic double standard, it's going to complicate the relationship moving forward with House Democrats," he said.
Jeffries also reiterated his own support for Israel, which he said has "shared values and shared strategic interests."
Rep. Steny Hoyer (D-Md.), the former Democrat majority leader, agreed on the House floor that Omar's situation was different from that of Greene and Gosar.
"[Greene and Gosar] were not removed for their speech," Hoyer said. "They were removed because they made threats against other members [of Congress]."
"There is no equivalency here," Hoyer added. "We believe in free speech, no matter how hateful that speech is."
Rep. Pramila Jayapal (D-Wash.), who leads the Congressional Progressive Caucus, simply called the bill "a revenge resolution."
Rep. Rashida Tlaib (D-Mich.) called it a distraction "from Republicans' total inability to govern."
Claims of Discrimination
Unsurprisingly, many Democrats took the opportunity to claim that Omar's removal was discriminatory.
In comments on the House floor opposing the removal, Rep. Alexandria Ocasio-Cortez (D-N.Y.) said the bill was "targeting women of color."

She referenced the social media post that got Gosar removed during the last Congress.
In the video, a spoof of the anime "Attack on Titan," Ocasio-Cortez was depicted as a Titan—a giant man-eating creature in the show—being "slain" by Gosar. Since Republicans took over, Gosar has regained his committee assignments.
"I had a member of the Republican caucus threaten my life and the Republican caucus rewarded him with one of the most prestigious committee assignments in this Congress," Ocasio-Cortez said.
Rep. Mark Pocan (D-Wis.) also claimed that the removal was discriminatory.
"Being a smart outspoken black woman of the Muslim faith is apparently the issue," Pocan said.
Omar echoed this, calling herself "a Muslim woman from Africa. Is anyone surprised that I'm being targeted?"
"I am an American," Omar said. "I am an American who was sent here by my constituents to represent them in Congress."
'This Is Not the Same': Republicans
During the Jan. 31 GOP leadership press conference, Scalise argued that removing Omar "is not the same [as what happened to Greene and Gosar]" in a number of regards.
"No. 1, they went after Marjorie Taylor Greene for things that she had said before she was a member of Congress, that she denounced before she was a member of Congress."
"It was very personal when they removed her from every committee," Scalise added.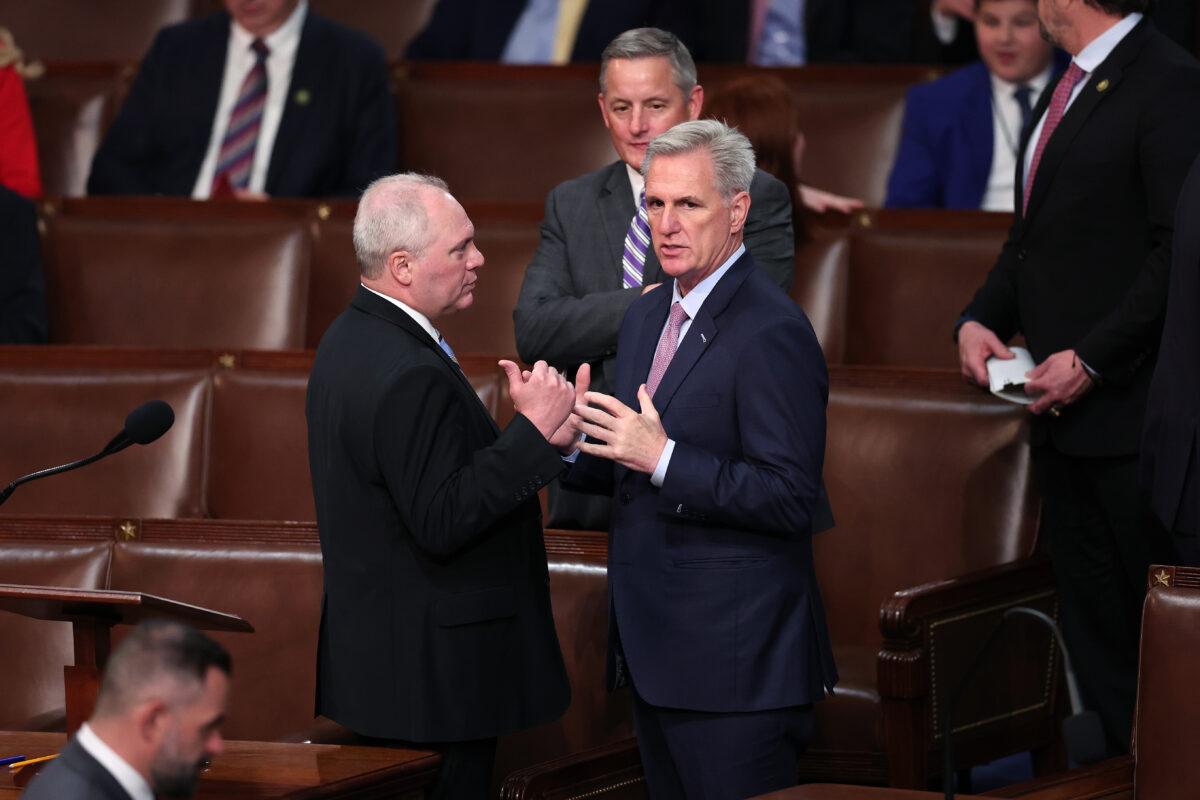 Speaker McCarthy agreed during a press conference on Feb. 2, emphasizing that Greene's removal was for comments she had said and disavowed prior to being sworn in.
McCarthy also dismissed Jeffries' fiery comments during his own press conference earlier on Feb. 2.
McCarthy noted that he had followed all proper procedures in having Omar barred from the HFAC.
Republicans, Scalise emphasized, do not intend to go as far as Democrats did by removing certain members from all their committees.
"Even if Omar were to be removed from the Foreign Affairs Committee, she will be allowed to serve on other committees," Scalise said. "So a lot of big differences."
He added, "If Omar is concerned about being removed, probably be good if you would ask her why she voted to remove Marjorie Taylor Greene and Gosar from their committees, because she did vote to do that."
Republican Critics Call Foul
Several Republicans had been critical of the move to strip Omar of her assignments.
Before the vote, Omar said that several Republicans had privately told her that they opposed the effort to remove her, reporting that those Republicans had called it "unjust."
"They are trying to do whatever it is that they can within their conference to make sure there is no vote to remove me from the Foreign Affairs Committee," Omar said.
Rep. Victoria Spratz (R-Ind.) has been one of the most outspoken GOP critics of the move, which she called a "charade."
"Two wrongs don't make a right," Spartz said in a statement. "Speaker Pelosi took unprecedented actions last Congress to remove Reps. Greene and Gosar from their committees without proper due process. Speaker McCarthy is taking unprecedented actions this Congress to deny some committee assignments to the minority without proper due process again."
In a separate statement, delivered on the House floor, she argued much the same.
"As someone who grew up under dictatorship in the Soviet Union, I cherish these freedoms tremendously and understand how hard is to get them back when you lose them. Therefore, regardless of politics, I will vigorously defend our Constitution and our rights," Spratz said. "We are not a kangaroo court and have proper committees, like Ethics or Judiciary, to provide proper due processes to all individuals or we can lose credibility with the American people.
"I adamantly argued for proper due processes last Congress as a member of the Judiciary Committee, so I am not planning to become a hypocrite now."
Spratz was not the only critic.
Rep. David Joyce (R-Ohio) told The Washington Post last week that he thinks the committee assignments should be left to "the confines of each party" to figure out.
He added that Democrats' use of the process against Greene and Gosar during the last Congress "creates this retaliatory issue for our conference."
Schiff and Swalwell
Omar is not the only Democrat whose committee assignments are up in the air.
Republicans have also said they will refuse to grant Reps. Adam Schiff (D-Calif.) and Eric Swalwell (D-Calif.) seats on the Intelligence Committee.

On Feb. 1, Omar told reporters that she opposed barring Schiff and Swalwell from any committee.
"Unless McCarthy can say how myself, Adam Schiff, and Eric Swalwell are a danger to the institution, our colleagues, then he's not following the example that was set by Speaker Pelosi," Omar said.
Notably, during the 117th Congress, then-Speaker of the House Nancy Pelosi (D-Calif.) took the unprecedented step of refusing then-House Minority Leader Kevin McCarthy's picks for the Jan. 6 Select Committee.
McCarthy had pegged Rep. Jim Banks (R-Ind.) for the top spot on the committee and Rep. Jim Jordan (R-Ohio) to serve under him. Pelosi refused the picks, claiming that they would hurt the integrity of the investigation, and instead appointed former Rep. Liz Cheney (R-Wyo.) as ranking member on the GOP side, as well as former Rep. Adam Kinzinger (R-Ill.).
The Intelligence Committee, in contrast to most House committees, is permitted to access information about classified intelligence, which most other members of Congress are not allowed to see. Thus, McCarthy has indicated that he considers the Intelligence Committee qualitatively different from any other House commission.
It is for this reason that McCarthy has said he will not allow either Schiff or Swalwell onto the committee, citing significant ethics concerns for each.
Schiff has, on a handful of occasions and particularly during his time on the now-defunct House Jan. 6 panel, doctored or tampered with evidence. The most well-known instance of this tampering came in December 2021, when Schiff presented misleadingly-edited screen caps of a text conversation between Rep. Jim Jordan (R-Ohio) and former White House Chief of Staff Mark Meadows.
During a speech on the House floor on Feb. 2, Schiff expressed opposition to the resolution against Omar, saying that while Greene and Gosar had been removed from their committees for "inciting violence" against members of Congress.
"There is nothing like that at issue here," Schiff said.
Swalwell would pose national security concerns if he were permitted on the committee due to his well-documented past relationship with a Chinese spy, McCarthy has said.
"Speaker McCarthy has made clear where we are, whether it's for Adam Schiff and Swalwell on Intelligence, as well as Omar for Foreign Affairs," Scalise said on Jan. 31.