White House press secretary Jen Psaki confirmed that the Biden administration plans to divide its infrastructure proposal into two parts as part of a push to gain support from congressional Republicans for the different priorities.
President Joe Biden is set to outline the first part of the proposal this week that focuses on rebuilding roads, bridges, and other infrastructure. Later in April, Biden is expected to lay out a separate plan that addresses child and health care.
Biden first floated a $2 trillion infrastructure plan while campaigning.
"Two separate proposals, and we'll work with the Senate and House to see how it should move forward," Psaki told "Fox News Sunday" on March 27, when asked by host Chris Wallace whether the infrastructure package would be dealt with in one or two bills introduced by congressional Democrats.
Democrats have said the package would include roughly $1 trillion for roads, bridges, rail lines, electric-vehicle charging stations, and the cellular network, among other items. The goal would be to facilitate the shift to supported "green" energy while improving economic competitiveness.
A second component would propose benefits for workers, including free community college, universal pre-kindergarten, and paid family leave.
The White House has so far declined to specify an overall price tag for the proposal amid concerns over how it would be funded. Democrats have proposed a wealth tax as a potential funding mechanism, and more recently, a mileage tax that would tax Americans for each mile they drive.
Other funding possibilities include a new set of bonds, a carbon tax, and an increase in gasoline taxes. Psaki has said that Biden is generally supportive of using tax increases to fund the proposal.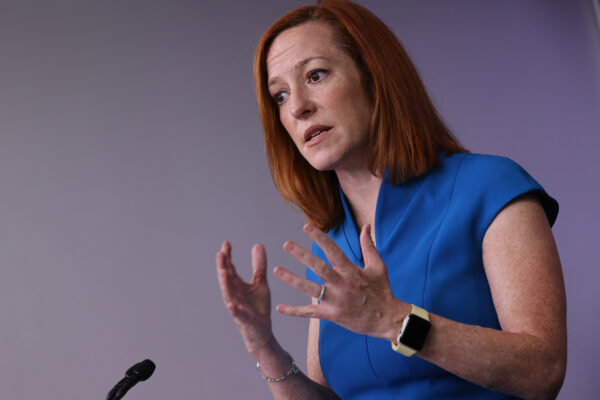 Biden is expected to elaborate on his proposal for federal investments in physical infrastructure in a speech on March 31 in Pittsburgh.
Republicans have largely signaled opposition to the infrastructure proposal, which has yet to be formally rolled out because of its size, because they say there are indications they'll be frozen out of negotiations yet again.
Democrats in Congress, however, have signaled a willingness to go it alone if they are blocked by Republicans, given their current control of both houses.
Earlier this month, Sen. Bernie Sanders (I-Vt.) said that he plans to attempt to pass the infrastructure bill by using a budget process to cut out Republicans, even though several Democrat senators have said they won't support utilizing the method.
The latest COVID-19 relief package was passed with zero Republican votes after congressional Democrats used the reconciliation budget process to bypass the filibuster, which lowered the threshold required in the upper chamber to a simple majority from 60 votes.
Zachary Stieber contributed to this report.