Putting a hold on congressionally approved military aid for Ukraine was appropriate and routine, the White House Office of Management and Budget (OMB) said in a memo published by news outlets on Dec. 11.
"OMB took appropriate action, in light of a pending policy process, to ensure that funds were not obligated prematurely in a manner that could conflict with the President's foreign policy," OMB general counsel Mark Paoletta wrote in the memo.
President Donald Trump asked about the Department of Defense's plans for $250 million in aid for Ukraine and the OMB started discussions with the Pentagon about the aid. A pause was placed on the aid but the Pentagon never told the office that it was prevented from obligating funds, and data from the department indicated it wasn't going to obligate most of the aid until mid-to-late September, Paoletta said.
The aid was released on Sept. 12.
Congress approved $391 million in aid for Ukraine this year in two separate actions. $115 million was earmarked under the Foreign Military Financing Program and submitted to Congress on Sept. 11. The funds could not be apportioned for at least 15 days due to a statutory congressional notification period, Paoletta said. The funds were apportioned and obligated on Sept. 30, similar to how the previous fiscal year's funding was obligated on Sept. 28, 2018.
Paoletta said that the review of the aid was part of the Executive Branch's constitutional duty.
"The executive branch has a duty to taxpayers to ensure that appropriations are spent wisely, in accordance with statutory requirements. As stewards of taxpayer funds, OMB always has and will continue to take seriously its legal duty to oversee agency spending, and apportion funds appropriately, in accordance with … applicable laws," he wrote.
He also said that Congressional committees have put holds on billions of dollars of congressionally approved aid in the last three fiscal years, including a hold of 321 days.
"If compliance with constitutionally non-binding directives from congressional committees to hold funds is not a deferral, then certainly a delay in obligating funds arising from a presidential direction that a policy process is necessary prior to making obligations cannot be," he wrote.
Paoletta sent the memo to Tom Armstrong, general counsel of the Government Accountability Office.
A senior White House official told The Epoch Times in October that the aid was ultimately sent on or ahead of schedule.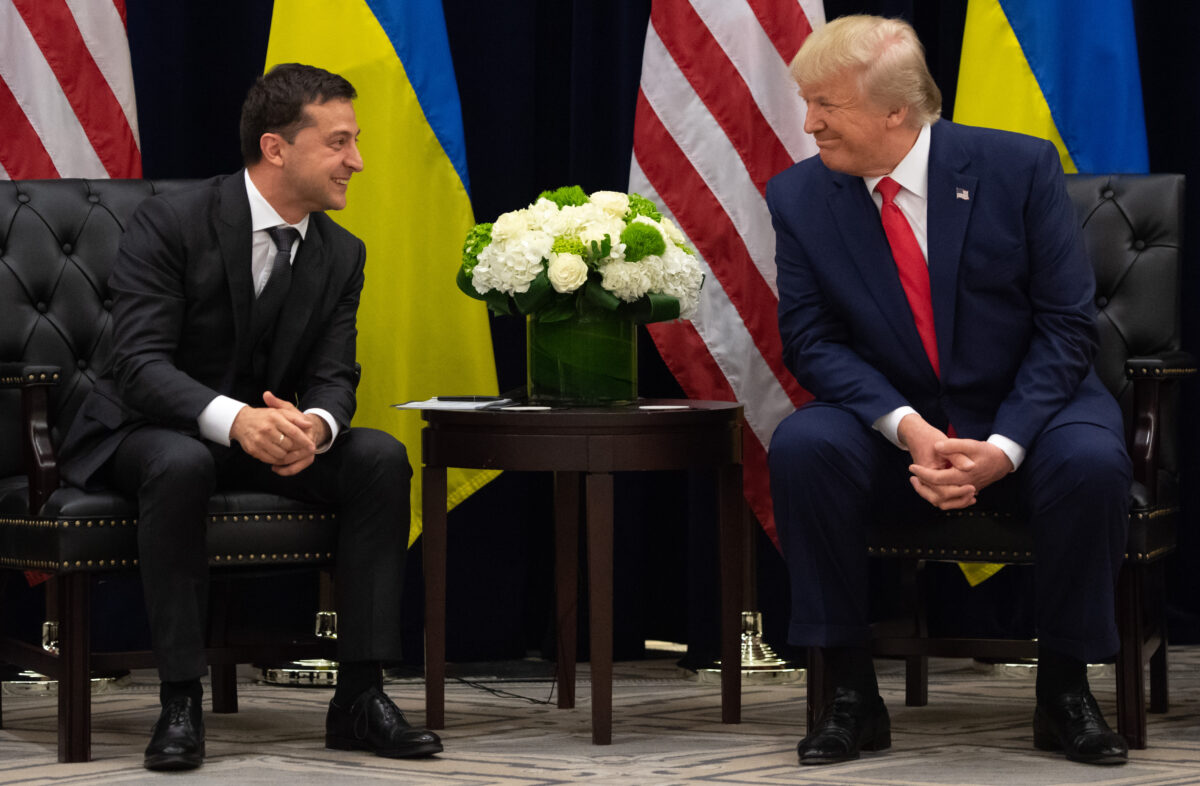 "This was not like an outlier thing as far as making sure this money goes in the right place. It was a typical process. It's been done several times. It's not anything abnormal as far as the way it went," an official familiar with the process said.
Trump said that month that he delayed the aid because of the "tremendous corruption" in Ukraine. He said the country was known for being corrupt before Volodymyr Zelensky was elected president.
"Ukraine is known—before him—for tremendous corruption. Tremendous," Trump said. "More than just about any country in the world. In fact, they're rated one of the most corrupt countries in the world. And I don't like giving money to a country that's that corrupt."
Another reason, the president said, was the relatively low share of aid to Ukraine that other European countries bore.
"They're like a wall between Russia and Europe. They're like a wall. They're a big, wide, beautiful wall," he said.
"How come it's always the United States that gets ripped? I don't like being the sucker country. We were the sucker country for years and years. We're not the sucker country anymore."