White House chief of staff Ron Klain said President Joe Biden will not "underestimate" former President Donald Trump if he runs for president in 2024.
While Trump hasn't publicly said he would run for president, he's toyed with the idea in recent interviews and suggested he would make a decision following the 2022 midterm elections.
"I wouldn't want to estimate or underestimate Donald Trump as an opponent if he chooses to run," Klain told Axios on May 9. "My experience … is that incumbent presidents are judged on their record," he said, adding that Biden "is hopefully assembling a powerful record to run on if he runs for reelection in 2024."
Trump, in his clearest remarks yet in late April, told Fox Business that he's floating a 2024 run and would consider Republican Florida Gov. Ron DeSantis as a running mate.
"I endorsed Ron, and after I endorsed him, he took off like a rocketship," he said. "He's done a great job as governor. I'm saying what I read and what you read, they love that ticket. Certainly, Ron would be considered. He's a great guy."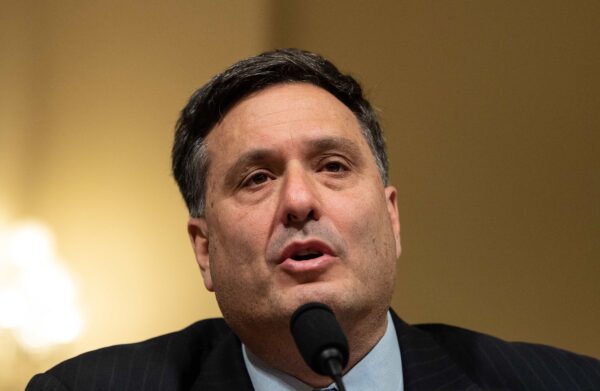 Other potential GOP presidential candidates include Sen. Tim Scott (R-S.C.), South Dakota Gov. Kristi Noem, and Sen. Josh Hawley (R-Mo.).
Trump has retained a significant influence over the Republican Party and still has the support of a loyal voter base.
The former president said he won't make a definitive announcement about a 2024 run because if he makes it too early, it will have a "big impact on fundraising and many other things."
"It's a little bit of a crazy, complex thing," Trump said. "The whole fundraising contribution stuff is ridiculous; the laws are so archaic and stupid, frankly."
Before he was sworn in on Jan. 20, there were rumors and speculation that Biden would only serve one term in the White House or would step down before the end of his first term, allowing Vice President Kamala Harris to become president.
Biden, meanwhile, said during his first news conference in March that he plans to run for reelection, amid questions about his health and age.
"My plan is to run for reelection. That's my expectation," Biden told reporters. "I'm a great respecter of fate. I've never been able to plan four-and-a-half, three-and-a-half years ahead for certain."