The White House anticipates a global food shortage due to the full-scale invasion launched by Russian President Vladimir Putin, press secretary Jen Psaki said on Monday.
Psaki said that although the United States is not likely to be impacted by a food shortage, the White House does expect that higher energy, fertilizer, wheat, and corn prices sparked by the Ukraine invasion could impact the price of growing and purchasing critical food supplies for countries around the world.
"Early estimates from the World Bank suggest disproportionate impacts on low- and middle-income countries including in Africa, the Middle East, and Southeast Asia," Psaki told reporters during a press briefing.
The U.N. Food and Agriculture Organization warned last week of a looming global food crisis, with supplies of crucial staple crops threatened amid the ongoing conflict—now entering its fourth week. Russia and Ukraine are key exporters of grain, supplying nearly 30 percent of wheat and nearly 20 percent of corn in the global market.
Among the most reliant on Russia and Ukraine for their wheat supply are developing nations in northern Africa and Asia.
"We are working with our partners in the G7, multilateral development banks, the World Food Programme, and the U.N. Food and Agriculture Organization to mitigate the impacts to poorer nations," said Psaki.
"We are discussing what that looks like and how to mitigate the shortage on those growing and purchasing entities from impacting parts of the world that would be severely impacted, even if we're not," she continued.
Psaki noted that Ukraine is a "big exporter" of fertilizer.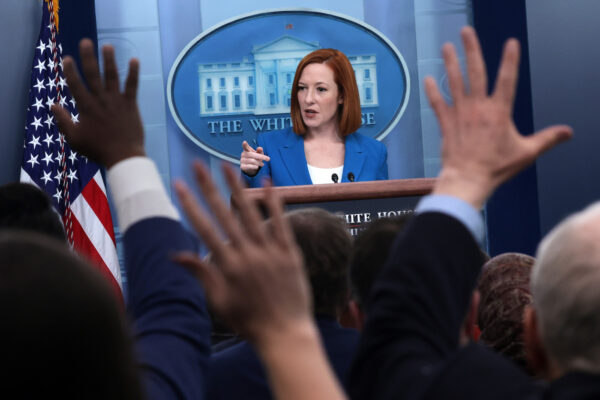 Since Putin's Feb. 24 invasion, wheat prices have increased by 21 percent, barley by 33 percent and some fertilizers have increased by 40 percent, The New York Times reported.
"As it relates to even that need in the United States and other parts of the world, that's something that we're continuing to closely assess as well," Psaki noted.
"There are active discussions now, and we're certainly mindful that even if we're not seeing an impact in this moment, that sometimes supply chain impacts can have a lagging impact," she added.
Psaki said the Biden administration is having ongoing discussions with its partners "so we can do everything we can to mitigate it [food shortage] in advance."
Fresh fears over the global food supply come amid existing supply chain constraints due to the COVID-19 pandemic.
Maximo Torero, the chief economist at the U.N. Food and Agriculture Organization, told The Guardian that food prices were already high due to the effects of the pandemic.
"My greatest fear is that the conflict continues—then we will have a situation of significant levels of food price rises, in poor countries that were already in an extremely weak financial situation owing to COVID-19," said Torero. "The number of chronically hungry people will grow significantly, if that is the case."
"Food systems were able to be more resilient in 2019, though they struggled at the beginning," added Torero. "Stocks were very high at the beginning of COVID-19 there was the capacity then to respond to the shock. But having COVID-19 for two years has weakened the resilience of food systems."