President Donald Trump will host the next G-7 summit at his resort in Miami, acting White House chief of staff Mick Mulvaney said on Oct. 17.
Mulvaney, who said Trump National Doral would hold the June event "at cost," responded to concerns about a possible conflict of interest.
"I would simply ask you all to consider the possibility that Donald Trump's brand is probably strong enough as it is, and he doesn't need any more help on that. It's the most recognizable name in the English language and probably around the world right now. So no, that has nothing to do with it," he told reporters.
"I was skeptical. I was. I was aware of the political sort of criticism that we'd come under for doing it at Doral. Which is why I was so surprised when the advance team called back and said, 'This is the perfect physical location to do this.' So, I get the criticisms, so does he. Face it, he'd be criticized regardless of what he chose to do. So no, there's no issue here of him profiting in any way, shape, or form."
Asked what the difference was between Trump holding the G-7 at his resort and what he's accused former Vice President Joe Biden and Biden's son of doing, Mulvaney said the lack of profit for Trump was a key difference.
"Clearly, there's profit for the Bidens. And second of all, I think if there's one difference when you look at the Trump family and the Biden family, the Trump family made their money before they went into politics," he said.
"There will be folks that will never get over that it's a Trump property. We get that," Mulvaney added. "He's not making any money off of this, just like he's not making any money from working here."
No documents about how the decision was made will be made public, Mulvaney told reporters.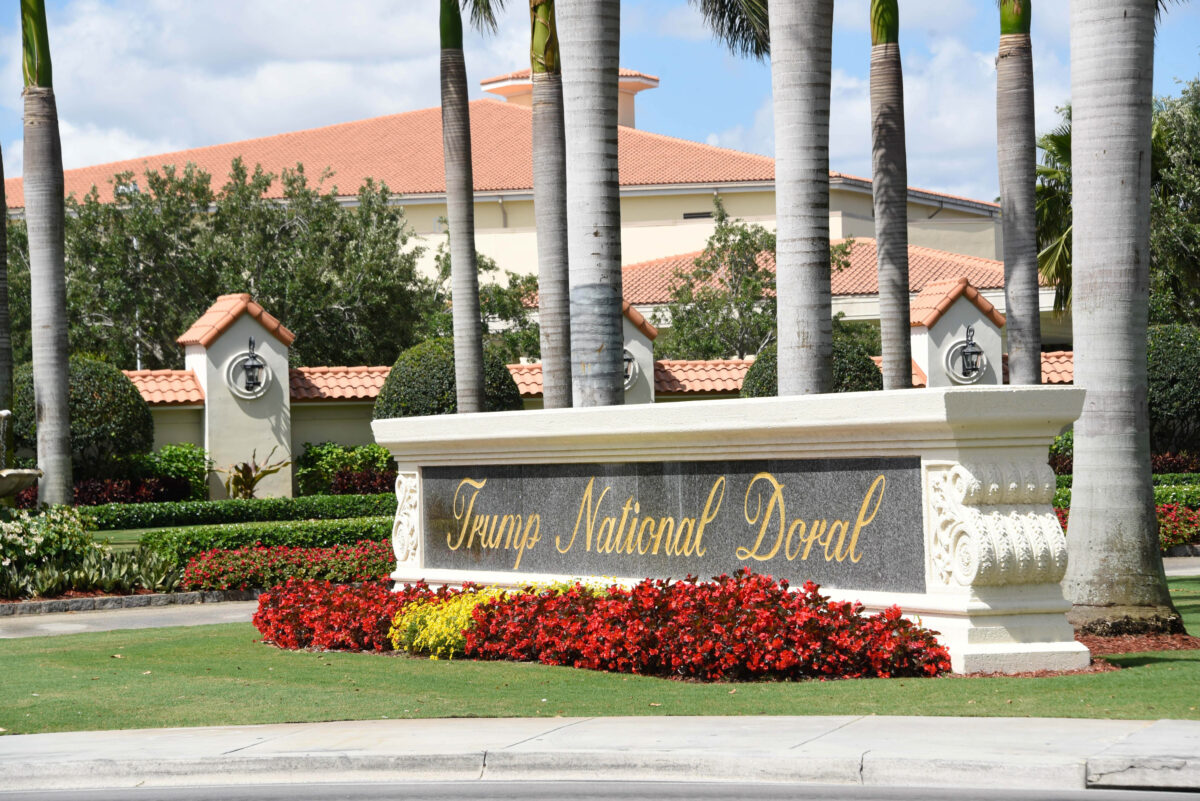 Trump first mentioned on Aug. 26 the possibility that the G-7 summit, or the Group of Seven summit—a gathering of leaders from the seven largest advanced economies in the world—could be held at Doral.
While fielding questions from reporters during a press conference with German Chancellor Angela Merkel, Trump provided some insight into the progress his administration made in looking for a venue for the G-7 annual meeting.
"I don't think there will be any surprises," Trump said. "I'm not looking for surprises. I think we'll have a very successful G-7. It'll probably be in Miami, right next to the international airport."
When asked whether it will be held at his resort, Trump responded by saying that a team of officials scouting locations were "thinking about it" but hadn't made a final decision.
"They're seeming to set up the best. It's close to the—we haven't made a final decision, but it's right next to the airport, right there, meaning, you know, a few minutes away," he said.
"It's a great place. It's got tremendous acreage. Many hundreds of acres. So we can handle whatever happens. … People are really liking it. Plus, it has buildings that have 50 to 70 units in them, so each delegation can have its own building. So you'd have the seven various delegations, and they could have their own building … and they could have buildings for the press. … It's very big. A great conference facility.
"So we're thinking about it. They love the location of the hotel, and they also like the fact that it's right next to the airport, for convenience."
Janita Kan contributed to this report.