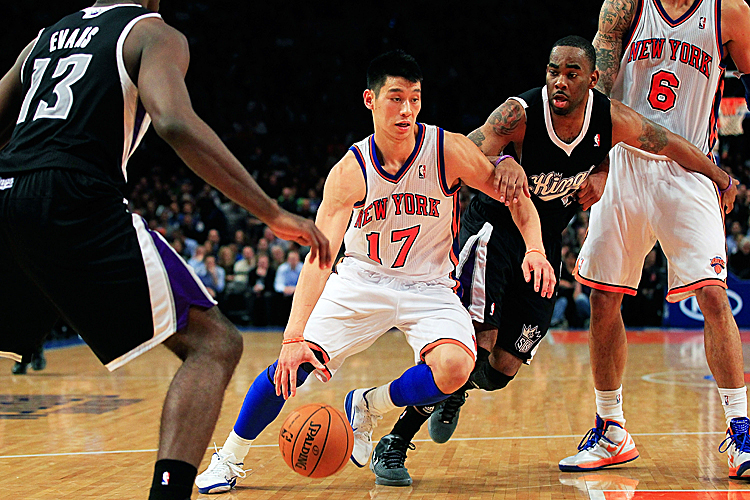 It's been less than two weeks since some unknown second-year guard named Jeremy Lin scored 25 points and dished out seven assists after coming off the bench against New Jersey, sparking a win and starting a national phenomenon referred to now as "Linsanity."
Seven wins in seven games later fans are so convinced of his prowess, they're actually wondering if superstar Carmelo Anthony's return will screw up the Knicks' new-found chemistry. In addition, once-beleaguered Knicks head coach Mike D'Antoni's job has become safe and the NBA is now furiously trying to find a role for Lin to play at the All-Star weekend.
With all the hype around Lin, where does he actually rank among current point guards in the NBA? Though his sample size is just seven games long, this list will attempt to find his place among the 10 best in the NBA right now with statistics through Wednesday.
10. Ricky Rubio, Minnesota; Season averages: 10.7 points, 8.6 assists, 2.4 steals, 3.2 turnovers, 31.8 percent three-point shooting. Team's record: 14–16. The rookie Rubio gets the very slight nod over Washington's John Wall here mainly due to his team's surprising turnaround with him at the point this year as the Timberwolves finished just 17–65 last season. Wall does average more points per game (16.7) but turns the ball over more (4.1) while defenses can sag on his 11.1 percent three-point shooting. In addition, his woeful Wizards are just 7–23 this season.
9. Kyle Lowry, Houston; Season averages: 14.8 points, 7.7 assists, 2.1 steals, 3.2 turnovers, 35.1 percent three-point shooting. Team's record: 17–13. Lowry, a fifth-year veteran guard out of Villanova, may seem a bit of a surprise here, but he's a bigger threat to score than Rubio and his Rockets are more than holding their own in the Southwest Division, despite having few well-known players. His ceiling, at age 25, is probably shorter than the 21-year-old Rubio's but for the time being Lowry is ahead.
8. Rajon Rondo, Boston; Season averages: 15.2 points, 9.6 assists, 1.8 steals, 3.8 turnovers, 25.0 percent three-point shooting. Team's record: 15–13. A tough call here behind Parker as Rondo's defense at point guard is considered top-notch, evidenced by two straight seasons on the NBA's All-Defensive First Team. But teams still don't respect his outside shot (24.3 percent career three-point shooter) and in addition Parker has his aging Spurs team in much better position than Rondo has his similarly aging Celtics.
7. Tony Parker, San Antonio; Season averages: 19.0 points, 7.8 assists, 1.1 steals, 2.5 turnovers, 21.4 percent three-point shooting. Team's record: 21–9. Parker is one of the NBA's quickest guards and now in his 11th season the 29-year-old is averaging a career-high in assists and again has his team among the league leaders in the standings. While his three-point numbers are low this season, Parker hit 35.7 percent of them last year to keep teams from sagging too much on him.
6. Russell Westbrook, Oklahoma City; Season averages: 22.8 points, 5.5 assists, 1.9 steals, 4.4 turnovers, 27.5 percent three-point shooting. Team's record: 22–7. Westbrook is the biggest mystery on this list. His scoring prowess ranks him right behind Derrick Rose though his relatively low assists and high turnovers don't make him an ideal option to be the primary ball-handler. Yet his team has thrived with him there, though the argument still could be made that teammate Kevin Durant is the main reason they're leading the Western Conference. A tough call for sure.
Next: Jeremy Lin