Commentary
The United States is facing real threats of near-term war that would create hyper-demand for all types of missiles. So why would Washington allow a constriction of missile technology supply at a time when it should be encouraging an increase in missile production capacity?
Our military leaders have been warning us about defense consolidation for years now, including most recently Deputy Secretary of Defense Kathleen Hicks, who said during her confirmation hearing that she was "concerned" about consolidation in the defense industrial base. If we continue on this path, we will be woefully unprepared for what the future holds and unable to slow China's ambitious plans.
In his March 9 testimony before the Senate Armed Services Committee, Adm. Philip S. Davidson, commander of the U.S. Indo–Pacific Command, offered a stark assessment of the Chinese threat. For the first time, a U.S. military leader offered a timeline for a Chinese attack against Taiwan, saying, "I think the threat is manifest during this decade, in fact in the next six years."
Instead of one "Normandy," an invasion of Taiwan might require two or three, but China's People's Liberation Army (PLA) may be ready. It has long enlisted under "Militia" structures many thousands of large roll-on/roll-off (RORO) barges that ply the Yangtze River, and the 3,000 Boeing and Airbus planes in Chinese civilian airlines. With no opposition, by simply capturing Taiwan's six major airports, the PLA could move a 5-million-man occupation force in one month.
For the Chinese Communist Party (CCP) leadership, Taiwan wouldn't be the end of its ambitions, but just the beginning. It would then fight skirmishes or small wars to impose control over the South China Sea, take control of Japan's Southern Ryukyu Islands, fight with India, and even instigate a new Argentine war over the Falklands, all to isolate Washington by attacking its alliances. These battles would be timed and fashioned to allow the CCP to achieve goals of military preeminence, or global hegemony, by 2050.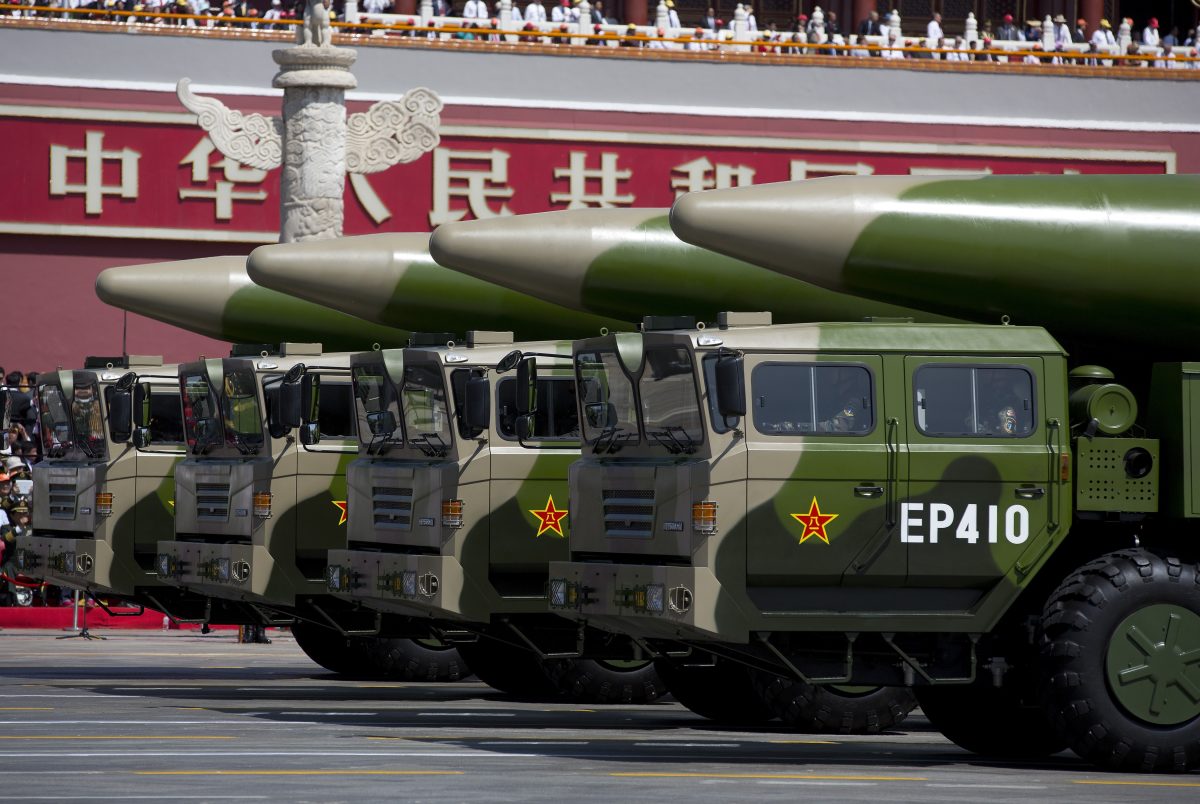 For the PLA, the tip of its spear for a Taiwan invasion and all subsequent wars will be its missile forces. U.S. officials estimate the PLA has more than 2,000 theater ballistic and cruise missiles, but this might be an underestimate, given the PLA's practice of reloading launchers and concealing much of its inventory underground.
To fuel its wars, the PLA also has the world's largest missile production sector, with the China Aerospace Science and Technology Corp. (CASC) and China Aerospace Science and Industry Corp. (CASIC) both able to produce short-range ballistic missiles (SRBMs), medium-range ballistic missiles (MRBMs), and intermediate-range ballistic missiles (IRBMs).
And as if that wasn't enough, it's necessary to consider the implications of a near-decade of China–Russia cooperation in strategic missile defense. Might there also be cooperation regarding nuclear missile "offense," even if only for coercion, as early as the beginning of a PLA attack against Taiwan?
While the former Trump administration refused to accept the threat of PLA theater missile domination in Asia, leaving the missile-denying 1987 Intermediate Nuclear Forces (INF) Treaty with Russia, it had barely started to develop and produce the new SRBMs, MRBMs, and IRBMs, some armed with HGV warheads, and the new tactical nuclear warheads required to deter Chinese aggression.
If a Chinese attack or invasion of Taiwan could occur as early as the middle of this decade, it follows that the United States should now be expanding and accelerating the production of theater-range ballistic and cruise missiles.
So, while the United States could prevent an all-around tragedy for Taiwan, its allies in Asia, and most importantly for Americans, why is it considering the constriction of missile engine makers, when what is required is an immediate expansion of missile production and suppliers?
The proposed merger between aerospace giant Lockheed Martin and rocket motor supplier Aerojet Rocketdyne will constrict the supply of solid rocket engine systems, as appears to have happened following the 2018 acquisition of rocket engine maker Orbital ATK by Northrop Grumman.
The latter is now being reviewed by the U.S. Department of Defense and the Federal Trade Commission for how it won away from Boeing the $80 billion contract to provide the Ground Based Strategic Deterrent missile defense system. Boeing, the program incumbent, was unable to compete due to a lack of access to its previous propulsion supplier, Orbital ATK. This left Northrop the uncontested winner of the contract. It is, therefore, crucial to balance the pressures of the market with an emergency requirement for national security.
Washington has a narrowing timeframe to produce and deploy the thousands of missiles needed to deter a Chinese attack against Taiwan, or to build the tens of thousands of missiles required to prevail in decades of conflict with a China fighting for global hegemony. The United States is best served not by a narrowing of access to missile engine systems, but by its expansion.
Rick Fisher is a senior fellow with the International Assessment and Strategy Center.
Views expressed in this article are the opinions of the author and do not necessarily reflect the views of The Epoch Times.