Chinese people have been going to South Korea in increasing numbers for plastic surgery and facelifts in recent years, but thousands are finding that they may have been better off not going at all.
Highlighting the controversial trend is the recent case of a 15-year-old girl from Henan Province. Posting photos showing the results of her makeover on Sina Weibo, a popular Chinese microblogging service, the teenager was bombarded with critical and sarcastic comments about her excessive cosmetic surgeries.
Common points of discussion and mockery focused on the mask-like appearance of her heavily-altered eyelids, snow-white skin, and drastically reduced chin, as well as her overly-augmented bust.
Under the username of "Li Enxi Danae," the girl, whose Weibo account is full of selfies showing off her new look and luxury goods, struck back by flaunting her wealth.
"How much of the world did you see when you were 15? Did you receive 500,000 yuan [about $80,000] in pocket money every month? If not, you are in no position to criticize me. You can't catch up in society these days if you fail at the starting line. Got it?"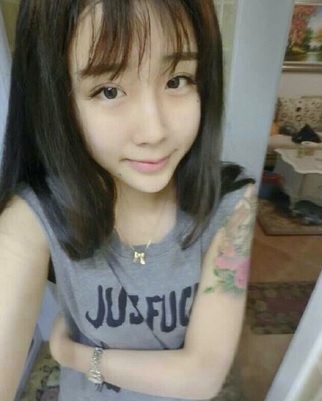 The Chinese Association of Plastics and Aesthetics, which operates under the state health bureau, recently published statistics showing that 56,000 Chinese traveled to South Korea for cosmetic surgery in 2014. State-run media Xinhua reported that the numbers ballooned in the summertime, when students took vacations. Three-quarters are women and girls.
South Korea's popular cosmetic surgery industry has made it known as the "plastic surgery capital" in Chinese society. According to the Korean National Tax Service, the number of Chinese tourists going to Korea for plastic surgeries has increased more than twentyfold in the past four years.
Related Coverage
A survey, carried out by Xinhua, of Chinese university students in the cities of Beijing, Tianjin, and Nanjing showed that 16 percent intended to receive cosmetic surgery. Meanwhile, in a survey by state-run Chinese Central Television (CCTV), 60 percent of respondents agreed that the rise in plastic surgery can be attributed to increasing numbers of people relying on superficial judgements of physical appearance.
Other respondents to the CCTV survey (38 percent) felt that getting plastic surgery could strengthen one's social credentials, and 22 percent agreed that cosmetic surgery is done in hopes of finding a partner.
Popular surgery jobs sought after by Chinese clients include double eyelids, cutting the corner of the eyes to make them look bigger, heightening the nose, sharpening the jaw, and breast enlargement.  
But when done improperly, plastic surgery is difficult if not impossible to fix, said Zhang Bin, who heads the Chinese Association of Plastics and Aesthetics, in an interview with China Youth Daily. According to the China Consumers Association, nearly 200,000 Chinese were disfigured by botched cosmetic surgeries in the last 10 years.
At a conference hosted by the association this March, it was reported that complaints from Chinese surgery tourists traveling to Korea are increasing between 10 and 15 percent per year. Owing to high intermediary fees paid to agencies that facilitate surgery tourism, Chinese patients in Korea pay two to three times what Koreans are charged. Despite the higher costs, many Korean hospitals and surgeons are not qualified to perform certain operations, leading to increased rates of failure.
Chinese media Sohu News reported that 30,000 people suffering from failed cosmetic surgeries performed in South Korea have gathered online to defend their rights. No lawsuit attempt has been successful, however. In many cases, the Chinese clients were deceived by way of the language barrier into signing disclaimer agreements with the Korean hospitals.  
On Jan. 27, CCTV reported that a 50-year-old Chinese woman suffered cardiac arrest and brain death while receiving a plastic surgery operation in South Korea.
According the Hong Kong-based Phoenix magazine, a female Chinese white-collar worker in Shanghai had her career ruined after a botched facelift done in Seoul last year left her mouth crooked. She returned to Seoul four times and spent 400,000 yuan of her savings in unsuccessful hopes of fixing her face. In desperation, the woman has refused to see her friends and relatives, and even composed wills to her parents.