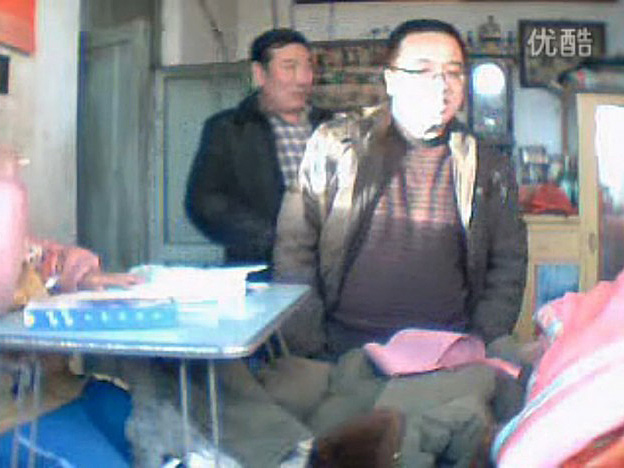 A wheelchair-bound suicide bomber blew himself up at a local government building in eastern China on Monday, killing himself and injuring six others, state-run media reported.
Qu Huaqiang was described as a villager who was a "disgruntled petitioner" by state press. He set off a bomb that he had attached to himself at the Tengjia township government compound in Shandong Province's Rongcheng City in the morning.
Chinese Communist Party mouthpiece People's Daily reported that Qu was taken to the government building by a mentally disabled villager before he blew himself up with homemade explosives.
Six government officials were injured, including two who were seriously wounded, the report said. It was unclear if the other villager was injured in the blast.
Mr. Wang, a local from Tengjia, told The Epoch Times that he and other locals went to the government building and there were throngs of people gathered around. He said police sealed off the area.
A Tengjia police spokesperson said the incident was "under investigation," while another police spokesperson appeared to make a contradictory statement, saying they were not aware of any bombing, in telephone interviews with The Epoch Times.
News of the bombing spread rapidly through the Chinese Internet, with many people denouncing the Chinese government's failure to respond to petitioners who appeal to the government to correct perceived injustices. The petitioning system in China was created decades ago, but many ordinary Chinese have complained that it does nothing, while human rights groups accuse China of detaining petitioners in secret jails where they sometimes face torture.
According to a blog posting in 2008, the alleged bomber, Qu, wrote that he was an employee at the Tengiua Construction Company in nearby Rongcheng City before he was severely injured after an object fell from a crane and struck him, causing a spinal cord injury that left him unable to walk. Later he and his wife divorced, leaving him to take care of his 80-year-old father.
Qu wrote that he was forced to sign what he described as "an unfair disability benefits agreement" that was forced on him by the construction company and local government officials. "The wage was not in line with regulations stipulated by the law," he wrote, leaving him in a desperate situation.
As a result, Qu started petitioning and appealing to local government officials in 1997, sending dozens of letters to members of the Communist Party's Central Committee, including Premier Wen Jiabao, and other high-level officials. He also wrote letters to local officials in Tengjia about his situation.
But Qu said that he never received any reply from any of the officials.
In April of this year, he posted a video of himself on the Sina Weibo microblogging website, documenting visits to local officials. They "did not fulfill my injury treatment and told me to go to a nursing home," he said. The video is apparently the only thing that was not deleted from his Weibo account.
Qu wrote in a blog posting in 2008 that he was planning on detonating a bomb in a suicide attack.
"If I don't receive proper compensation for my injury sustained while on the job or any other financial assistance in the future… I have only one solution for this problem: A bomb!" Qu said.
"I apologize to those innocents who were injured due to my actions. It is not my intentions to hurt innocents. I only want those corrupted Rongcheng City officials–those arrogant officials who bully innocent Chinese people–to know that ordinary Chinese people are not powerless."
The Epoch Times publishes in 35 countries and in 19 languages. Subscribe to our e-newsletter.