The White House Correspondents' Association (WHCA) is calling on reporters to avoid the White House grounds after several officials, including President Donald Trump, tested positive for the CCP virus.
"Since the onset of the pandemic, the WHCA has made it its primary mission to facilitate the safest possible working environment for journalists at the White House," said the organization of journalists who cover the White House and the president.
"From reducing seating in the briefing room and workspaces to enforcing a face-covering requirement, we have acted to reflect the latest [Centers for Disease Control] and local government guidance. Since March, we have advocated publicly, but also privately, for measures to protect journalists and their ability to do their work in these uncertain times," it added.
With the increase in cases, including three among their colleagues, the WHCA urged "all journalists to avoid working from the White House grounds entirely if it can be avoided," even though they "do not have any additional confirmed cases of COVID-19 among White House journalists nor any indications of journalist-to-journalist spread."
If the journalists have to work from the White House, the WHCA called in them to wear a mask inside and outdoors as much as possible.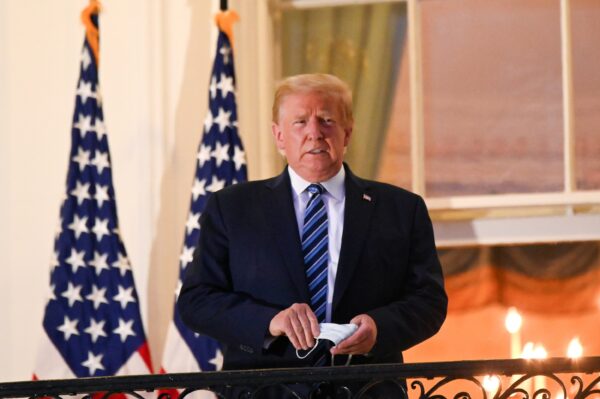 "We have communicated to the White House that, as a press corps, we would like more information to evaluate our own potential exposure. We have pressed for them to provide updates on known and suspected infections so that reporters can as soon as possible know if they and their families have been put at risk. The administration, citing privacy concerns, has not provided additional details," the WHCA said.
On Wednesday, Trump's physician, Dr. Sean P. Conley said in a statement that the president has remained "symptom-free for over 24 hours" and has been "fever-free for more than 4 days."
"Of note today, the President's labs demonstrated detectable levels of SARS-CoV-2 IgG antibodies from labs drawn Monday, October 5th; initial IgG levels drawn late Thursday night were undetectable," Conley also wrote. The presence of antibodies means Trump's immune system is combating the CCP virus. It's not clear if the president is infectious.
Trump tested positive for the CCP virus last, prompting a three-day stay at Walter Reed hospital before he was transported back to the White House on Monday evening.
White House of staff, Mark Meadows, told reporters on Wednesday that Trump "continues to work" from the White House.
"We've got a number of safety protocols with full [personal protective equipment]—masks, goggles and the like—for any direct interaction with the president in those areas," Meadows said.