What's Wrong With our Schools? Setting the Bar
September 19, 2014 6:15 am Last Updated: September 19, 2014 7:26 am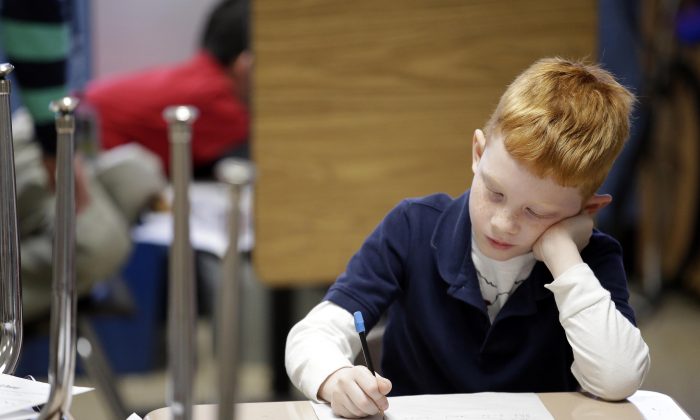 NEW YORK—April Rose teaches at P.S. 132, an elementary school in Springfield Gardens, Queens. She spoke with enthusiasm about the last round of education reforms hitting her classroom after an August education forum. Some may have worried about her third-graders facing their first standardized tests last April, but she exuded confidence. 
"They really took it in stride," she said. "They were ready to learn."
At first she doubted why the new standards she's required to apply to her teaching methods, the Common Core State Standards, put so much emphasis on nonfictional texts, like newspaper or magazine clips, but she found her pupils could tackle the complexity of the texts because the subjects actually sparked their interest. 
And there was more. "They loved the discussion aspect," she said. "Explaining not only in reading, but explaining how they figured out things in math."
"All of these ideas that are coming through because of Common Core, I think they really embraced that," she said, acknowledging the new standards were tougher and helped both her and her students to step up. 

And Rose can be proud of her results. While less than one in three passed the third grade math test in 2013, more than two in three did in 2014.
This is the power of standards—a cornerstone of more than 30 years of continuous bids for reforming our nation's public education. But can it be really that simple?
History
The idea that American public schools need to set a higher bar for themselves broke into the mainstream in 1983 with publication of the "Nation at Risk," an education report commissioned by the Reagan administration.
Harnessing Cold War-style similes to national security, the report appealed for action: The SAT scores were dropping, one in eight 17-year-olds was "functionally illiterate," and the rest of the world was running laps around the United States.
"We have, in effect, been committing an act of unthinking, unilateral educational disarmament," the report stated.
"We recommend that schools, colleges, and universities adopt more rigorous and measurable standards, and higher expectations for academic performance and student conduct, and that four-year colleges and universities raise their requirements for admission," one of the recommendations states.
Even today, the report is often cited as a foundation of the current education reform with the term "reformist" being associated with a person advancing the types of changes the "Nation at Risk" recommended.
Needless to say, the report attracted criticism. 
The drop in SAT scores was attributed to a larger number of students taking the test and scoring lower. Taking that into account, the scores were actually rising for many subgroups. 
International comparisons based on standardized tests, problematic to begin with, actually showed the United States had rather good reading results, though mediocre in math. 
While a public call for action was fueled by political campaigning, in academia multiple studies said the bar needed to be raised, but the crisis had been exaggerated. Yet, the critics never got much attention from mainstream media.
The next one in the Oval Office, George H. W. Bush, continued to follow the "Nation at Risk" template, while introducing another cog to the reform machine: National education goals. The idea was to use federal money to encourage states to pursue education goals set by Washington, D.C.

Bush called for an education summit with governors in 1989, producing eight goals to be met by 2000. Among them: All students will be "competent in challenging subject matter," to be proven by standardized tests given in 4th, 8th, and 12th grades.
While the reform was speeding ahead, its underlying assumption was still in question. The public message was that students achieve more if more is expected of them—and it caught on well. But does that mean setting the bar higher for everyone will make everyone do better?
"Striving for excellence … is the most legitimate of all academic goals. However, this kind of excellence is best promoted when achievement standards are applied flexibly, according to the gifts and experiences of each child, not imposed uniformly in procrustean ways across all children," University of California–Berkeley psychology professor Martin V. Covington stated in a 1996 Education Researcher journal article, responding to the summit's conclusions.
"Individuals make the most of their ability (and incidentally are motivated fully to do so) when they strive for goals that are near the upper bounds of their current competencies—just enough of a challenge so that success is likely but not without hard work, and failure to reach these goals is remedied by renewed effort," Covington, an expert on the psychology of learning, wrote.
Yet again, mainstream media seemed to miss the dissenting opinion.
Bill Clinton, one of the summit's leading dignitaries, became the next president and signed the eight goals into a law in 1994.
None of the goals was met by the deadline year, 2000.
Next in line, George W. Bush, dropped the law, but not the idea of every single child passing standardized tests. In fact, his No Child Left Behind Act of 2001 tightened the federal rules even more.
Using federal school aid as the leverage, the law demanded standardized tests in every grade and scores to rise every year, until, in 2014, every child would pass. 
Not meeting the "yearly progress" led to federal funding restrictions and labeling schools as failing. Local officials sometimes used the designation as a reason to close such schools.

This time the criticism was much more visible in society and the media. A series of cheating and test manipulation scandals rocked the reform boat. States were shown to have dumbed-down their tests to meet the ever-rising bar. The term "over-testing" began to echo through school hallways and parent–teacher conferences.
The Obama administration reacted not by cutting down on tests, but instead devised the Race to the Top program, promising $4.7 billion in grants to states that, among other conditions, proved their standards and tests to be tough.
The original draft of the Race to the Top rules stated the new Common Core learning standards and tests aligned to them would be recognized by the White House, according to the Washington Post. 
Thus, 45 states quickly agreed to adopt them in 2010, even though the explicit mention of the Common Core was dropped from the final Race to the Top wording.
In the end, 19 states got a piece of the money, but only eight saw more than $100 million. New York and Florida got the most—both $700 million.
Even with Race to the Top funds dispersed in 2011, Obama now demands that states prove their standards and tests are thorough enough to match freshman college courses in exchange for waiving Bush's No Child Left Behind rules. No proof is needed if the state adopts the Common Core.
With most of the nation suddenly having a uniform education yardstick, an issue of excessive uniformity started to resonate. The Common Core became the one size that is supposed to fit all. According to Tuesday's PDK/Gallup Poll, the majority of Americans now oppose the standards.
Common Core–So What?
While authors of the Common Core had only several months to write the standards and hardly any input from classroom teachers, it seemed they put to shame dozens of years of "standards-based" reforms.
The Fordham Institute examined existing state learning standards in 2010, concluding Common Core is "clearly superior" to many of them.
Granted, the institute's research around Common Core was funded with almost a million dollars from the Bill and Melinda Gates Foundation, a big supporter of Common Core that invested some $200 million in its development and proliferation.
But still, the institute's report showed at least seven states had either math or English standards superior to Common Core. For almost 20 states the report concluded that existing math or English standards should be augmented with Common Core, but didn't suggest replacing them.
Indiana and California, both early adopters of Common Core, actually had better standards in both English and Math before adopting Common Core, according to the report.
In the end, neither of them won any money from the Race to the Top, but the implementation of the Common Core will cost California about a billion dollars, according to the LA Times.
In March 2014, Indiana was the first of five states that have since scrapped Common Core, but not before it was already taught in classrooms. Now the state is rushing to create yet another set of standards, partially based on the Common Core.

New York enthusiastically adopted the new standards. With two years of test results under its belt, it seems many schools previously doing moderately well have embraced the standards. Just like Rose's P.S. 132, after the first year's drastic drop in scores, the second year showed an optimistic uptick.
Unfortunately, such a scenario is hardly universal. Even though three out of four state schools improved their math scores over the past year, almost half the schools did worse than last year on the English test with many sinking into zero proficiency rates. 
And so, even after 30 years, the reform remains open to many questions.
"Can standards be both 'common' and 'high'? If they are truly high and rigorous, won't a sizable proportion of students fail? Can a single set of standards make everyone college and career ready? How do we know? What does it mean to be 'globally competitive' with nations where educated people are paid a fraction of our own minimum wage?" asks education historian Diane Ravitch on her blog.
In the following parts of this series, we'll explore some of Ravitch's questions and see if there are any answers.