What's Inside Your Bank Branch That's Not Online?
February 22, 2013 9:27 am Last Updated: April 3, 2013 5:24 am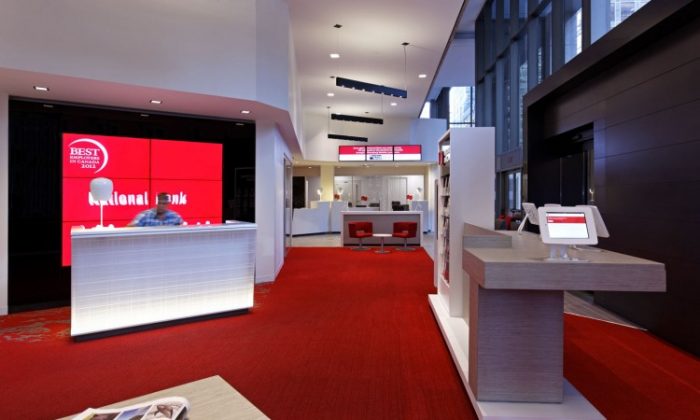 When is the last time you went into your bank branch? Today, we can use a cellphone app to do all our personal banking, from bill payments and money transfers to managing our investments.
Why go inside?
For one thing, bank branches are nicer looking and more comfortable than ever before. 
According to Lesly Tayles, VP of Personal Banking for National Bank in Ontario, getting involved with the Interior Design Show in Toronto in January helped National Bank navigate the "evolution" of their branch design.
National Bank worked with a number of design studios to get better at designing client-friendly branches. Their flagship at King and University was re-imagined by commercial interior design team Ruscio Studio. 
The chic interiors, Internet connectivity, and free coffee aren't designed to lead you back to reality from cyberspace. The idea is to remind customers of what contact with a real banking professional can offer.
"The whole focus for every one of our employees is, how do we come up with proactive advice," notes Tayles. She says there are three things the staff at her bank are painstakingly trained to do: "Help you make money, save money, or make your life more convenient."
For National Bank, Tayles explains, the key is training staff to do more than reacting to clients' immediate needs. Staff needs to be proactive in finding financial solutions based on bank clients' specific situations, solutions that they may not have considered.
Understanding a client's needs means understanding the client. In a country as culturally diverse as Canada, offering clients services where they can sit down with a professional who speaks their language requires large organizations like banks to develop serious, well-thought-out diversity strategies.
Realizing that they needed to serve all Canadians, National Bank instituted a three-year diversity plan focused on equity, women's empowerment, and cultural sensitivity. Their strategy has garnered them recognition on the list of Canada's Best Diversity Employers every year since 2011.
"During our whole on-boarding [hiring] and succession [promotion] plans we're always making sure we have a diverse talent pipeline," explains Tayles.
Tayles says that because National Bank takes diversity seriously, their organization is "a beautiful mosaic of languages."
Canada's banks are among the world's strongest, and National Bank of Canada is rated Canada's third strongest bank, making it the fifth strongest bank in the world according to Bloomberg Markets. 
Because of their success Canadian banks are in the habit of giving back.
National Bank of Canada is a major sponsor of the Reel Asian International Film Festival, a Toronto festival that showcases the best in contemporary Asian cinema from the Asian diaspora.  
National Bank is also the presenting sponsor of the 2013 Dragon Ball and will continue in this capacity next year. The Dragon Ball, soon to celebrate its 25th year as a fundraiser for Toronto's Yee Hong Centres that support Chinese seniors and their families, is one of the largest Chinese New Year celebrations of its kind in North America.