When a 41-year-man from an eastern Chinese province could no longer afford the chemotherapy to treat a tumour in his mouth, he decided to take up the knife himself.
With crudely sanitized surgical equipment bought from the local hospital—scissors, scalpel, tweezers—Yu Yifei went into his bathroom, and with the aid of a handheld flashlight, excised the cancerous tissue from his mouth bit by bit.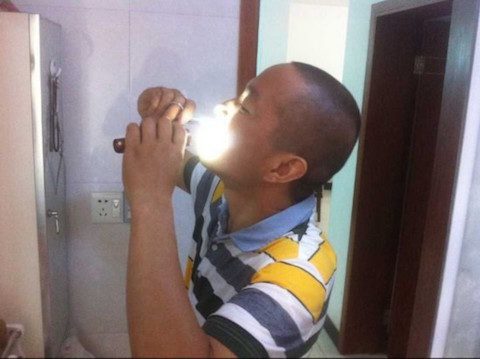 "I was risking my life," said Yu, a native of Quzhou City, in the coastal province of Zhejiang, in an interview with the state-run news site People's Daily Online.
After the ping-pong ball-sized tumor was excised, he used a piece of gauze to staunch the blood.
Yu did initially have proper medical treatment after an osteosarcoma—a cancerous bone tumor—was discovered in his jaw when he went to the hospital to have some lumps on his gums examined in February last year. The tumor, teeth, and two facial bones were removed, and he had 13 chemotherapy sessions.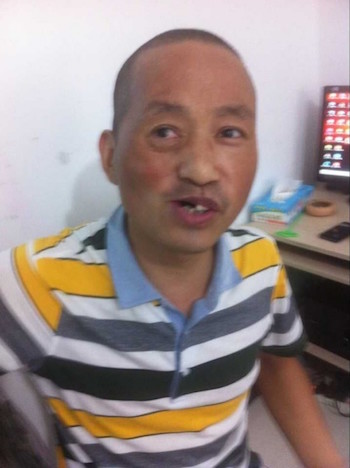 When the cancer relapsed in May, Yu could no longer afford hospital treatment, given his salary as a blue collar worker. His wife works a low-paid part-time job, and they have a teenage girl. Yu removed his tumor on May 20, and says he's carried out follow-up surgeries on himself since then.
Yu Yifei is not the first Chinese to have made headlines for carrying out do-it-yourself surgery. In April 2012, farmer Zheng Yanliang from Dongzang village, Hebei Province, amputated his disease-racked leg with a hacksaw and a fruit knife because he couldn't afford to have the procedure at a public hospital in Beijing.
As these cases indicate, China's healthcare system is broken.
The Chinese regime says that 95 percent of its citizens are covered by medical insurance and can access state reimbursement of up to 70 percent for a range of illnesses. But many people have complained that the insurance scheme is not comprehensive enough—patients still pay half their medical costs from their own pockets, according to a 2013 analysis on the blog of the Wharton School of Business at the University of Pennsylvania—and doctors are charging too much.
But it's hard to entirely fault the medical staff. Doctors in China are marking up prescription drugs and accepting kickbacks because they are chronically underpaid—classified as "civil servants" by the authorities, they make less than $500 a month.
Corruption in the medical industry is also harming both patients and physicians. Patients who can't afford appropriate treatment instead seek risky, alternative remedies—the case of Yu Yifei and Zheng Yanliang being extreme examples—or in other cases lash out at doctors and nurses in anger and desperation. For instance, the annual average number of assaults on medical staff per hospital rose from 20.6 attacks in 2008 to 27.3 attacks in 2012. Last year, there were nearly 30 attacks a year per hospital.
"This is a society where people can't afford the hospital," wrote LX-Yuki, an Internet user. "China's health insurance policy needs an operation too," rejoined another. One reader took the opportunity to make a mordant joke. "China is indeed a 'great nation,' seeing how the poor can perform oral surgery. It is no wonder China is becoming the richest nation in the world."