A video shows a man being called racial slurs at a 7-Eleven in downtown Los Angeles, according to local media reports.
A woman can be seen beating an older man inside the store before berating him, telling him to "Go back to Mexico," according to the woman who captured the footage.
Myra Olvera, who shot the video on her phone, said a woman and a man began beating the man after he tried to defend a clerk in the 7-Eleven near West 7th Street and South Olive Street last Tuesday, May 1.
KTLA reported that the male suspect was described as young and black.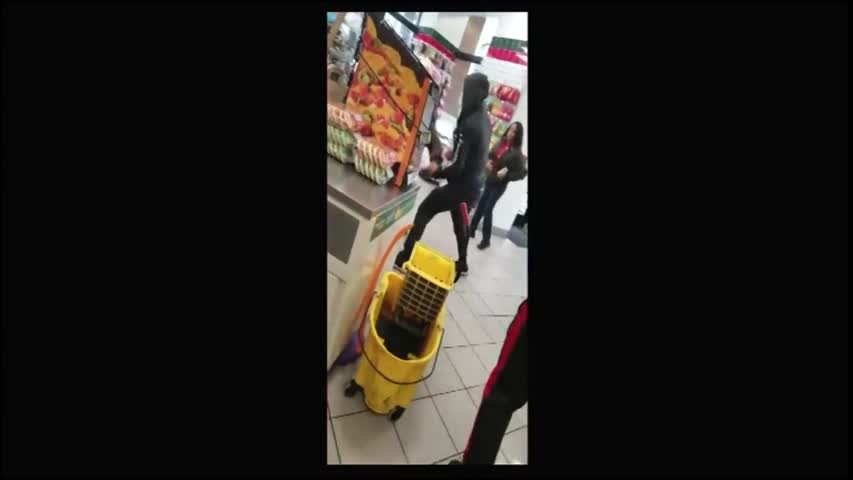 The clerk told the woman that she would help the customers before heating up her food, Olvera told KTLA. "Go back to Mexico" and "you're fat" and "you're ugly" were insults that were levied at the clerk by the woman.
The woman also made nasty comments about Mexicans, Olvera added, making comments about other customers.
Another customer told her, "Have some respect." The woman then kicks the customer's luggage. Then, things between the woman and the customer turned violent.
"(I was) scared at the moment because I didn't know if they were going to pull out a gun," Olvera said.
Other customers and two people dressed in security uniforms stood still as the pair beat up a man, who was later identified by his family as Frankie Martinez, KTLA reported.
"I don't know where he's at and I want them to find him," his sister, Dahlia Martinez, told the station, adding that Frankie is homeless. "I want them to get justice for these people for what they did to my brother," she said.
"This shouldn't have happened. He didn't do nothing," she added.
"It could be anyone. I just want justice for this man," she said. "Hopefully, first God can find him and he's safe."
The family said that they plan on filing a missing person's report, ABC13 reported.
The family told Fox Los Angeles in a video report that they're appalled that people stood around and did nothing while the assault took place.
Video footage of the incident can be seen below (WARNING: Contains potentially disturbing content):
Recommended video:
"I Was a Communist Slave"