WASHINGTON—Plans are underway to send National Guard troops to boost enforcement along the U.S.–Mexico border.
President Donald Trump said on April 5 that anywhere between 2,000 and 4,000 troops will be deployed.
"And we'll probably keep them, or a large portion of them, until such time as we get the wall," he said.
Department of Homeland Security Secretary Kirstjen Nielsen said the National Guard's role will be similar to that during "Operation Jump Start" launched in 2006 by President George W. Bush, where 6,000 troops were deployed in California, Arizona, New Mexico, and Texas.
Several years later, in 201o, "Operation Phalanx," under former President Barack Obama, saw 1,200 National Guard troops deployed during a border surge.
During the two-year Jump Start operation, National Guard troops mostly assisted Border Patrol with logistical and administrative support.
National Guard units operated detection systems, provided mobile communications, augmented border-related intelligence analysis efforts, and built and installed border security infrastructure, according to Customs and Border Protection.
"Guardsmen are building fences, as well as manning detection equipment on the border and in command centers," Bush said in August 2006.
The 2006 memorandum of understanding between the Department of Defense and the governors of participating states stipulated that the National Guard will not participate in "overt" law enforcement, according to the Department of Defense.
"After guardsmen spot suspected illegal immigrants crossing the border, they will inform Border Patrol agents, who will then respond to the scene," the department said. "In essence, the Guard will do detection work and Border Patrol agents will make the appropriate apprehensions."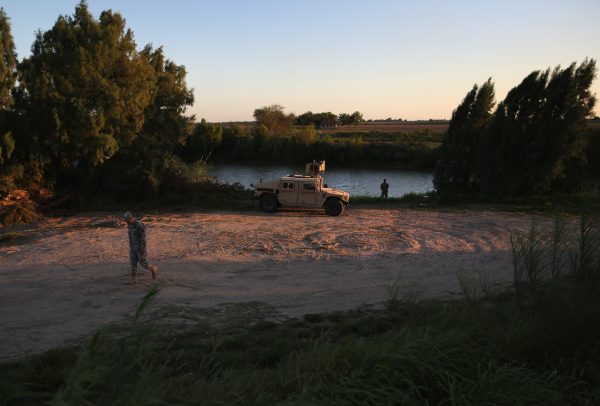 A 2011 GAO report said the then-Secretary of Defense had precluded National Guard forces from making arrests while performing border missions "because of concerns raised about militarizing the U.S. border."
Nielsen said she is currently working out a memorandum of understanding between the participating governors and the Department of Defense. The size and duration of the deployment will be available once the memorandum is signed, she said.
"It will be strong. It will be as many as is needed to fill the gaps that we have today, is what I can tell you," Nielsen said at a White House press briefing on April 4.
A statement released on April 4 by the Interior Minister for Mexico, Secretary Luis Videgaray Caso, says that National Guard members "will not carry weapons or carry out immigration or customs control functions."
Caso said he released the statement after speaking with Nielsen.
"In all communications on the subject, the government of Mexico has expressed to the government of the United States that, if the announced deployment of the National Guard resulted in a militarization of the border, it would seriously damage the bilateral relationship," Caso said.
Cost
A GAO report estimated the combined total cost of sending the National Guard to the border during operations Jump Start and Phalanx was about $1.35 billion.
Jump Start ran from June 2006 to July 2008 and Phalanx ran from June 2010 through Sept. 30, 2011.
Background
The National Guard plays a dual role in the U.S. military. Guardsmen can be deployed by the governors of their resident states to support communities stricken by natural disasters like floods and hurricanes, or they can be deployed by the president to defend the United States or support allies overseas.
"Guard Soldiers hold civilian jobs or attend college while maintaining their military training part time," according to the National Guard website.
In border operations, President Donald Trump would use the National Guard under Title 32 of the U.S. Code, which doesn't require congressional support.
Recommended Video:
Trump Delivers Remarks After Reviewing Border Wall Prototypes