The MEO Pro Portugal Championship Tour (CT) surfing event wrapped up on Monday, with Brazilian Tatiana Weston-Webb the victor in the women's event and American Griffin Colapinto in the men's.
The break at Supertubos in Peniche dished up small but clean conditions on finals day, and Weston-Webb had her work cut out for her, coming up against five-time world champion Carissa Moore in the semi-final.
She rose to the challenge, getting the better of the Hawaiian in a tight exchange that went down to the wire.
She took the heat 10.76 to 10.17 to secure a berth in the final against Lakey Peterson, who had similarly just pipped seven-time world champ Stephanie Gilmore 12.34 to 12.00 in her semi.
Likewise, the final was a hard-fought battle, both Weston-Webb and Peterson pushing their turns hard to get the most out of the small waves.
While throughout the heat, it looked like the result could go either way, Weston-Webb had a slight edge in that some of her manoeuvres were more critical, and she took the event with a score of 15.33 compared to Peterson's 14.27.
During the award presentation, Weston-Webb said she'd had a terrible start to the tour.
"Just to continue to believe in myself was something that I was struggling with, and I think after my round of 16, I just continued to feel calm and proud and happy, regardless of the result," she said.
"And I think that is what gave me the win."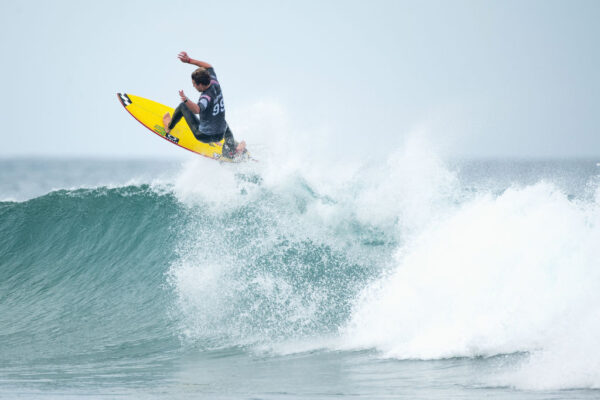 Meanwhile, in the men's event, Colapinto had to get past two-time world champ John John Florence in his semi-final to book a meeting with dynamic Brazilian Filipe Toledo in the final.
Florence made several uncharacteristic errors in the semi, resulting in multiple waves incomplete. At the same time, Colapinto found suitable ramps, launching two throw-tail reverses, one with a critical landing in the flats.
However, Colapinto's highest single-wave score of the heat—a 6.93—was a lefthander on which he squeezed in five turns, taking his score to 13,76 versus Florence's 10.50.
In the other semi-final, Toledo took down fellow Brazilian Italo Ferreira, who, despite landing an 8.83 for a back-hand air with full rotation, couldn't get a decent back-up score, ending the heat with 12.66 compared to Toledo's 13.67.
Colapinto and Toledo came out firing in the final, with an early nose-pick reverse from the former and fin-throw reverse from the latter. It looked like an air show might be on the cards, but rather the majority of waves suited rail and top to bottom surfing.
Both surfers demonstrated excellent vertical approach on their backhand, and the heat remained tight, with two lead changes.
It could have gone either way, but Colapinto came out on top, taking the final 14.34 to 14.20, securing his first CT event win.
During the award presentation, Colapinto reflected on his road to the final.
"The people I got to surf against was incredible," he said.
"Having Felipe in the final was so rad; we've had some really deep, cool conversations that you don't get with most people, so that was really special."
Supertubos, Portugal, was the third event on the tour, and competitors will now have a month's break before regrouping down under for the Rip Curl Pro Bells Beach, which will take place between April 10 and 20.