WESTMINSTER, Calif.—With the City of Westminster on the verge of bankruptcy and midterm elections approaching, city officials are deciding whether to renew their one-percent city sales tax on the November ballot while searching for alternative revenue-generating options.
Westminster is facing an impending budget deficit of over $17 million, and city councilors need to decide whether to let residents vote to renew the sales tax—which brings in between $12 to $15 million a year—to bridge the gap.
For the tax to be placed on the November ballot, at least four out of five councilors must vote yes in a meeting by August 12, a deadline set by the Orange County Registrar of Voters. Originally passed in 2016 and set to expire at the end of the year, the tax accounts for a quarter of the city's operating budget.
Without this revenue, the city could eventually be forced to cut basic services or even file bankruptcy by 2024 if there is no additional revenue source to make it up, according to Councilwoman Kimberly Ho.
Budget cuts have already led to a 33-percent staff reduction in the city's police department, according to Police Chief Darin Lenyi, who noted in a council meeting last month that many on the force are working even harder to account for these staffing shortages.

Three councilors—Mayor Tri Ta, Vice Mayor Carlos Manzo, and Councilwoman Kimberly Ho—seem to have mixed feelings about the sales tax renewal, as well as other options they would consider in its place.
Currently, Manzo and Ho are in support of putting the tax on the November ballot, with Ta opposing it.
Though a 2020 poll conducted by the city showed 60 percent of residents supporting the tax, Ta pledged to reject the ballot measure, saying the option is not the right choice for the city amid "skyrocketing" inflation.
"[With] residents struggling to balance household budgets, now is not the time to unnecessarily raise taxes," Ta told The Epoch Times, adding that "worst-case" scenario predictions show that the city will still be able to continue normal operations until "at least" sometime in 2025.
"Unfortunately, some of my opponents have teamed up with special interests to try and force new taxes on the residents of Westminster," Ta said.
As such, Ta said the city must "streamline" its operations by "de-regulating" small businesses, which, according to Ta, would incentivize more businesses to set up shop in town—such as Bolsa Row, Little Saigon's newly built retail and residential plaza.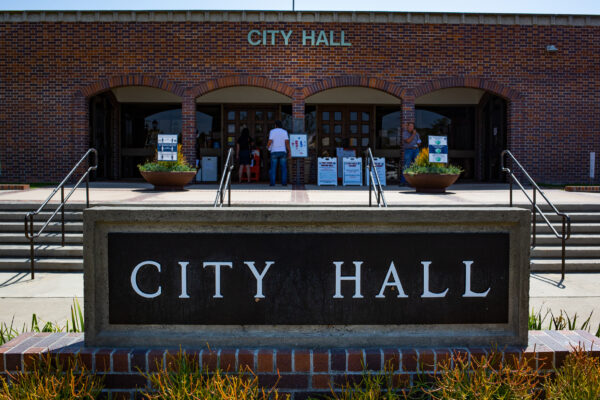 Manzo disagrees, saying the city's budget gap is too big to be fixed with a few added businesses.
"That is a 25 percent gap. … I don't think we'd be able to make that up on just [the tax revenues coming from] small businesses alone," Manzo said.
Having previously voiced his support for the sales tax, Manzo adds that lower taxes in other areas are partially to blame for the city's financial woes.
"The reason we're in this position is because our property tax is already so low, and we basically depend on that service," Manzo said.
Meanwhile, Manzo notes that the one percent tax, although helpful, would only help "keep the lights on" in terms of sustaining the city's basic services like policing or trash collection.
Attracting revenue-generating businesses, Manzo said, would require large-scale redevelopment around the city.
"I think businesses really don't want to consider coming to Westminster because of the appearance of our city, I think that plays a factor," Manzo said. "And then the financial situation we are in [also] plays a role."
One option Manzo said he would consider, proposed by city staff several weeks ago, is expanding zoning to allow cannabis sales.
Councilors also asked staff to consider additional funding options such as electronic billboards and vendor kiosks in the civic center, during a recent city council meeting.
Ho, on the other hand, says that if the vote were being held tomorrow, she would vote to support placing the tax on the ballot after the city presented its budget study last week, while asserting her desire to wait until she "hears all the facts" before ultimately making her final decision.
"If I were to vote tomorrow, I would [vote to] put it on the ballot," Ho told The Epoch Times on June 16. "And I would urge my colleagues to do the same.
Another "revenue-generating" option she said she would consider is repurposing Westminster Mall.
"As a business owner, I think we have so much potential to revitalize parts like the mall to bring in so much more business, and needed housing," Ho said. "We could really balance it out. And that's just one idea."
Ho says the option—though requiring city funding initially—would generate large amounts of revenue while also reinvigorating the city's economy.
Both Ta and Ho ran for the state's 70th assembly district seat in the June 2022 primary, with Ta advancing onto the general election in November.
Ho announced on June 16 would run for the mayor of Westminster in November.
Ho is pledging to help solve issues of homelessness and economic inflation "plaguing" the city, in addition to keeping the police and fire departments "fully" funded amidst budget shortages.
Councilmen Chi Charlie Nguyen and Tai Do did not return requests for comment by press deadline.