Western Australian (WA) opposition leader Mia Davies has criticised the McGowan government for using its majority to push through legislation that extends WA's State of Emergency powers for a further six months.
In a release on Wednesday, Davies, also the leader of the WA Nationals, said the premier had sidestepped normal parliamentary processes to avoid scrutiny and extend powers that other states had long since dropped.
"The government refuses to acknowledge there are other mechanisms available to keep people safe, preferring to keep a steely grip on the powers they've had for the last two years," she said.
This comes after the WA government announced on Tuesday that a bill would be introduced into state parliament under the Emergency Management Act that gives certainty to COVID-19 response measures.
The bill will ensure that the Emergency Management Amendment Act 2020 and Criminal Code Amendment Act 2020, both COVID-19 response amendments, can continue to be in place, as the government says they have been vital to the state's successful management of COVID-19.
Currently, the COVID-19 State of Emergency is renewed fortnightly under the Emergency Management Act.
The new legislation will only remain in effect while a State of Emergency exists, falling away when the State of Emergency is not enacted.
This means if the WA government declares a State of Emergency, it still has the power to impose measures including a seven day isolation for COVID-19 positive cases, use of face masks for close contacts and in specific settings such as hospitals and aged care facilities, strict protocols for cruise ships, and restriction of movement in and out of Aboriginal communities.
The bill will be in place until Jan. 3, 2023, but the government said this doesn't necessarily mean the State of Emergency will be in place until that time.
Davies said that while there is still COVID-19 in the community, "it is hard to argue we are facing the same uncertainty and threat as two years ago when these draconian rules were put in place."
"Two years on it's a very different situation and you have to ask what the premier and his government have been doing with the time they've had to transition our state to safely live with COVID-19," she said.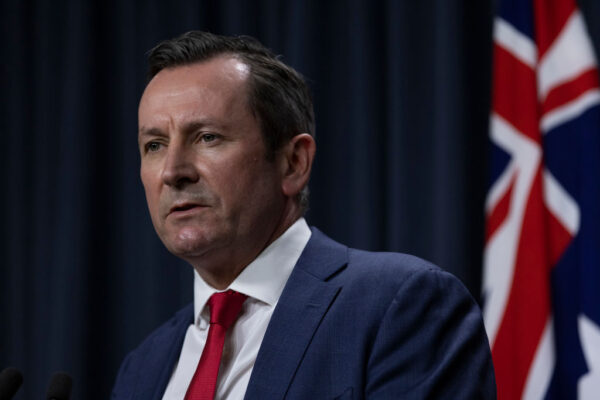 However, Premier McGowan insists that the emergency management framework needs to stay in place to ensure appropriate avenues are available for the government to "continue to keep Western Australia safe and strong".
"Having this legislation gives the state a framework to manage important measures including the requirement for mask mandates in vulnerable settings such as hospitals and aged care, and also ensures we can keep a ban on larger cruise ships and restrict access to remote Aboriginal Communities for the time being," he said.
Davies stressed that at the very least, there should be greater transparency from the premier, adding that the government had been urged by the opposition and Auditor General to set up a full inquiry into the impact of COVID-19, but refused.
"The Premier isn't interested in transparency or scrutiny of his government's agenda, ramming legislation through at short notice," she said.
Meanwhile, the leader of the WA Liberals, Dr. David Honey, said that while the emergency powers had a purpose early in the pandemic, it is no longer clear why they need to continue.
"The McGowan Government, despite repeated questions from the opposition, have failed to provide an explanation as to why these additional emergency powers need to continue past July 4," he said.
"There appears to be ample scope using existing powers under the Public Health Act to continue to take sensible measures to protect vulnerable people and minimise the impact of COVID-19 on the community."
Honey added that his main concern is that the government is using the Emergency Management Act to avoid any public scrutiny of the reasoning behind certain decisions.
"The Premier's claim that if they don't continue these additional powers, parliament will need to constantly meet to introduce new restrictions, is complete nonsense," he said.
"The Public Health Act already has incredibly broad powers to apply restrictions to individuals or groups of people during a health crisis."
In response, McGowan told reporters that without these current laws under the emergency act, the necessary measures he previously mentioned cannot be put in place.
"So, I think all of us want to ensure that people who are COVID-positive are required to stay home, people who are close contacts, but asymptomatic, are required to do a daily RAT test," he said.
"The only way we can do that is with these laws. So, look, I know the Liberals and Nationals don't want us to do this. The alternative is far more people acquire COVID, particularly in vulnerable environments, for instance in aged care and hospitals, and I don't want to see that happen."