Over a million West Australians will need to be fully vaccinated by the end of January, with sweeping new mandates encircling approximately three-quarters of the state's workforce.
The new directives from Western Australia (WA) government stand out as one of the most all-encompassing and ambitious of any Australian state, with previously announced mandates for health and mining sectors accounting for less than 10 percent of all workers.
Individuals refusing to comply will be slapped with a fine of up to $20,000, and required businesses with unvaccinated staff will face penalties of up to $100,000.
The new requirements (pdf) will include almost all industries with a risk of community transmission—including, but not limited to:
Supermarkets, grocery, bakery
Restaurant, pub, bar or café
Construction
Freight, public and private transport
Schools, Child Care
Petrol stations
Financial institutions
Hotel, motel, accommodation
Post Offices
Hardware store
Critical infrastructure (e.g. utilities)
Other sectors will be required to be fully vaccinated to work during lockdowns, including government and media.
"The time is now," WA Premier Mark McGowan said in a media release.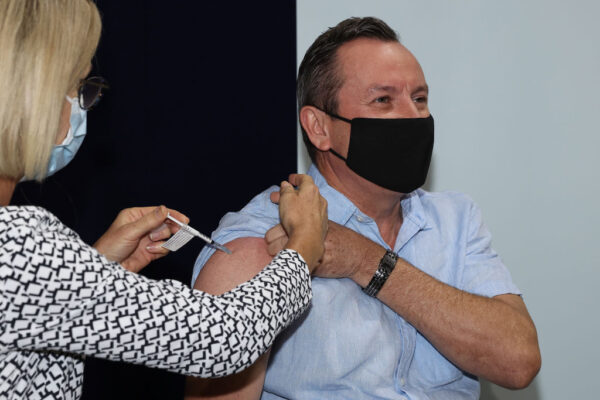 "I want to make it abundantly clear that everyone who is eligible should get the COVID-19 vaccine now as we all need to be prepared for the event of community transmission or a lockdown," McGowan said.
"Don't wait for the deadly Delta variant to enter before you consider getting the vaccine. Instead, get the COVID-19 vaccine now."
This comes as the state has trailed behind on vaccination uptake compared with other jurisdictions, with McGowan and WA Vaccine Commander and Police Chief Chris Dawson expressing frustration over some West Australians' refusal to vaccinate.
Currently, 73.6 percent of 12-and-overs have received at least one jab, with 55.5 percent fully vaccinated—falling short of the government's target of reaching 80 percent fully vaccinated by the end of the year.
The McGowan government has also received criticism by some for refusing to give a deadline for reopening interstate borders and promising continued lockdowns in the event of community transmission even when 80 percent of the eligible population becomes fully vaccinated.
West Australians have also turned up in the thousands over the last several months—including three times in the last month alone—to protest against the vaccine mandates, with many instead choosing to lose their livelihoods.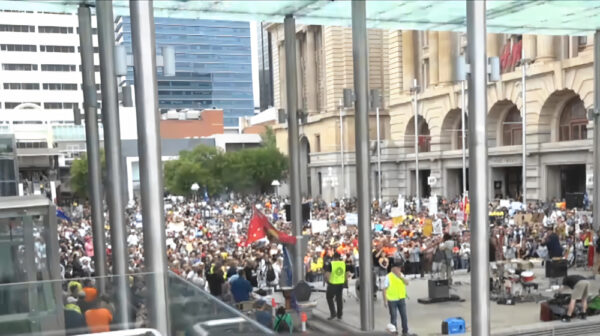 It is currently unclear how the WA government plans on supporting the health industry once staff leave, particularly given the existing healthcare staff shortage crisis.
Some have also expressed discontent towards McGowan's leadership decisions—including his statement that protestors should "grow a brain."
Experts globally have recommended against instilling vaccination mandates, including Harvard epidemiologist Martin Kulldorf who has suggested that forcing individuals would result in a loss of public confidence.
"Right now, with these vaccine mandates, and vaccine passports, this coercive thing is turning a lot of people away from vaccines and not trusting them for very understandable reasons," Kulldorff told The Epoch Times. "Why do you have to force somebody to take the vaccine, if it's so beneficial to you?' That's one rationale."