West Virginia is one of seven states that lost congressional seats in post-2020 Census reapportionment and will see its representation in Congress trimmed by one district beginning with the 2022 election cycle.
As a result, three incumbents—all Republicans—seek reelection to two seats in the state's May 10 primaries for congressional and state legislature candidates. Early voting began on April 27 and ends May 7.
U.S. Rep. Carol Miller, first elected to the state's former Congressional District 3 in 2018, is an overwhelming favorite to cruise past four GOP primary challengers and win a third term representing the newly refashioned CD 1 in November's general election.
Compared to the relatively staid CD 1 primary campaign, the five-candidate battle for the GOP nod in the new Congressional District 2 has been a brawl played out on the national stage with former President Donald Trump in a starring role.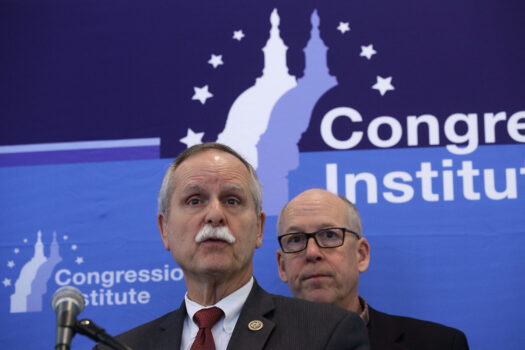 It is a primary battle between US Reps. Alex Mooney and David McKinley and is one of five primary elections nationwide pitting incumbents against each other and one of two with sitting Republican reps playing musical chairs in reapportioned districts.
Congressional District 2 has also been among the nation's most expensive and ugly primary races, with money and vitriol aplenty in a bitter inter-party clash between two former colleagues.
The two candidates are expected to spend more than $6 million in the race.
Mooney's April 20 filing with the Federal Elections Commission (FEC) reported $3.64 million in campaign coffers, including $2 million in contributions. McKinley's April 20 FEC filing showed $2 million in funds, including $1.54 million in contributions.
By comparison, campaigns for the three other GOP CD 2 hopefuls—Carly Braun, Michael Shawn Becker, and Susan Buchser-Lochocki—had collectively raised less than $32,000, confirming it is essentially a two-horse race between Mooney and McKinley.
And that race could be determined by Trump's support for Mooney, beginning with a November endorsement. During a May 3 "Get Out The Vote Telephone Rally" staged by Mooney's campaign, the former president called in to reiterate his "total backing."
"We have to make sure that we vote for this great gentleman, a friend of mine, and really a warrior in every sense," Trump said during the tele-rally. "Alex is an American First warrior, a House of Representatives person that I call, and he's always been there for me."
Mooney will be the second Trump endorsement to be tested at the polls. Trump-backed Ohio GOP US Senator candidate J.D. Vance won his hotly contested primary battle on May 3.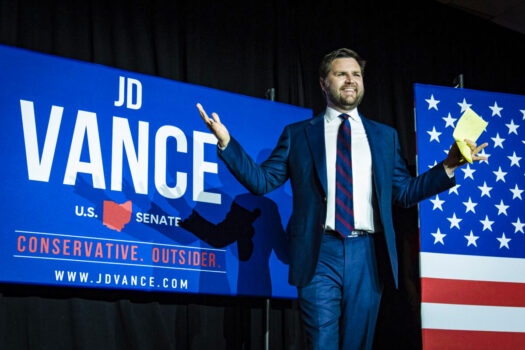 Mooney, 50, first elected to Congress in 2014, drew Trump's endorsement as "a proud America First conservative" because he voted against President Joe Biden's Build Back Better infrastructure bill and against a failed bill to create a bipartisan commission to investigate the Jan. 6 attack on the U.S. Capitol.
In addition to Trump, Mooney has been endorsed by the Club for Growth, FreedomWorks, the House Freedom Fund, American Conservative Union, FreedomWorks PAC, and Republican US Reps. Ronny Jackson of Texas and Lauren Boebert of Colorado.
"Congressman Mooney is a conservative warrior," Trump said in his November endorsement, calling McKinley "a RINO [Republican In Name Only] who supported the "Unfrastructure Bill" and the "Sham Jan. 6 Unselect Committee."
After opposing Build Back Better when the House first approved it in a partisan vote, McKinley voted for the failed compromise measure that US Sen. Joe Manchin—West Virginia's only statewide-elected Democrat—attempted to cobble together. McKinley was among only 13 of 209 House Republicans to vote for the Jan. 6 commission.
Those two votes and Trump's endorsement are about all that separate Mooney and McKinley, who both share the same legislative priorities—securing the border, defending the Second Amendment, rebuilding the economy, advocating for the state's coal industry, abolishing abortion, supporting law enforcement and veterans, and battling opioid addiction.
Despite being called a "RINO" by the former president, McKinley burnished his MAGA credentials in a May 5 Facebook statement, noting, "I stood with President Trump 92 per cent of the time—more than Alex Mooney—to build the border wall and defend his 'America First Agenda.'"
McKinley, 75, a former state Republican Party Committee chair who unsuccessfully ran for governor in 1996, has served in Congress since 2010, winning a seat occupied by Democrats since 1968.
He has also secured significant endorsements, including from Manchin, Democrat-turned-Republican Gov. Jim Justice, former Trump administration US Secretary of State Mike Pompeo, the state's Chamber of Commerce, the West Virginia Manufacturers Association, and the Gas and Oil Association of West Virginia.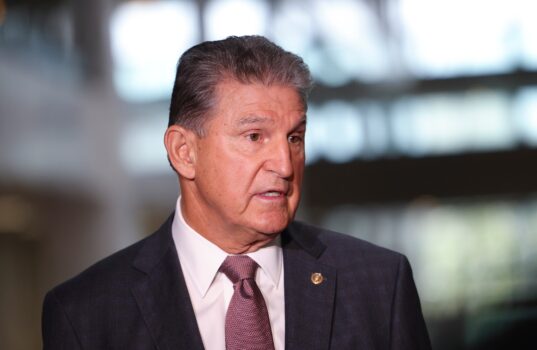 Unlike Mooney and Miller, McKinley supported the compromise measure, but like Mooney and Miller he had voted against Build Back Better when the House first adopted it.
Manchin, whose lobbying for a compromise failed to derail passage of Biden's $1.2 billion infrastructure bill, came to McKinley's defense in a 30-second ad this week in a rare cross-party endorsement.
"I've always said if I can't go home and explain it, I can't vote for it. And that's why I opposed Build Back Better," Manchin says in the ad. "For Alex Mooney and his out-of-state supporters to suggest David McKinley supported Build Back Better is an outright lie."
McKinley maintains he voted for the compromise infrastructure bill because the nation and West Virginia "needs to restore our aging infrastructure."
In his endorsement, Justice, a Trump ally, said that he disagreed with the Jan. 6 commission vote but praised McKinley for supporting the infrastructure package, which could deliver $6 billion to the state.
"It did take a lot of courage for him to vote for the bipartisan infrastructure bill, and I know without question that vote was done out of his love for the great people of West Virginia. The infrastructure dollars we will receive will positively impact the lives of all West Virginians in a major way," he said.
McKinley, in ads, has attacked Mooney as a carpetbagger with no West Virginia roots, quoting a 2014 Forbes magazine article, 'Alex Mooney, the portrait of a political prostitute,' that chronicles his days as a Maryland state lawmaker and unsuccessful congressional candidates in New Hampshire and Maryland.
"Mooney is an opportunistic career politician who has never had a job outside of politics" who has" run for office in three different states. Mooney moved to West Virginia from Maryland so he could get elected to Congress," one ad states, before noting, "Now Mooney is under federal investigation for violating the law. Maryland Sen. Alex Mooney: Out for himself, not West Virginia."
McKinley's campaign has made frequent references to an ongoing investigation by the House Ethics Committee into allegations that Mooney used congressional and campaign staff for personal errands and obstructed the Office of Congressional Ethics in its investigation.
Mooney claims he is innocent and will be exonerated when the House Ethics Committee releases its findings later this month. His campaign has called McKinley ad claiming he is under "federal investigation," purposely deceiving since it is a congressional probe not being conducted by any law enforcement agency.
Mooney, who maintains his eight years in the US House representing West Virginia proves his commitment to the Mountain State is being boosted by $1.1 million in ads financed by the Club For Growth, a Washington, DC-based nonprofit that describes itself as "the leading free-enterprise advocacy group in the nation."
Other leading Mooney contributors, according to OpenSecrets, com include the House Freedom Fund; HSP Direct, a Virginia fundraising agency that serves conservative candidates and causes; Ohio-based Oakwood Labs, which produces complex microsphere products and sustained release drugs; Park Square Realty of Springfield, Mass.; and California-bassed Stapleton & Associates, which provides forensic training and consulting.
According to his April 20 FEC report, of the $3.644 million Mooney had in his campaign coffers on April 20, $1.199 million came from contributions, including 556 donations under $3,000 totaling $732,827.20.
Of the $2 million McKinley campaign reported to the FEC on April 20 FEC, $1.546 million are in contributions under $3,000 from 618 donors totaling $781,344.35.
Leading McKinley contributors, according to OpenSecrets.com, include Mississippi-based Ergon Inc., which refines and sells oils, asphalt, thermoplastic resins, petrochemicals, propane, and the machinery that services them; Quintana Minerals of Houston, Texas; Trian Partners, an investment management firm with offices in Manhattan and Palm Beach, Fla.; Westlake Corp., a Texas-based petrochemical corporation; the American Council of Engineering Companies, a federation of 52 state and regional councils representing more than 600,000 engineers, architects, and other specialists; and the United Mine Workers of America.
When Trump made his endorsement on Nov. 15, the same day Biden signed Build Back Better into law, Mooney was trailing McKinley in polls by 15 to 20 percentage points.
According to North Star Opinion Research, Mooney had significantly narrowed that gap by late March, which reported 38 percent of Republican voters supported McKinley, 33 percent said they backed Mooney, and 25 percent were undecided.
That large bloc of undecided voters within the GOP is a wild card in projecting the winner. The state's voting rules, which allow independents to vote in either party's primaries, are another.
According to the West Virginia Secretary of State's office, there are about 448,900 registered Republicans who constitute 36.8 percent of the electorate. There are about 444,600 registered Democrats, or 36.5 percent, and 275,000 unaffiliated registered voters, or about 22.6 percent of the voters.
The influence of independent voters who lean Republican at the ballot box is evident in the GOP's dominance in the state, which Trump won with 68 percent of the vote in 2020.
That trend is expected to continue.
CQ Roll Call, FiveThirtyEight, and Cook Report all classify West Virginia as "solid red" and "safe Republican" and predict the primary's Mooney-McKinley winner, and Miller in CD 1, should defeat Democrat opponents handily in November.