Ed Rollins, the campaign strategist behind the 1984 Reagan reelection, said Donald Trump is definitely running for the Republican nomination for president of the United States in 2024.
"The information that I've gotten the last several weeks is Trump is definitely running," Rollins told The Epoch Times on June 14.
But that's not stopping Rollin from pushing the idea that another GOP standard-bearer would make a better candidate than Trump would.
Despite the claims by Rollins that Florida's Republican Gov. Ron DeSantis will stand down if Trump runs, the PAC Rollins created to help this potential Trump opponent secure the nomination keeps rolling so it can eventually help whoever is the nominee.
Rollins raised eyebrows several weeks ago with his launch of the "Ready for Ron" PAC, aimed at supporting the presidential candidacy of DeSantis, after Rollins ran the 2016 PAC that helped propel Trump to the presidency.
In a June 10 blast from Rollins from an address at AmericansWithDJT.com, Rollins wrote:
"Donald Trump is not running, that's why we have to prepare for Ron DeSantis running for President if we're going to have any shot at restoring Donald Trump's America-First agenda and getting America back on track."
The links in the email send readers to ReadyForRon.com.
"We're not working at all against Trump," Rollins told The Epoch Times.
"At that point in time, I didn't know if he [Trump] was running or not. What I've said since has made it clear is that he [DeSantis] won't run against Trump," Rollins added.
Subsequent to the statement Rollins made to The Epoch Times, another blast came from an AmericansWithDJT.com address on June 17, this one touting Elon Musk's support of DeSantis's nomination for president in the next election cycle. The message said:
"Governor Ron Desantis
"Fellow American- We're ready, Elon is ready, but are YOU ready for Ron?
"If you are with us, sign the petition to Draft Ron Desantis for President!"
DeSantis

— Elon Musk (@elonmusk) June 15, 2022
This time the email arrived without Rollin's signature, but was still forwarded to ReadyForRon.com.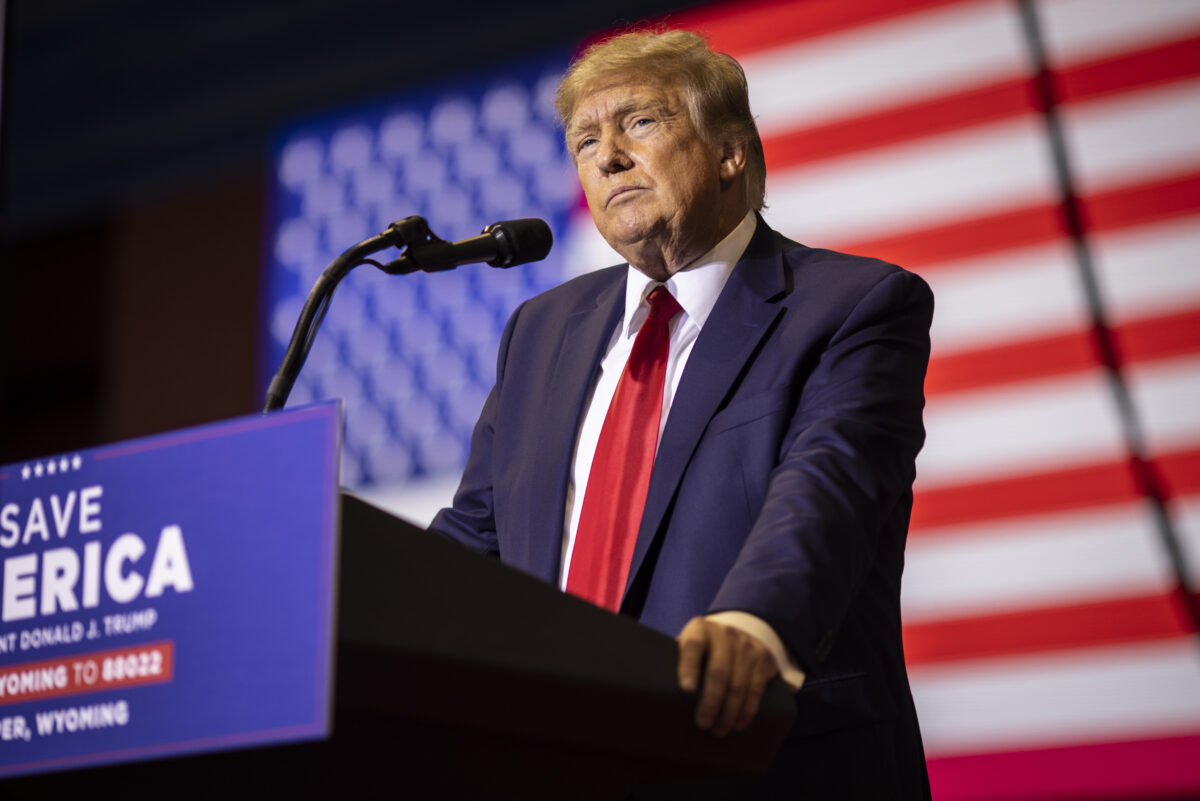 Rollins told The Epoch Times that a Trump candidacy most certainly would chase out of the running other serious players for the Republican nomination for president in 2024.
"He's got a ton of money, he got a political base that's still there, he's got a whole variety of operatives, some good, some not so good, but he's got a campaign ready to go," he said.
Rollins, 79, said that the calendar is moving very quickly for potential nominees if they were to make a serious run at the presidency, which may be why the Ready for Ron campaign got rolling now.
Iowa will be the first state where the GOP has a nominating contest in 2024. The Democrats, have opted for a multi-state primary day instead, breaking with the longstanding Democrat tradition that Iowa caucus first.
Then quickly thereafter, the GOP hosts elections in New Hampshire, South Carolina, and Florida.
"It's tough for anybody else to get started against Trump, so that's my feeling," Rollins said about the difficulties other campaigns would face against Trump.
But there are some hurdles to clear for Trump, Rollins says.
The Jan. 6 riots hurt what was mostly a pretty good track record as president, said Rollins, dividing the GOP as to whether they can trust Trump.
"The reality is that he's got to resolve some issues that are out there. I think that overall prior to Jan. 6, prior to the post-election stuff, he had a pretty good record," Rollins said.

One general consultant told The Epoch Times that while he thinks that Trump would win against Biden, the unique opportunity DeSantis brings to capture votes from Democrats in a more-or-less permanent realignment of voters, makes the Florida governor more appealing to the GOP than Trump.
"A lot of Democrats who will vote against Biden in the midterms in 2022 will vote against Trump in 2024," Tony Marsh of Savanna Communications told The Epoch Times, saying that it's a historic chance for the GOP to make inroads on once-sacrosanct Democrat voting groups.
While most polling cites Trump as having a big lead against any potential opponents, a recent straw poll at the Western Conservative Summit saw DeSantis take the top spot amongst a group that's very conservative.
DeSantis led the voting with 71 percent of the vote to Trump's 67.7 percent in an "approval vote" that allowed voters to vote for each candidate they approved of, said ColoradoPolitics.com.
Jeff Hunt, director of Centennial Institute, one of the summit's organizers, said that Trump and DeSantis are both the type of fighters that rank-and-file conservatives want.
"Both DeSantis and Trump, 40 points ahead of the rest of the field in the straw poll, are willing to fight back against the leftists and their media supporters," Hunt told The Epoch Times, noting that his organization, as a 501c3 nonprofit, doesn't support or oppose any candidate.
"Conservatives are looking for leaders that are willing to advance conservative principles, even against opposition."
The poll was the second second-place showing for Trump amongst Western Conservative Summit activists who gave the top spot to DeSantis last year, too.
Rollins cautions that Trump has to overcome some misgivings from the GOP, despite outward appearances of unity regarding support for Trump within the party.
"COVID is probably what cost him the election more than anything else," Rollins said.
"But he's got lots of problems out there and I think that this point in time, I'm just advocating that we have a good candidate prepared to run against Biden," he said, adding that his strategy was to "beat Biden," regardless of who the ultimate GOP nominee for president is.
The Epoch Times has reached out to Trump and DeSantis's offices for comment.