Wen Jiabao Resurrects Hu Yaobang in Unusual Article
April 17, 2010 4:43 am Last Updated: October 1, 2015 8:21 pm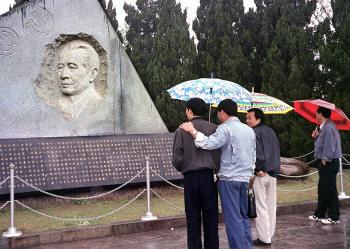 An unusual article by Chinese second in command Wen Jiabao, appeared on major Chinese websites on April 15. Titled Returning to Xingyi City and Remebering Yaobang, Wen pays tribute to the former general secretary of the Chinese Communist Party (CCP) Hu Yaobang, on the 21st anniversary of his death.
Hu Yaobang, a supporter of social and economic reforms who was forced out of the Party by hardliners in 1987 for not working hard enough against "bourgeois liberalization," has been a controversial personality within the CCP. His death in April 1989 prompted public mourning by students in Beijing which escalated into the nationwide student democracy movement and the subsequent massacre on June 4.
In the article, Wen claims that Hu had great influence on him and says that he often followed Hu to inspect the poverty-stricken southwest of China. He mentions Hu's efforts to connect with people even when he was in his 70s.
According to Voice of America (VOA), this is the first time a Chinese leader has openly approved of Hu Yaobang.
Author Liao Zusheng mentions that Wen comes across as more human and sensitive than other officials, and many people have identified with Wen's article. The article recognizes Hu's popularity among the people. He is seen as someone who would not have wanted the Chinese people to live in hardship.
Liao, however, thinks that Wen did not go far enough and should have also expressed remorse for Hu's mistreatment and shame for the indifference of officials.
Others view the publication differently. Senior reporter Gao Yu in Beijing said she doesn't interpret Wen's article as an attempt to redress Hu, since the June 4 incident is not even mentioned. "The Chinese Communist Party would never claim responsibility for the mistakes it made including the mistreatment of Hu," she said.
Jin Zhong, chief editor of Hong Kong-based Open Magazine, thinks Wen's article is written in anticipation of the anniversary of the Tiananmen Square Massacre. He sees it as an attempt to appeal to young people now to prevent trouble from happening later. According to a report from NTDTV, Jin said, "With the approach of June 4, the regime worries that social conflict could erupt."
Chief Editor of Dongxiang Magazine Zhang Weiguo, says that Wen is trying to seek support for himself and avoid embarrassment for the Party. "Wen knows he needs some kind of support for his jeopardized political status. He also wanted to use Hu's fine image as a fig leaf for the Party after seeing the rising violent conflicts between officials and civilians."
Read the original Chinese article