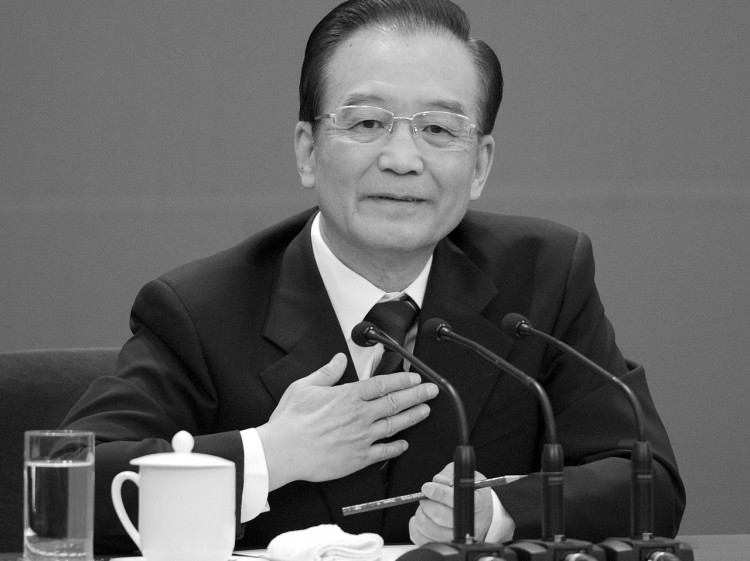 News Analysis
Premier Wen Jiabao is often called "China's best actor" for his great scripts that called for political reform but produced no changes. However, as the Wang Lijun-Bo Xilai scandal has played out over the last two months, Wen's words suddenly have taken on new significance, putting him at center stage.
In fact, as premier, Wen has no authority over the political system; his domain is the economy and state bureaucracy. Wen's only way to advance the cause of political reform has been to talk about it.
After Wang, the former Chongqing police chief, fled to the U.S. Consulate in Chengdu on Feb. 6 seeking asylum, a long-brewing power struggle at the topmost reaches of the Chinese Communist Party (CCP) burst into the open.
U.S. national security reporter Bill Gertz reported that according to U.S. officials, Wang had deposited documents at the consulate providing information about corruption and the connections to organized crime of Wang's boss, Chongqing Party chief Bo Xilai.
According to Gertz, a U.S. official also said that Wang provided information about a plot by Bo and the Chinese regime's domestic security czar, Zhou Yongkang, to disrupt the smooth succession to power of the presumptive next head of the CCP, Xi Jinping. In other words, Bo and Zhou planned a coup of sorts.
After Wang was taken under custody by top Party officials on Feb. 7 and removed to Beijing for investigation, observers waited for the next shoe to drop—a move against Bo Xilai.
Wen Jiabao announced that move on March 14, at the end of his press conference at the close of the National People's Congress.
"The present Chongqing municipal Party committee and the municipal government must reflect seriously and learn from the Wang Lijun incident," Wen said. Observers of the CCP noted the seriousness of such public criticism of a Party official.
---
Click this tag or www.ept.ms/ccp-crisis to read about the most recent developments in the ongoing power struggle within the Chinese communist regime. Intra-CCP politics are a challenge to make sense of, even for veteran China watchers. Here we attempt to provide readers with the necessary context to understand the situation. Get the RSS feed. Get the Timeline of Events. Who are the Major Players?

---
The next day, the state-run press announced that Bo had been removed from his post as Chongqing Party chief. At the time he was rumored to be under house arrest in Beijing. Most recently, Xinhua announced that Bo had been removed from his Party posts and put under investigation.
Bo is a key member of the faction grouped around former Party head Jiang Zemin. That faction has opposed Party head Hu Jintao and Wen since the two took office in 2003.
The Jiang faction has contested with Hu and Wen over who will hold power, and how that power will be used to shape China.
China's Future
Wen referred to the battle over what China's future should be in his March 14 press conference, when he warned, "A historical tragedy like the Cultural Revolution may occur again."
The remark is aimed squarely at Bo, who gained fame in Chongqing for a campaign to sing Maoist songs. That campaign marked Bo as aspiring to lead the CCP in a Maoist direction.
The remark is not only aimed at Bo, though. It also targets those in Jiang's faction and in the Party as a whole who refuse to move toward political reform.
In Wen's remarks, he described China as either advancing toward reform or sliding back toward Cultural Revolution-style politics. "Reform has reached a critical stage," Wen said. "Without the success of political reform, economic reforms cannot be carried out. … Each Party member and cadre should feel a sense of urgency."
Perhaps the greatest opponent in the CCP to political reform is Zhou Yongkang, who heads the powerful Political and Legislative Affairs Committee (PLAC), with authority over nearly all elements of law enforcement in China. In the struggle over Bo Xilai, Zhou has been Wen's real opponent.
On March 26, at the State Council's annual conference on opposing corruption, Wen spoke about how the greatest danger facing the CCP is corruption, which he again linked to the need for political reform. "If this issue is not resolved, the nature of political power could change, and the Party could lose its power to rule the country."
A source in Beijing who knows the background of Wen's remarks told The Epoch Times that Wen was aiming at Zhou, because Wen has always thought that the PLAC is the biggest source of corruption in China.
Following Wen's remarks on March 26, moves were taken aimed at restricting Zhou's power inside the PLAC.
Redressing June 4 and Falun Gong
Sources in Beijing familiar with Wen's actions in Party councils say that in the last few years he has repeatedly urged for the rehabilitation of Tiananmen Square dissidents and Falun Gong practitioners—that is, that they should no longer be treated as criminals, and should be given reparations.
New Tang Dynasty Television political commentator Zhang Tianliang sees Wen as urging these twin rehabilitations both out of a sense that it is the right thing to do, and also as a means of advancing his project of political reform.
"Redressing the question of Falun Gong is about asserting the freedom of conscience and the independence of judiciary—these are goals that Wen has for political reform," Zhang said. "The Tiananmen student movement was about real democracy, which is also Wen's goal."
"The rehabilitation of the victims of the Tiananmen Square massacre would mean that the government admitted that they do not have the right to use the military and killing to stop people's demands for democracy," Zhang said.
Giving up the threat of violence would tilt the balance in China in the direction of real reform, according to Zhang.
"If the Party gave up the 'June 4 model,' it would cause more people to go to the street to fight for their rights or interests. It would be like a Chinese version of the Jasmine revolution."
Jiang Zemin—who is believed to be in a vegetative state—Zhou Yongkang, and Bo Xilai are linked as Wen's opponents for power in the CCP. They are also linked in their guilt in carrying out the persecution of Falun Gong.
Zhang explained that Falun Gong practitioners are not asking for political reform, but for the protection of their freedom of belief. They also want those responsible for the persecution—including Jiang, Bo, and Zhou—to be brought to justice.
"The rehabilitation of Falun Gong can help Wen to win people's hearts. There are 100 million Falun Gong practitioners in China, plus their families," Zhang said. "At the same time, Wen can accuse Zhou of genocide or crimes against humanity."
Redressing Falun Gong, then, gives Wen a powerful card to play in his struggle with Zhou.
According to one source in Beijing, Wen is particularly angry about the crime of forced organ harvesting from living Falun Gong practitioners. Wen recently said in a high-level Party meeting, "The live harvesting of human organs without anesthetic and selling the organs for money, is this something that a human being could do?"
On this issue, Wen has upbraided Hu Jintao, according to the source, telling him that without reform, "we will all face investigation in the end."
Research by Jane Lin and Angela Wang