The number of American workers seeking state unemployment benefits last week jumped to 853,000, the third straight weekly increase and a sign that the resurgent viral outbreak may be forcing more businesses to slash jobs.
The Labor Department said in a Dec. 10 report (pdf) that the number of people who filed initial state benefit claims last week grew by about 137,000 from the previous week's revised level of 716,000.
Economists polled by Reuters predicted 725,000 weekly jobless claims, making the Labor Department's figures a downside surprise.
"Our fears of a significant economic toll taken by the explosion in the COVID-19 cases have now been matched by a spike in new claims for unemployment benefits," said Bankrate.com senior economic analyst Mark Hamrick, in an emailed statement to The Epoch Times. "With the number of new claims alone, administered by the states, the increase of 137,000 takes total new claims back to a level last seen in mid-September."
Weekly jobless claims hit a record 6.9 million in March, at the peak of lockdowns imposed to curb the spread of the CCP (Chinese Communist Party) virus. While the number of people seeking unemployment benefits fell dramatically in the month or two that followed, the pace of recovery has slowed steadily since then, with weekly jobless filings stuck above 700,000 for months. Prior to the pandemic, weekly claims hovered around 225,000 per week.
The largest increases in jobless filings for the week ending Nov. 28 were in Illinois (+8,535), Oregon (+5,461), Colorado (+1,905), Indiana (+1,746), and Louisiana (+1,735). The biggest drops were in California (-37,803), Texas (-14,123), Michigan (-10,976), Georgia (-9,905), and Washington (-7,881).
The Labor Department figures also showed that the total number of American workers claiming unemployment benefits in all programs nationwide fell by more than 1.1 million to 19 million for the week ended Nov. 21—nearly 17.5 million more than in the comparable week a year ago.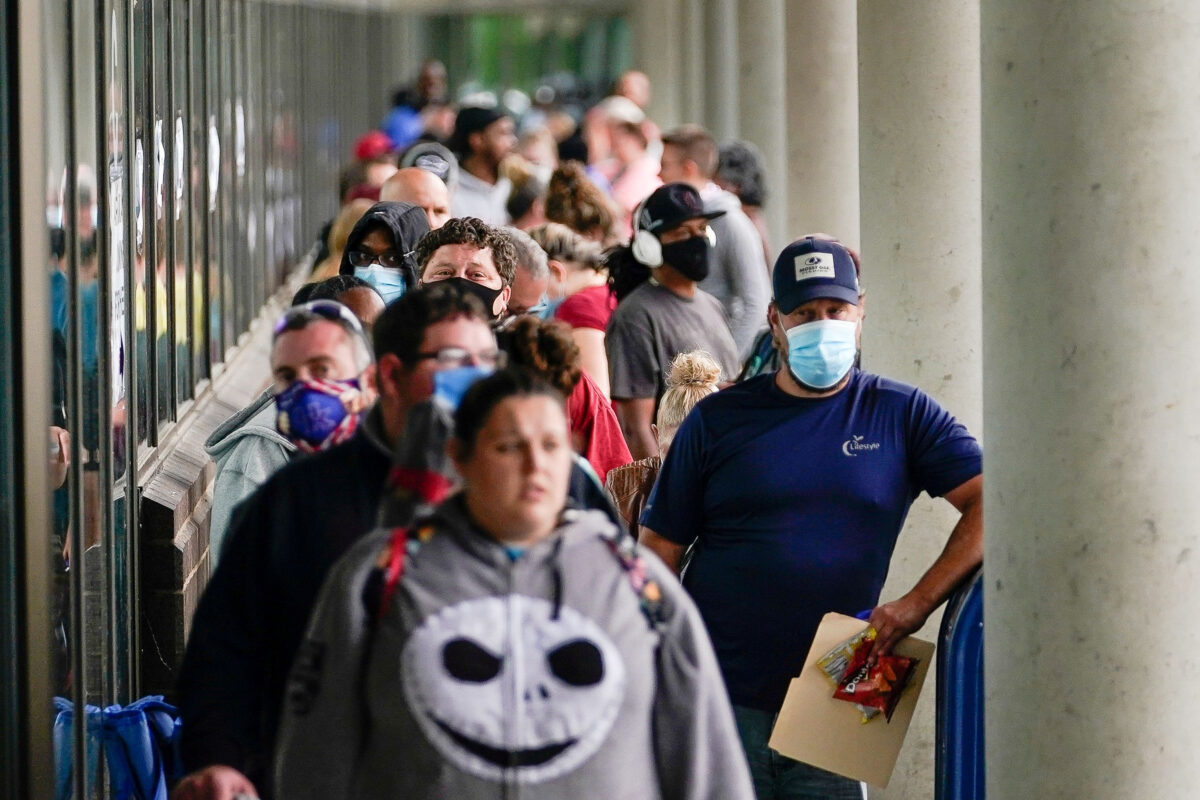 The faltering labor market recovery and the recent surge in COVID-19 infections has put pressure on policymakers to come up with another rescue package, as most of the financial aid from the government has dried up.
Lawmakers approved a stopgap government funding bill on Wednesday that would provide more time for negotiations, but an agreement over another relief package has remained elusive due to disagreements over aid to state and local governments, business liability protections, and unemployment benefits.
House Minority Leader Kevin McCarthy (R-Calif.) said he and Senate Majority Leader Mitch McConnell (R-Ky.) would support a $916 billion package put forth by President Donald Trump's top negotiator, with the proposal including $600 direct payments to American families. McConnell had previously pushed a $500 billion package, while a bipartisan group of lawmakers recently put forward a $908 billion compromise bill. House Speaker Nancy Pelosi (D-Calif.) and Senate Minority Leader Charles Schumer (D-NY) previously sought a $2.2 trillion bill that McConnell dismissed.
The White House proposal, which is based on the bipartisan framework, drew sharp objections from Democrats in Congress. Pelosi and Schumer said in a joint statement that the relief package was inadequate and obstructs bipartisan talks currently underway over another compromise.
"While it is progress that Leader McConnell has signed off on a $916 billion offer that is based off of the bipartisan framework, the president's proposal must not be allowed to obstruct the bipartisan Congressional talks that are underway," Pelosi and Schumer said.
"The president's proposal starts by cutting the unemployment insurance proposal being discussed by bipartisan members of the House and Senate from $180 billion to $40 billion. That is unacceptable," they added.
Meanwhile, the United States has been averaging 206,000 new daily CCP virus infections over the past week. Deaths are averaging more than 2,200 a day, and a record 104,000 people were hospitalized as of Tuesday.
The viral resurgence has prompted many governors to impose stricter curbs on business activity.