Week 4 Heisman Watch
September 18, 2013 6:14 am Last Updated: September 18, 2013 6:18 am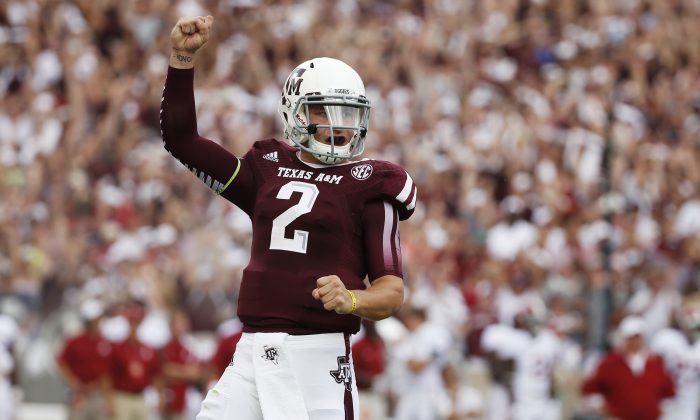 It's now three weeks into the college football season, which means it's time to weigh in on some Heisman Trophy contenders.
There seem to be three main ingredients to winning the Heisman: off-the-charts individual numbers, while playing on a national contending team, and being at either the quarterback or running back position.
It's still a wide-open race at this time, as most teams are not out of national contention, so there is plenty of speculation here as we break down the current top six players for college football's highest honor.
6. A.J. McCarron—QB, Alabama (2–0): McCarron has the reputation of being more of a game-manager who won't lose the game (threw just three picks all of last year) while managing all the talent around him. After putting up so-so numbers against Virginia Tech in the opener (10 of 23 for 110 yards) he threw for 334 yards and 4 TDs against the Aggies, while leading them to yet another win—which may be his best avenue to the Heisman.
4. (tie) Tajh Boyd—QB, Clemson (2–0): Boyd's numbers through two games (439 yards, 3 TDs, 60.4 percent completion rate) don't live up to Bridgewater's below but Boyd was great in the season opening 38–35 win over Georgia, keeping him in the race. Also a factor is the fact that each of the past two seasons he's thrown more than 30 TDs and even last season he completed 67.2 percent of his passes. So, he's capable of even more.
4. (tie) Teddy Bridgewater—QB, Louisville (3–0): Bridgewater was a contender heading into the season after throwing for more than 3,700 yards last year. His first two contests this year were against weaker opponents (Ohio and Eastern Kentucky) and Bridgewater tore them apart to the tune of 752 yards, 9 TDs, and 76.7 percent completion rate. Then last week against Kentucky he came back to earth going 16 of 28 for 250 yards and a TD. We'll know more when the Cardinals face better competition.
3. Jameis Winston—QB, Florida St. (2–0): The first surprise on the list here is the freshman Jameis Winston. Winston burst onto the scene with a Labor Day performance for the ages: 25 of 27 for 356 yards and 4 TDs in a 41–13 win at Pittsburgh. To prove the numbers were no fluke, Winston followed it with a 15 of 18 passing performance for 214 and 2 TDs against Nevada. That's an 88.9 percent completion rate on the season. To put that in perspective, Colt McCoy owns the NCAA FBS season record for highest completion percentage at 76.7.
2. Marcus Mariota—QB, Oregon (3–0): Thus far, the Ducks are doing alright without former innovative head coach Chip Kelly. The team averages better than 60 points a game and Mariota is a big reason why. The sophomore signal-caller has averaged 296 yards passing and 87 yards rushing per game in wins over Tennessee, Virginia, and Nicholls State—decent competition. He'll need to improve on his 59.8 completion percentage, though last year's numbers (68.5 completion rate) suggest he will.
1. Johnny Manziel—QB, Texas A&M (2–1): Manziel is the only one on the list that has experienced a loss, but when you're the reigning Heisman winner and the loss was to two-time defending champion Alabama, it's forgivable. Besides, Manziel put up some tremendous numbers against Saban's defense: 464 yards passing for 5 TDs while rushing for 98 yards on the ground. That gives him 984 passing yards through two and a half games, while completing 70.8 percent of his passing and already connecting for 11 scores. As long as he plays every week, the trophy is his to lose.