An anonymous tipster first thought it was a hallucination when they stumbled across an overweight tiger in the abandoned Houston house garage where they had gone to smoke marijuana.
When authorities went to investigate, the 350-pound tiger was all too real, trapped inside a "rinky-dink" cage in the unlocked garage, police said.
The garage was secured with a screwdriver and a nylon strap, according to police, reported KPRC. 
The tiger was found by three Bureau of Animal Regulation and Care officers—pictured standing outside the cage with the tiger inside—after they had entered the premises after police obtained a search warrant.
"A pretty small cage inside basically a garage in a house that didn't look like it was in the best shape. So it was important that we get it out of that situation," Lara Cottingham, with the city of Houston, said, according to KRPC.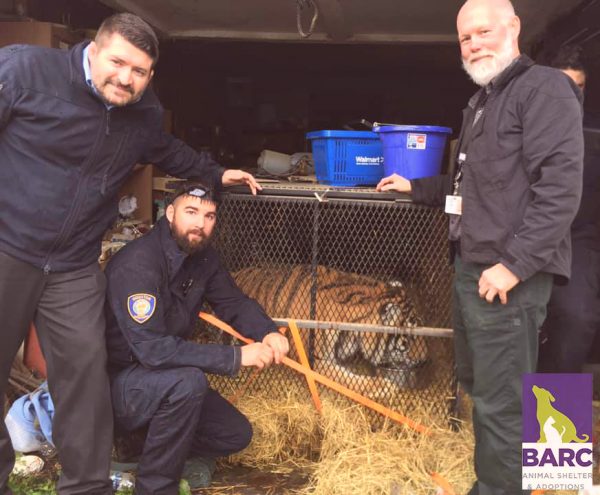 The tiger was tranquilized before being taken to the shelter.
But the tiger is going to need a bigger cage.
"Our shelter is not designed to house big cats," Cottingham told Chron.com
She said the shelter had contacted a wildlife refuge that can take in the tiger on Feb. 12.
"We will keep it at our shelter for the night, safely secured from our other animals," said Cottingham.
Nearby Houston zoo is home to two Malayan tigers, but won't be taking the new-found female tiger.
UPDATE: Police said a man was smoking pot when he found a caged female tiger in an abandoned house. He said he thought he was hallucinating at first, but then decided to call authorities.

Gepostet von KPRC2 / Click2Houston am Montag, 11. Februar 2019
A statement from the Zoo, via KRPC, said, "The Houston Zoo is aware of the tiger found in southeast Houston today, Feb. 11; however, the Houston Zoo is not involved in this case, and is not receiving the tiger, as incorrectly reported.
"Fewer than 3,500 tigers of all tiger subspecies remain in the wild today, according to the Tiger Conservation Campaign. Malayan tigers surviving on the Malay Peninsula are critically endangered with an estimated population of 300 remaining in the wild."
Pablo Briagas, who lives on the street where the tiger was found, said, "I have my kids here," he told the Houston Chronicle.  "It's dangerous for them to have (a tiger down the street). Even if they had it as a pet, that's dangerous. They need to have that at the zoo."
More Tigers in U.S. Backyards Than in The Wild
Although the home was abandoned, according to local reports several packages of meat were found with the 350-pound animal.
Police weren't sure what to make of it when they had a call from someone who admitted to smoking cannabis, but said they saw a tiger.
"A concerned citizen called 311. They were trying to get into this house to smoke marijuana," said Sgt. Jason Alderete, of HPD's Major Offenders, Livestock Animal Cruelty Unit, reported KTRK. "We questioned them as to whether they were under the effects of the drugs or they actually saw a tiger."
Finding a "forever home" for a tiger is hard, Heidi Krahn, executive director of the Center for Animal Research & Education told KTRK.
"I tried to explain to people it's a lot like having a child. If you have a child, you have insurance but these guys don't have insurance," she said.
Keeping a tiger as a pet is never a good idea, she said.
"They are basically a loaded gun pointed at anyone that encounters them," she said. "They can be extremely dangerous."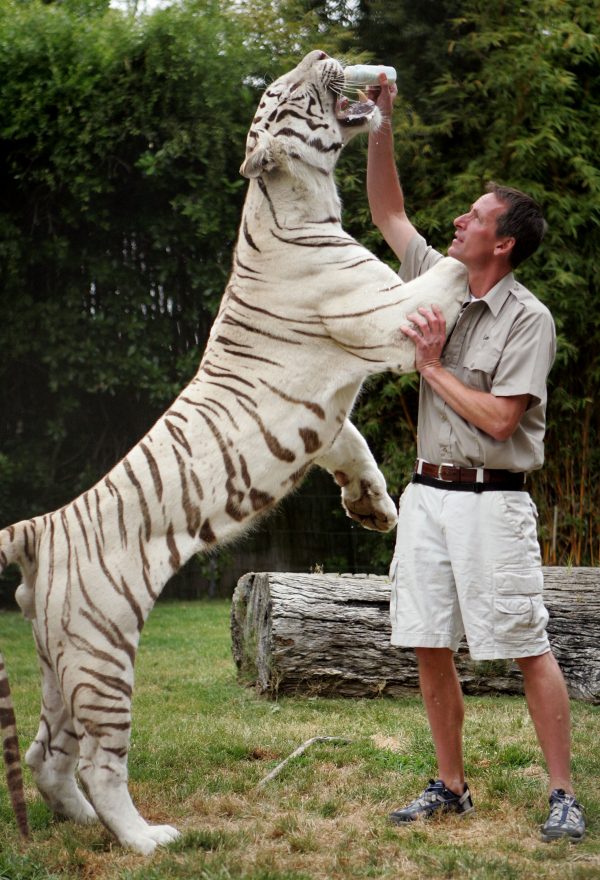 According to the World Wildlife Fund, the number of "backyard tigers" in the United States is greater than the total remaining wild tiger population (estimated at 3,500).
The WWF estimates the number of tigers in the United States is 5,000.
"Only six percent of the US captive tiger population resides in zoos and other facilities accredited by the Association of Zoos and Aquariums," said a WWF report in 2014. "The rest are found in other private hands."