Wedding Costs Skyrocket for Chinese Couples
July 15, 2006 12:00 am Last Updated: July 15, 2006 12:00 am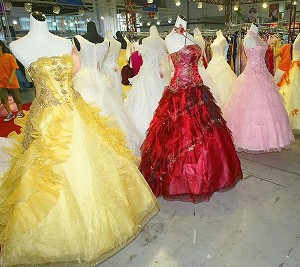 The cost of tying the knot is rising in China, according to the results of a 2006 national marriage survey. The average cost for marriage in Shanghai, ranked the most expensive city in the survey, is 187,000 yuan (US $23,375), while in Guangzhou, the next highest ranked city, the average costs is almost 140,000 yuan ($17,500).
The survey results are nearly double those of a similar survey conducted in 2002. In this largely urban phenomenon, couples are spending their combined life-savings on increasingly opulent weddings.
One factor feeding the price increase is the boosting of brand-name goods in the Chinese market. This has led to a trend whereby couples want to use only well-known brands for their wedding. The cost for brand-name goods is, of course, a much higher price. Included in the wedding budget for a typical Chinese newlywed couple is the cost of furnishing a new apartment. According to the survey, on average, couples spend roughly 60,000 yuan ($7,500) on equipping their new home. In addition, with the cost of other incidentals—jewelry, wedding pictures—it is easy to imagine how the expenses pile up.
In order to fund these more expensive weddings, many couples turn to their parents for economic support. Couples unable to receive economic help often go into debt in order to finance their weddings.
This economic burden has been found to put extra strain on young couples. In Shanghai, where the salaries are relatively high, a man might spend an entire year's worth of earnings or more on his wedding expenses.
Wedding planners say that a desire for better quality materials and services is driving much of the increased spending, but they caution their clients not to plunge into debt for the "perfect wedding."