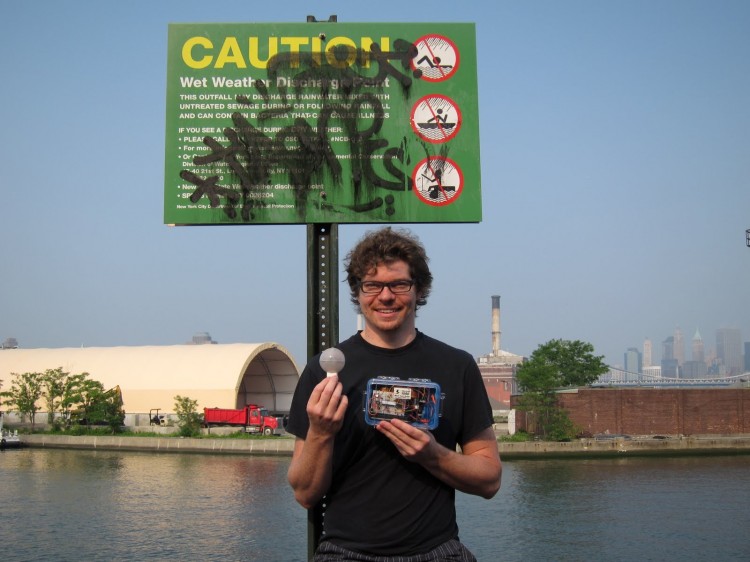 NEW YORK—From preventing sewage system overflow to educating Brooklyn youth about horticulture and nutrition, In Our Backyards (IOBY) is the only environmental focused, crowd-sourcing platform online that helps find micro-philanthropists for local community projects.
Most of IOBY's donors live within two miles of the projects, and personally witness the results of their micro-philanthropy.
"We are interested in showing the impact of all of the underground work," said Erin Barnes, co-founder of IOBY.
Around 75 percent of IOBY's projects are led by volunteers. In addition to helping projects find funding, IOBY also helps groups with social media and project management skills.
"A lot of groups we work with don't even have a bank account," Barnes said.
Founded in 2010, IOBY has raised $174,618 that successfully funded 101 projects. The average donation is $35, and each project gets three months to raise the money they need.
All of their projects are environment- and community-based.
Light Bulbs and Sewers
As Leif Percifield was canoeing down the canal for a previous environmental mapping project, he noticed something was amiss in the water: It was full of sewage.
"Whenever I stirred up any sediment with my kayak paddle, things would start bubbling," he said. "It was like a witch's brew."
Around two-thirds of the city still runs on a combined sewage system that dates back to before the 1900s. The channel's sewage and storm water flow through one piping system.
After a certain amount of rain, raw sewage leaks out of 494 points along the city's coast into our waterways, said Percifield. The end result is that 27 billion gallons of untreated sewage flow leaks into the city's waterways each year. If less people took showers during critical hours, the city's sewage leakage can be reduced significantly.
With the support of IOBY's funding platform, Percifield plans to install water level sensors at key locations throughout New York.
The sensors will alert New Yorkers when an overflow happens, so people can reduce their water usage before and during the overflow. Percifield plans to get the word out through texts, mobile apps and his new invention—the "bulbuino."
Among other electronic components, the current bulbuino prototype relies on a light bulb and the Arduino, an open-source electronics platform that will allow the bulb to receive signals from waterway sensors, explained Percifield.
Percifield plans to manufacture more bulbuinos as a unique way to alert and remind New Yorkers to make small changes in daily routines to reduce harbor pollution.
Brooklyn Farming
Instead of the usual green lawn and pavement walkway for an entrance, the High School For Public Service in Flatbush, Brooklyn, has a farm.
"It sounds weird, but the farm actually makes our school nice," said Sean, a sophomore at the school.
The Youth Farm partners with High School for Public Service and Green Guerillas to transform the school's 1.25-acre lawn into a productive and educational farm. It yielded 15,000 pounds of produce last year.
The land was a pig farm 60 years ago.
"It has great soil," said Stacey Murphy, the youth coordinator of Youth Farm. "There is lots of land like this in Brooklyn that's never been developed."
Youth Farm also teaches students about vegetables that may not be found in conventional grocery stores. The most popular vegetable from this year's harvest was the Jamaican callalloo, a spinach-like vegetable that is "the most nutritious green," and specific to the ethnicity of the locals.
"There are a lot of Caribbean people here. … Our farm is culturally appropriate," Murphy said.
Another popular produce from the farm is the lemon Sorel, a spinach-like vegetable with a natural zing of citrus—like a natural salad dressing.
For many community members, affordable meals may come from fast food restaurants and bodegas. Youth Farm provides a small alternative by selling their produce to the local farmers market.
"Despite that we grew 15,000 pounds of food this year, in reality, 15,000 pounds doesn't pay for even a single farmer's salary," said Molly Culver, co-farm manager.
IOBY is currently helping Youth Farm raise money for more cooking equipment. Using the farm as an outdoor classroom, Go Green is a 10th-grade course that teaches students horticulture, culinary techniques, as well as environmental and public health.
"I've stopped eating McDonald's," Sean said. The programs encouraged "my mom to get a juicer and I stopped drinking soda."
Sean admits he did not expect people to be interested in a farming course. His teacher said she only saw the back of his head on the first day of class.
"The eureka moment occurred at the end of the year when he saw that his orange peel was decomposing," Murphy said.