A Weather Channel reporter on the scene in North Carolina was seen dramatically fighting off the wind while two people in the same frame walked without any bracing, leading some to question if he was being too dramatic.
Mike Seidel was reporting from Wilmington on Sept. 14, as Hurricane Florence stormed through the state and deluged it with rain, storm surges, and, in some areas, high winds.
"This is about as nasty as its been," said Seidel during the broadcast.
But Seidel's apparent bracing against high winds was undermined by the pedestrians who strolled around behind him, as they did not appear to be affected by the winds at all.
So dramatic! Dude from the weather channel bracing for his life, as 2 dudes just stroll past. #HurricaneFlorence pic.twitter.com/8FRyM4NLbL

— Tony scar. (@gourdnibler) September 14, 2018
People Wonder About Wind
The juxtaposition led some viewers to claim Seidel was making the wind force seem worse than it actually was.
"Those other guys probably have superhuman abilities," said one Twitter user.
"You can't trust the mainstream media. Ever," added another Twitter user.
A snippet from the broadcast, shared widely across social media websites, was viewed millions of times in just several hours.
Yet another #Florence tropical squall is slamming us at the intracoastal in Wilmington, NC. We've been in these on and off for 24 hours! Nearly 70 tropical storms and hurricanes and I've never seen this magnitude of wind and rain last this long. pic.twitter.com/D4Rq7EM1xU

— Mike Seidel (@mikeseidel) September 15, 2018
However, the Weather Channel defended Seidel against the attacks, saying he was in a different area than the two people seen the background, in a statement obtained by the Atlanta Journal-Constitution.
"It's important to note that the two individuals in the background are walking on concrete, and Mike Seidel is trying to maintain his footing on wet grass, after reporting on-air until 1:00 a.m. ET this morning and is undoubtedly exhausted," the network said.
Seidel himself has not addressed the video, instead, continuing to report from Wilmington.
The reporter of over 25 years has been sharing a number of videos on Twitter, the last one showing intense winds. "Nearly 70 tropical storms and hurricanes and I've never seen this magnitude of wind and rain last this long," he said.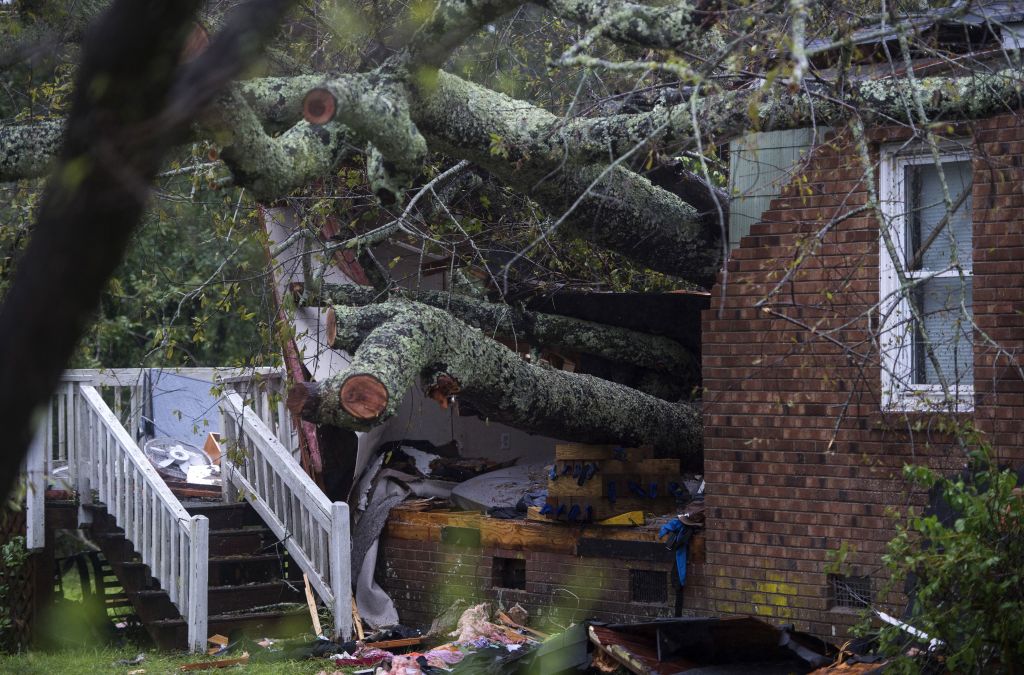 Latest on Florence's Effect
MYRTLE BEACH, S.C.—Florence, now a tropical storm, swirled at a near-standstill over the Carolinas on Sept. 15, dumping non-stop rain over areas already flooded by seawater and swelling rivers and creeks across both states.
Some towns have already been soaked by more than 2 feet of drenching rains, and forecasters warned that totals could reach 3.5 feet, unleashing floods well inland through early next week. At least four people have died, a toll authorities fear will rise as the storm crawls westward across South Carolina.
At 8 a.m. on Sept. 15, Florence stalled about 35 miles west of Myrtle Beach, moving forward at just 2 mph, with top sustained winds of 50 mph.
North Carolina Gov. Roy Cooper called Florence an "uninvited brute" that could wipe out entire communities as it grinds its way across land.
"The fact is this storm is deadly and we know we are days away from an ending," Cooper said.
With tropical storm-force winds swirling 350 miles wide, Florence continued deluging the Carolinas on Saturday morning after pushing surging seas far ashore. Rescue crews used boats to carry more than 360 people from rising water in the river town of New Bern, North Carolina, while many of their neighbors awaited help. Dozens more were pulled from a collapsed motel.


Florence flattened trees, buckled buildings, and crumpled roads. The storm knocked out power to nearly 930,000 homes and businesses, and the number could keep rising.
A mother and baby were killed when a tree fell on a house, according to a tweet from Wilmington police. A 77-year-old man was apparently knocked down by the wind and died after going out to check on his hunting dogs, Lenoir County authorities said. The governor's office said a man was electrocuted while trying to connect extension cords in the rain.
Storm surges—the bulge of ocean water pushed ashore by the hurricane—were as high as 10 feet.
Shaken after seeing waves crashing on the Neuse River just outside his house in New Bern, restaurant owner and hurricane veteran Tom Ballance wished he had evacuated.
"I feel like the dumbest human being who ever walked the face of the earth," he said.
Florence peaked at a terrifying Category 4 with top winds of 140 mph over warm ocean water before making landfall as a Category 1 hurricane at 7:15 a.m. at Wrightsville Beach, a few miles east of Wilmington and not far from the South Carolina line. It blew ashore along a mostly boarded-up, emptied-out stretch of coastline.
The storm became more about water than wind, though.
Morehead City, North Carolina, had received 23 inches of rain by Friday night, and forecasters warned Saturday morning that parts of the Carolinas could get up to 15 inches more.
The Associated Press contributed to this report
From NTD.tv