Weather to Play a Part at the Old Trafford Test
Cricket—Ashes Series
July 31, 2013 9:43 am Last Updated: July 31, 2013 9:43 am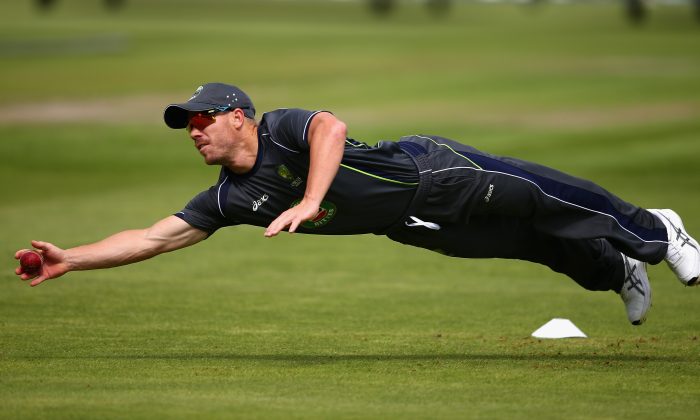 Sunshine and showers with an occasional thunderstorm, is the weather prediction for the third Ashes Test between host England and Australia starting at Old Trafford, Manchester today (Aug 1).
Manchester is renowned for its unpredictable weather and weather is likely to play a part in the proceedings for this Test. Also, the Old Trafford pitch is often susceptible to spin, especially in the latter days of a five-day match, so both sides will be eyeing the possibility of including a second spinner in their team.
Closer to the start of the first day, the notorious conditions will be better understood and both the hosts and visitors will make their final selections accordingly.
England already two up in the 5-Test series only need a win or a draw to retain the Ashes. But England are pushing for a clean sweep, while Australia plan to win the next three match to win the series.
The hosts have brought into the squad Monty Panesar, who has been having a bit of a bare patch recently, but he has lots of Test match experience and with a receptive wicket could be included as a spin partner for Graeme Swann.
England has also included quick bowler Chris Tremlett, who has recovered from injury, in their line-up at the expense Steven Finn.
Australia are also likely to consider another spinner but neither of their main-line spin bowlers, Nathan Lyon or Ashton Agar, played particularly well against Sussex.
The visitors are in some disarray after losing the first two Tests at Trent Bridge and Lords. They had the opportunity to regroup with the 3-day tour match against Sussex last weekend (Friday July 26 to Sunday July 28).
Ending in a draw, Australia batting first scored 366-5 declared; in reply Sussex scored 368-7 declared; and Australia made 152-2 at close of play on Sunday.
On the batting front Ed Cowan scored 66 and 77 improving his chance of recall to the Test squad at the possible expense of Usman Khawaja or Phil Hughes, both of whom struggled to inspire in this match.
The most disappointing part of the match for Australia was the lack of fast bowling penetration and control by Jackson Bird, James Falkner and Mitchell Starc—giving the selectors further headaches—particularly as they need a replacement for the injured James Pattinson.
However, aside from Pattinson, Australia's coach Darren Lehmann has a full squad to select from. Australia's captain Michael Clarke was rested from the tour match—his back injury was not an issue according to Lehmann.
England, worried about the calf strain of Kevin Pietersen, planted James Taylor of Nottinghamshire into the Sussex team for that match against Australia to test his resolve.
Taylor played two tests against South Africa last year, but was left out of the England squad for the first two Tests in favour of Joe Root—who has performed well and has retained his place in the squad for the third test. Taylor has played well for Nottinghamshire this season giving himself another Test chance.
Taylor scored 121 not out in the only Sussex innings of the match and, although he played well, he was under immense pressure not to fail. Understandably he was not at his fluent best, but he did enough to convince the selectors to include him in the 14 man England squad for this Test.
To bolster their batting line-up Australia have recalled David Warner to their squad. He was dismissed from the Australian squad for allegedly punching Joe Root after a Champions Trophy match in Birmingham. According to Lehmann, Warner is not a certainty to play in this Test following a 193 run feast for Australia A against South Africa A in Pretoria last week. But even in that match he had some serious on-field disagreement with a South African player, so his self control will also be under scrutiny.
Can the expected inclusion of Warner save the Australians from a humiliating series defeat and at the same time rekindle his Test career and reputation? We are all waiting to see. But whatever happens all cricketing eyes will be glued to Manchester for the coming few days.
Final XI selections for the Manchester Test will be announced before the coin toss and once conditions are better known closer to the match, with the third Ashes Test beginning on Thursday (today) at 6:00pm (HK time).