Wealth Equals Health, Say Canadians
National dialogue identifies 'what makes us sick'
July 31, 2013 2:24 pm Last Updated: July 31, 2013 6:46 pm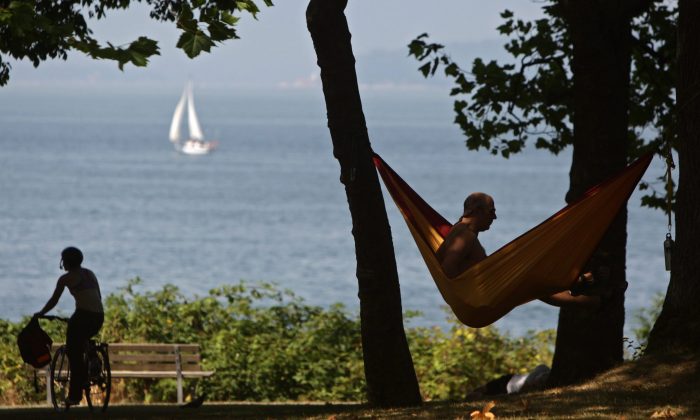 Canadians see income—or lack thereof—as the biggest factor determining their health and longevity, according to findings gleaned from town hall meetings across the country. 
On Tuesday, the Canadian Medical Association released the report "Health care in Canada: What Makes Us Sick?" after a series of town hall meetings and online consultations held earlier this year in Calgary, Winnipeg, Hamilton, Montreal, Charlottetown, and St. John's.
The national dialogue, part of the CMA's ongoing efforts to modernize and improve Canada's health care system, asked Canadians about their experiences in relation to the social determinants of health—the living conditions that cause people to suffer poor health in the first place.
From the discussions, four factors were identified as having the most substantial impact on health: income, housing, nutrition, and early childhood development.
"What Canadians told us is that poverty is the recurring theme that underpins most of these social determinants of health," said CMA president Dr. Anna Reid at a press conference in Ottawa.
"As a country we can do better in tackling issues around poverty, housing, early childhood development, food security, and culture that can hinder a person's chances to be healthy."
Reid said the purpose of the report was not to "point fingers" but to hear Canadians' health concerns and recommend solutions.
"There is no one sector responsible for making this happen. It has to be a joint effort, involving health care providers, governments, patients, and Canadians from all backgrounds," she said. 
The report listed a dozen recommendations, many of which proposed more leadership from the federal government to establish national action plans around complex issues like poverty elimination, food security, Aboriginal health, and affordable housing. 
'The road map exists'
Rather than focusing on cutting health care budgets, governments should invest in the report's recommendations, which would save on costs by solving health problems at the root, says Fred Phelps, executive director of the Canadian Association of Social Workers. 
"To ensure health equity across Canada it's time for the federal government to come back to the table and help develop and implement a national plan," he said. 
"The road map exists—it's the political will that at present is lacking."
Reid agreed that addressing the social determinants of health is an issue of "costs and economics"—investing up front to save on health care costs later.
"It's a way of ensuring that we can continue to afford our health care system," she said.
One way to do this, the report recommends, is to invest in early childhood development and education, especially for aboriginal children whose health outcomes fall far short compared to the rest of the Canadian population.
"As one of the panelists said, we talk about success in life in terms of working hard and going up the ladder. With aboriginal children, many won't even reach the bottom rung," said Reid. 
Reid, who has worked as an emergency room physician in remote northern communities, added that front-line health care workers have a unique responsibility to advocate for social change. 
"While physicians are certainly not the experts on these social problems and how to fix them, we are the experts in caring for our patients," she said. "We see every day the downstream effects of the social determinants of health on patient well-being."
A 2010 report co-authored by York University professor Dennis Raphael echoed many of the CMA's concerns, saying social determinants of health are far more predictive of health outcomes than lifestyle choices alone. 
"Each of these social determinants of health has been shown to have strong effects upon the health of Canadians," said the 2010 report. "Their effects are actually much stronger than the ones associated with behaviours such as diet, physical activity, and even tobacco and excessive alcohol use."