Leftist protesters in Florida appeared to dox and threaten a former key employee of an Immigration Customs Enforcement (ICE) contractor, just one day before shots were fired into an office of that same company in Texas.
The Texas office of GEO Group—which provides facilities to detain illegal aliens—was shot at on Aug. 13, along with a nearby ICE office in an incident being investigated by the FBI as a "targeted attack."
Footage published by Breitbart News shows protesters in Florida outside of the GEO Group building on Aug. 12 apparently revealing private details about GEO Group's former general counsel, John Bulfin, and his family, over a megaphone.
"We know where all your children live throughout the country … John Bulfin you have kids in [bleeped out], you have kids in [bleeped out]," a protester shouted.
"We're not actually joking," the protester said before shouting the location of where Bulfin lives. "John Bulfin you go to [bleeped out], you go to church on [bleeped out], you live on [bleeped out] road."
Why isn't this receiving wall-to-wall coverage by the Establishment Media? pic.twitter.com/PNkT7CHtjM

— Breitbart News (@BreitbartNews) August 14, 2019
The tactic echoes a strategy outlined in a New York Times op-ed in late June, which called for the actions of individual border agents to be spread among their community as a "pressure" and "consequence" of carrying out their duties.
The author specifically claimed that she was not making a case for "doxxing"—which is usually defined as the publication of private information for the sake of revenge or punishment. Many commentators and publications nonetheless characterized her article as precisely a call for doxxing of border agents.
A spokesperson for the GEO Group told Breitbart that the protest in Florida was political.
"The fact is that the services we provide in our facilities today are in no way different than the high quality, professional services under the same standards that we provided for eight years under President Obama's administration," said GEO Group VP of Corporate Relations Pablo Paez. "So where was the outrage then?"
Following the attacks on the offices in Texas, according to KABB-TV. ICE field agent director Daniel Bible blamed "political rhetoric and misinformation that various politicians, media outlets and activist groups recklessly disseminate to the American people."
When the acting DHS Secretary Kevin McAleenan was asked about the field director's analysis on Fox News, he said, "I think the environment where we are demonizing law enforcement for doing their jobs for enforcing a law on the books is concerning."
Two Inches From Murder
The attacks in Texas are being investigated as a federal crime, FBI Special Agent in Charge Christopher Combs told reporters on Aug. 13, according to My Antonio.
"To fire indiscriminately into any building, let alone a federal facility, is not an act of protest. It's an act of violence … against the federal government that could have resulted in the assassination of a federal employee," Combs said.
"Had the bullets gone two inches in another direction, we could be talking about the murder of a federal official," he said.
The shots were fired into offices at the Jefferson Bank high rise and another building across Loop 410, according to KTLA, at around 3 a.m.
The shooter is believed to have fired the shots from across the highway, Police told News 4. The building does not have bulletproof windows, according to News 4.
Here's a photo of one of the bullet holes from this morning. @USCIS stands with @ICE as they work to enforce our laws and keep Americans safe! pic.twitter.com/AUvgpGJco6

— USCIS Acting Director Ken Cuccinelli (@USCISCuccinelli) August 13, 2019
A photograph of one of the bullet holes in a now-shattered window overlooking the highway was shared on social media by the acting director of U.S. Citizenship and Immigration Services, Ken Cuccinelli.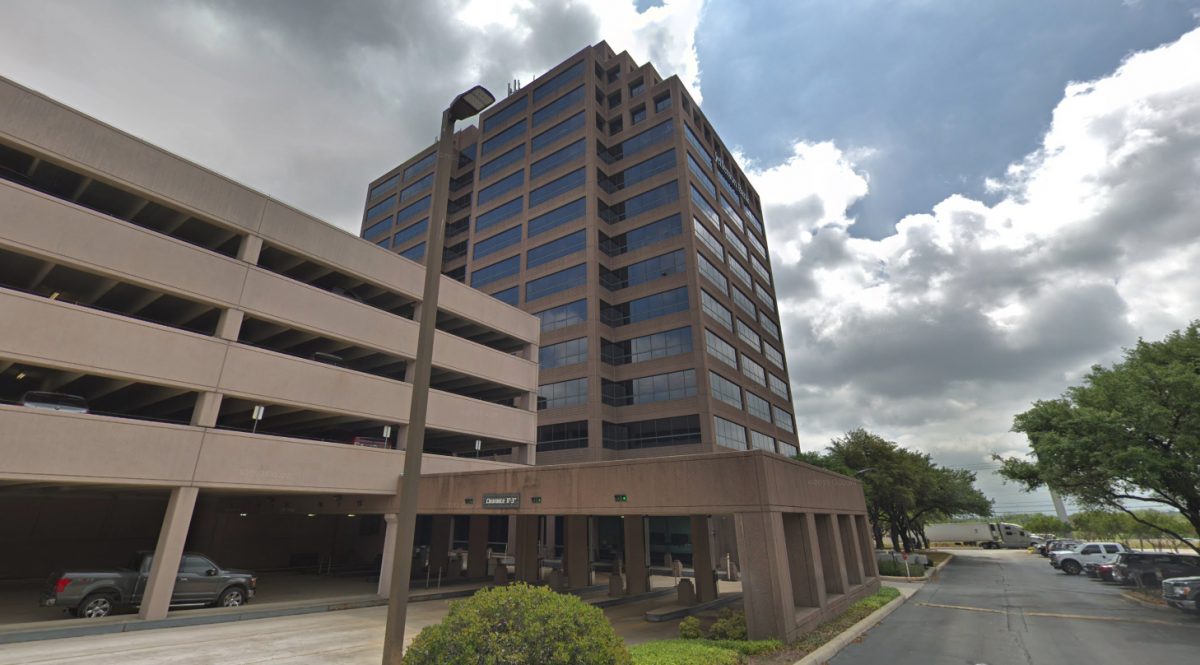 The incident in San Antonio follows three other incidents at ICE facilities in the last month.
An armed member of the far-left extremist group, Antifa, threw firebombs at an immigrant detention building, and at cars in the parking lot, and attempted to blow up a large propane tank in Tacoma, Washington, on  July 13, before being shot dead by police.
The man succeeded in setting one car on fire before officers responded at 4 a.m. and gunned him down, according to the Tacoma Police Department. The man was armed with a rifle and wore a satchel with flares, the police said. No officers were hurt in the encounter.
A Call to Action
The New York Times published an op-ed on June 29 suggesting the identities of U.S. border agents be "publicized" if they have participated in separating children from their families in the course of their duties.
"The identities of the individual Customs and Border Protection agents who are physically separating children from their families and staffing the detention centers are not undiscoverable," wrote Dr. Kate Cronin-Furman, a lecturer in human rights at a London university in the opinion piece published in The New York Times on June 29.
"Immigration lawyers have agent names; journalists reporting at the border have names, photos, and even videos. These agents' actions should be publicized, particularly in their home communities."
Doxxing, a relatively recent term spawned by the age of the internet, is defined by the Merriam-Webster dictionary as a slang word meaning "to publicly identify or publish private information about [someone] especially as a form of punishment or revenge."
According to some law firms, in the case of a private individual, doxxing in itself may not break the law, though it may constitute other crimes, such as harassment, in some situations.
Publicizing the names alone of government officials is not a crime, and releasing the personal details of private individuals is not against the law in itself. However, it is illegal to publicize private information of government agents.