WINDSOR, Ont.—Windsor resident Sue Samir says she has "suffered greatly" from the COVID-19 vaccine mandate, losing her job because she refused to be fully vaccinated and not getting any unemployment benefits because of her choice.
She says she suffered major side effects after getting a first dose of COVID-19 vaccination, so she didn't want to get a second dose.  She is now protesting along with many others at the Ambassador Bridge, setting up a vehicle convoy blocking the busy Canada-U.S. border crossing.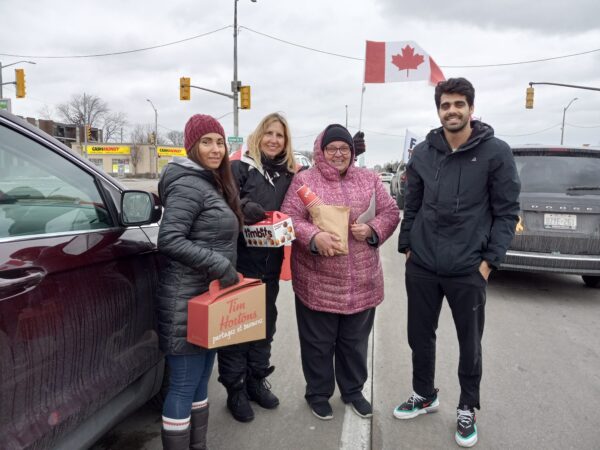 "Your workplace is giving you extortion, pretty much, to get the vaccine or not, and then you're not eligible for your unemployment benefits that you paid all your life for," she said in an interview at the protest site on Feb. 10.
"We just want our freedom, we want nothing else. … That's your God-given rights. That's your health choice. … Enough is enough."
The border crossing connecting Windsor to Detroit is one of several blocked by protesters in Canada in recent days in protest of COVID-19 mandates and restrictions.
The Ambassador Bridge is the busiest Canada-U.S. border crossing. Governments on both sides of the border have expressed concern about the major impact the blockade is having on the supply chains and the economy. The city of Windsor and industry associations are seeking injunctions in court to give police more legal tools to remove the blockade.

Fellow protester and Windsor resident Sami Mandalawi says the protesters will remain until they get arrested, but they will remain peaceful.
"I'm here because I cherish our Charter of human rights and freedoms in Canada, and I want to protect those freedoms," Mandalawi said.
"We need to stand up for what's right, and we will do what is required, provided that it is peaceful, with a capital P. We are perfectly prepared to leave in handcuffs and without a finger lifted in aggression towards our police officer, whom we love and who tragically are being put in between a rock and a very hard place."

The protest is part of a larger movement started by truck drivers opposed to the federal government's requirement for all cross-border drivers to have COVID-19 vaccination. Since initial trucker convoys converged in Ottawa on Jan. 29, many other vehicle convoys have set up protest sites across the country, demanding an end to COVID-19 mandates and restrictions from different levels of government.
Kade Dubai, a truck driver, has been at the protest at the Ambassador Bridge since Feb. 6. He says the protesters want their freedom back.
"[We want to have the] freedom to come and go as we please, [and] not put anything in our body," he said.