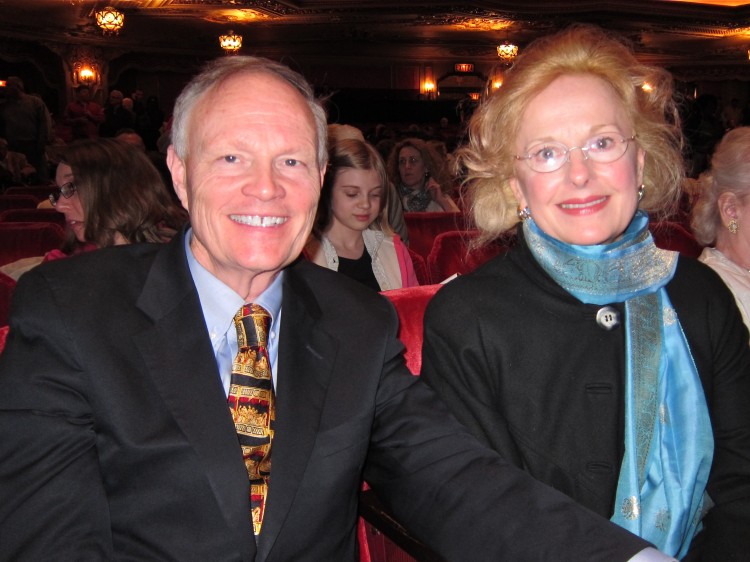 COLUMBUS, Ohio—Mr. Allan Smith, who works for a Chicago public policy think tank, and his wife Angelique joined Friday evening's audience at the Ohio Theatre, April 27, enjoying world renowned Shen Yun Performing Arts.
"I think it's a wonderful show, absolutely beautiful!" exclaimed Angelique Smith, who is an industrial and freelance designer. "The breadth of the repertoire, of the dancers is just magnificent, a show unlike anything! We feel so fortunate that Shen Yun came to Columbus!"
New York-based Shen Yun takes the audience on a journey through China's 5,000-year-old culture from ancient times to the present-day.
Mrs. Smith said that as soon as she saw Shen Yun advertised, she knew the couple had to see it. "We saw the advertisements in the newspaper and magazines and around town, there were posters everywhere around town."
She added that, as a designer she appreciated the artistic aspects of the performances. "Perfectly beautiful! And we are so impressed with the precision of all of the dancers, and the beautiful costuming. I think all of that really stands out, just beautiful. I thought it was fantastic."
The couple were both moved by a performance in Shen Yun called The Choice."I thought it was exciting and well done. It was a powerful message," said Mrs. Smith. The dance piece tells the story of a young man who is recruited into the police force and then finds that he has to make a moral choice when he realizes a young woman who he is friends with practices the spiritual practice of Falun Dafa and is being persecuted.
Falun Dafa, is a meditation practice whose followers based their beliefs on the values of truthfulness, compassion and tolerance.
"I think the performance of the young fellow that was fighting for this message of freedom … I  thought that came through—the celestial support. I thought it was really well done and in a way that we have never seen before in Western culture," said Mrs. Smith.
Mr. Smith added, "It's comforting for people who are worried or confused about the way things are going – that thousands of years of tradition are all about the good, the pure, the Divine. I'd be shocked if anyone doesn't think this is the finest show they've seen. It's very lively, it's ethical … and everybody's spellbound!"
Mrs. Smith agreed and said, "I think that really came through—the celestial and the earthly connection. I thought that was really well done because that sense of spirituality, supporting their earthly life. I thought really came through."
She said seeing New York-based Shen Yun piqued her interest in learning more about classical Chinese culture. She was impressed by the unique combination of classical Western and Chinese instruments, a hallmark of the show. "We have been interested in the history of the show. We noticed that the music seemed so Western and so that is the part that I was really interested in. I want to look more into the history of the show, now that we have seen it."
Shen Yun also features an animated digital-backdrop with state-of-the-art graphics technology and extending the stage and transporting the audience to a world where heaven and earth are one, according to Shen Yun's website. Mr. Smith was thoroughly impressed by it, and said, "The people flying down off of the screen and popping up on stage is fantastic! I really liked that!"
Mr. Smith said he would urge his friends and colleagues to see Shen Yun. "I have, just on the strength of the video clips. And now I'll [remind] them, that this is really good idea."
His wife echoed his thought and said, "It was a wonderful show."
Reporting by Valerie Avore and Jeanmarie Lunsford.
New York-based Shen Yun Performing Arts has three touring companies that perform simultaneously around the world. Shen Yun will next perform in Dayton, Ohio on May 1. For more information, visit ShenYunPerformingArts.org