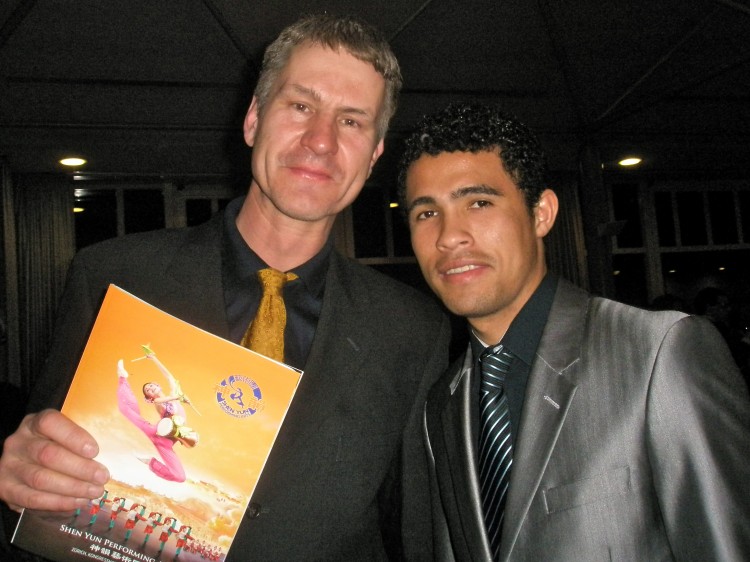 ZURICH, Switzerland—Shen Yun Performing Arts arrived at Kongresshaus Zürich on Wednesday evening, March 21, leaving the Swiss enamored with the display of classical Chinese culture through music and dance.
"I think it gives a positive mood for life, really positive, for art and living with a good heart," said painter Bernd Raymar Alder, who attended the special invitation-only performance. "And after the show we feel really happy, that's what I feel is especially important."
New York-based Shen Yun transverses the globe delivering classical Chinese culture, which was profoundly influenced by the three main religions of Buddhism, Taoism, and Confucianism, spawning a rich and profound system of values, according to Shen Yun's website. "The concepts of "man and nature must be in balance," "respect the heavens to know one's destiny," and the five cardinal virtues of benevolence, righteousness, propriety, wisdom, and faithfulness (ren yi li zhi xin) are all products of these three religions' teachings," it states.
However, this tradition was nearly decimated by more than 60 years of communist rule in China. Shen Yun, which literally translates as: The beauty of divine beings dancing, is on a mission to show people the essence of the 5,000-year-old, divinely inspired culture of China, according to its website.
Mr. Alder appreciated this essence. "We have to understand where we come from and where we go. Where we come from is not just from the last 20 to 50 years—we are based from thousands of years and that makes us strong. We should not forget the tradition, because if you lose our tradition, you're like a tree, without any roots."
Various aspects of the performance enchanted Mr. Alder, especially from a professional artists' point of view. "It's very nicely done with a lot of colors," he said, "and the background actually has three different levels: you see people and you see the painting, and the painting becomes part of the show. This is really nice, too."
The digital backdrops, using state-of-the-art graphics technology, "are magical windows to different realms," states Shen Yun's website. "From vast open grasslands in one dance to the stately elegance of Tang Dynasty pavilions in another; from dusty yellow battlegrounds to tropical beaches to Himalayan peaks to picturesque scenery of the Yellow River Delta—the digital projection infinitely expands and transforms the stage."
Rare for a performing arts company in this day and age, Shen Yun's dancers are accompanied by a full orchestra, which melds classical Western and traditional Chinese instruments, such as the gong.
"The music was marvelous, absolutely super," said Mr. Alder. "I really love the concert part, it is really, really nice, really strong."
In the end, Mr. Alder left with lasting impressions from the performance.
"I like that this shows the Chinese culture is 5,000 years old," he said. "And so the politics change, but the culture is stronger actually than the politics—that's the message I like."
Reporting by Wen Hua and Zachary Stieber.
Shen Yun Performing Arts, based in New York, tours the world on a mission to revive traditional Chinese culture. Shen Yun Performing Arts International Company will perform in Zurich, Switzerland, from March 23-26.
For more information visit ShenYunPerformingArts.org