Pro-abortion protesters have attacked pro-life organizations in a number of states by smashing windows, spraying graffiti, and one hurling a Molotov cocktail.
According to pro-life website LiveAction, violent demonstrators have attacked a pregnancy center in Portland, Oregon, and a Catholic church in Boulder, Colorado.
Pro-abortion group Ruth Sent Us also asked activists to "stand at or in a local Catholic church Sunday, May 8."
A pro-life center in Portland had its windows smashed and graffiti written on its walls, according to pictures from Twitter.
"[Expletive] CPS," the graffiti reads, using an abbreviation for crisis pregnancy centers.
Violent people also threw a Molotov into a Wisconsin pro-life group's building.
On May 2, a pro-abortion activist listed the addresses of pregnancy crisis centers in Portland online.
A vandal attacked Loreto House, a pregnancy center in Denton, Texas.
According to Randy Bollig, the clinic's president, pro-abortion people have harassed the clinic all week.
The clinic received obscenity-laden phone calls, suspicious people asking for jobs at the clinic, and one-star Google reviews from people who have never attended the clinic.
"I'm concerned that when Roe gets overturned that they will really get violent," he said. "We're a big target because we serve so many women in our area."
Before the attack, Bollig said he asked for increased police patrols near the clinic.
At about 3 a.m. on May 7, a masked individual spray-painted two of his security cameras and sprayed graffiti on the clinic's sign, door, and wall.
The graffiti read, "Forced Birth is Murder" and "Not a Clinic."
"Fortunately we have very good video surveillance," Bollig said. "I understand that the police have technology that they basically can look through a face mask and get a recognition."
Loreto House offers pregnant women free services, one-on-one meetings, and free sonograms, Bollig said.
The clinic also provides resources to mothers until their children turn 3 years old. It gives away 20,000 diapers every month.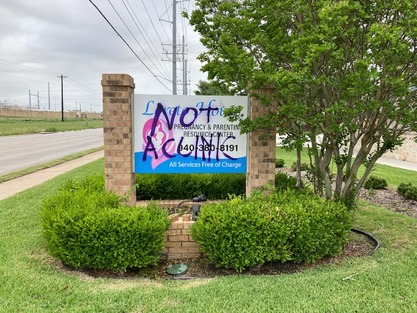 The damage to the clinic cost about $2,500 to repair, Bollig said—or about 7,900 diapers.
Bollig said he was concerned that pro-abortion violence was only beginning.
"There will be an attack on Christians, there will be an attack on the natural family," he said of continued pro-abortion activism.
"And that's just the way it is. We just have to keep doing what we're doing. We're here to help women."
Pregnancy crisis centers across America provide counseling, free pregnancy tests, information on pregnancy options, and material resources, according to CareNet, one of the largest pregnancy crisis center groups.
Like Loreto House, most pregnancy crisis centers are free for expectant mothers.
The violence against pro-life groups follows the leak of a Supreme Court draft opinion that suggested the nation's highest court will overturn Roe v. Wade, putting the decision on abortion's legality back into the hands of the states.
Roe v. Wade ruled that the Constitution gives women a right to abortion. States can place minimal restrictions on abortion in the first third of pregnancy, narrow restrictions in the second third, and complete restriction only in the final third of pregnancy.
The leaked Supreme Court opinion overturns Roe's framework.
"Roe was egregiously wrong from the start," according to the opinion written by Justice Samuel Alito. "We hold that Roe and Casey must be overruled."
Since the leak, pro-abortion protests have broken out across the nation. Outside the Supreme Court, protesters have shouted for hours every day since the leak was announced.