NEW YORK – Are repeated recorded phone messages filled with lies and hate speech a terrorist tactic?
Tuesday at the New York Press Club, Falun Gong practitioners made the case that the wave of hundreds of calls are a tactic of what they called "the biggest terrorist group in the world"- the Chinese Communist Party (CCP).
Beginning Feb. 6, repeated calls were made to hundreds of people in more than 20 countries in well-coordinated fashion. Friends who were together heard their mobile phones ring simultaneously and, when they picked up, they heard identical pre-recorded messages in Chinese or English.
Speakers described unlisted numbers in the U.S. being bombarded with calls, a feeling of invasion of privacy, disruption of business activities, and fear for the safety of relatives who received calls in China. No group besides the CCP has the ability or the motive to track down and call so many people so systematically on such a topic, they said.
The pre-recorded messages were all against the practice of Falun Gong.
"My husband and daughter received calls, which disturbed us greatly," said Lili Ma, a New York businesswoman forced to move from China after Falun Gong began to be persecuted in 1999. Her friends in China were invited in to have a "conversation" with Chinese national security during the time that the calls were being made.
Spokespersons later confirmed that a similar wave of calls began again on Wednesday, Feb. 23, in at least Canada, France, Germany, and the U.S.
Associated Press Article Used as 'Evidence'
"A recent Associated Press article is being used by Chinese authorities to legitimize a five-year brutal campaign," said Gail Rachlin of the Falun Dafa Infocenter (FDI).
An AP article about a since-discredited 2001 "self-immolation" incident in Beijing's Tiananmen Square "was cited as 'evidence' in the recorded messages that the horrific stories about Falun Gong fabricated by the Communist leadership are true," said Rachlin. The article "follow[s] the CCP's script so closely as to be almost indistinguishable."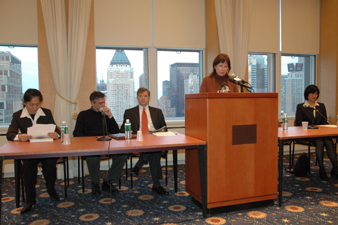 Rachlin quoted a statement from Sherrie Gossett of the Washington DC-based Accuracy in Media about the AP article: "I found it very disturbing, because it seems to be exactly identical to a press release issued by the state government in China. There seemed to be no balance…."
Wenyi Wang, a New York City medical professional and spokesperson for a non-profit group, the World Organization for Investigating the Persecution of Falun Gong, described how frequently media outside China gives legs to CCP propaganda by repeating it. The citations in foreign media are then recycled inside China and used by Chinese state-controlled media as a means of justifying its harsh actions and polices against Falun Gong.
The group found at least seven instances of the AP article repeated on Chinese-language web sites to give a negative view of Falun Gong.
Hope Amidst Terror
On the huge CCP campaign against Falun Gong, Rachlin said, "We have documented over 35,000 cases of severe abuse and torture … thousands are dead. Hundreds of thousands, if not millions, languish in labor camps and detention centers throughout China."
"For the over 100 million people in China today who practice Falun Gong, they are forced to choose between their deeply held spiritual beliefs, or the state's system of brainwashing and torture."
Lili Ma, whose expired passport wouldn't be renewed by Chinese authorities, and who would be arrested if she tried to return to China, sounded a note of hope and determination.
"Intimidation and terror cannot move our belief a bit. On the contrary, they will only make us try harder," Ma said.
Many recipients of the terrorizing phone calls reported them to local police and intelligence agencies, such as the FBI. The U.S. House of Representatives took note of CCP activities against Falun Gong practitioners on U.S. soil in its 2004 concurrent resolution 304, which calls for reporting and investigation of such activities.