The man arrested over the deadly Christmas parade attack that left five dead should have been in jail following an arrest several weeks ago but was released on an "inappropriately low" bond, said the Milwaukee District Attorney's Office on Monday.
Darrell Brooks was charged with five counts of intentional homicide for allegedly crashing his vehicle into parade-goers, killing five and wounding dozens more, police said in a Monday news conference.
But Brooks, 39, was out on $1,000 cash bail at the time of the incident after he allegedly assaulted the mother of his child at a Milwaukee gas station on Nov. 2, according to court documents.
"The State's bail recommendation in this case was inappropriately low in light of the nature of the recent charges and the pending charges against Mr. Brooks," the Milwaukee County District Attorney's Office said in a statement Monday.
The bail recommendation wasn't "consistent with the approach of the Milwaukee County District Attorney's Office toward matters involving violent crime, nor was it consistent with the risk assessment of the defendant prior to setting of bail," according to the statement.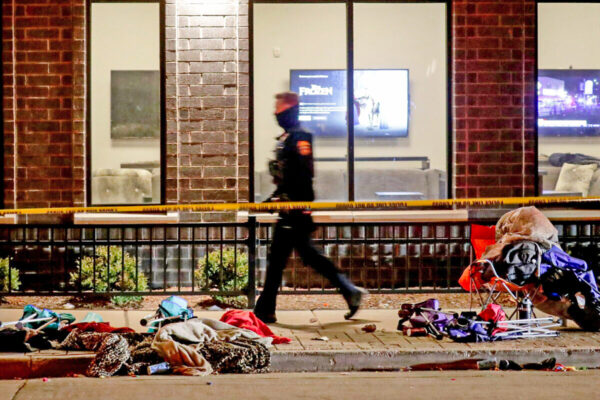 An internal investigation into the matter was launched into why he was released on that amount, the district attorney's office said.
Brooks has a separate pending case in Milwaukee from July 2020 when he was charged with reckless endangering and illegal possession of a firearm, court documents show. Bail in the case was set at $10,000 before it was reduced by $2,500 before it was dropped to $500, records show.
Other documents show that he has a criminal record dating back to at least 1999. There's also a warrant out for Brooks in Nevada for allegedly not appearing at a 2016 court hearing—as he was scheduled to answer a charge that he failed to notify officials about moving because he's on the Nevada state sex offender list for a 2006 felony conviction.
On Monday, Waukesha Police Chief Dan Thompson also confirmed that Brooks was involved in a domestic disturbance just minutes before the parade massacre. Before he crashed into parade-goers, Brooks was seen breaking through a police line with his SUV, said Thompson.
Thompson said that only Brooks is suspected in the parade attack. The incident is not terrorism-related, he said, although a motive in the case has not been revealed.
Those killed in Sunday's rampage included four women between the ages of 52 and 79, as well as an 81-year-old man, officials said.