Commentary
When I heard that there was a 1940 movie of "Waterloo Bridge," I was surprised. Having seen the 1931 film of the same name with Mae Clarke and Douglass Montgomery, I knew the controversial story: during World War I in England, a naïve young soldier meets a prostitute and falls in love with her, not realizing her profession. She tries to reform and become what he thinks she is, but she is unable to maintain the façade when she meets his loving mother. Sadly, she realizes that their love isn't enough to wash away the past.
Stories like this have been common in every art form for centuries, but modes and morals change with the years. The standards of film content were very different by 1940 than they had been in 1931, so I was curious to see how the taboo topic of prostitution would be handled. I got a chance to see this movie for the first time at the Turner Classic Movie Film Festival in April, and I was delighted to discover that it's an excellent example of the power of subtlety.
A Different Storyline
The 1940 "Waterloo Bridge" features a very different story than its predecessor. In the earlier film, Myra starts as a chorus girl who is bored with her profession. Her show closes, leaving her unemployed, but she seems unconcerned. Within three minutes, two years have passed, and Myra is now a streetwalker. It's not a surprising or drastic moral collapse on her part, since she seems loose as a chorus girl, comfortably parading around the dressing room in the barest undergarments with a white ermine wrap from a wealthy admirer. She doesn't regret her lifestyle until she meets Roy.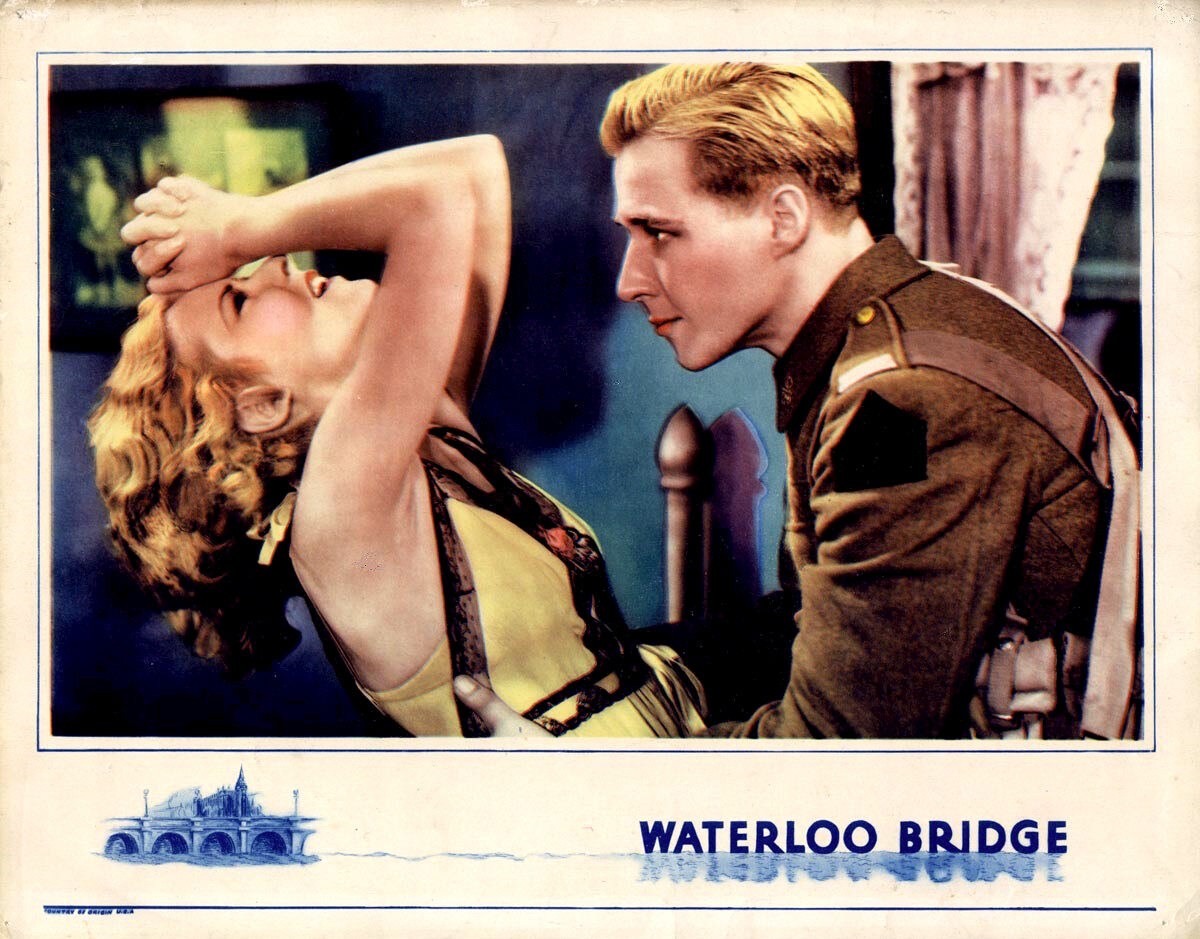 The remake reused the basic premise of a soldier who is in love with a prostitute in war-torn England, but that's where the similarities end. When the 1940 film starts, Myra is a wholesome young ballerina with a strict dancing troupe. She meets Roy, a soldier, during an air raid. He is struck by her beauty, sweetness, and unshakeable cynicism, and she is smitten with him, too. Disobeying the ballet mistress's orders, Myra begins a respectable yet forbidden romance with Roy. They plan to marry before he ships out, yet a last-minute change in his orders prevents it.
When Myra arrives late for a show because she was bidding Roy farewell, she loses her job. She and a friend from the company, Kitty, struggle to find work during the dark wartime days as Myra plans her marriage. However, when she reads that Roy was killed in action, she is taken violently ill. Kitty begins streetwalking to pay for her friend's medical treatment. After Myra recovers, she is devastated to learn what Kitty did for her and decides to join the disreputable occupation, because she is lost without Roy. Little does she know that Roy is still alive and waiting to return to her.
Myra is played by Vivien Leigh, fresh off her Oscar-winning performance as Scarlett O'Hara in "Gone with the Wind." Roy is played by Robert Taylor, who gives a wonderful performance although he makes no attempt at disguising his American accent. Kitty is played by Virginia Field. Roy's mother is played by Lucile Watson. The strict ballet mistress, Madame Olga Kirowa, is played by Maria Ouspenskaya. Roy's uncle, the duke, is played by C. Aubrey Smith.
As usual, Vivien Leigh wanted her soon-to-be husband, Laurence Olivier, as her leading man, but MGM wanted him to star in "Pride and Prejudice" instead. Nevertheless, she would later call "Waterloo Bridge" her favorite film. Robert Taylor had similar positive memories of the production, since he also cited this movie as his favorite of his films and Vivien Leigh as his favorite co-star.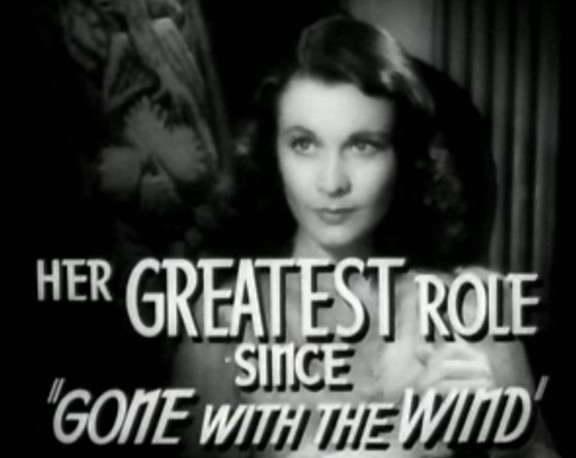 A Troublesome Topic
Only nine years passed between the making of the first and second "Waterloo Bridge," but the film industry changed drastically during that time. In 1931, Hollywood was in its Pre-Code Era. Technically, the Motion Picture Production Code, commonly called the Hays Code, was accepted by Hollywood as its law in 1930. However, the body created to enforce it, a branch of the Motion Picture Producers and Distributors of America (MPPDA) called the Studio Relations Committee, didn't have the authority to hold movies to the Code's standards.
It's ironic that the Code was officially in place during the Pre-Code Era, when the most scandalous, salacious films to date were produced. However, in 1934, everything changed with the formation of the Production Code Administration (PCA). Another Hollywood branch of the MPPDA, the PCA was created as a last chance for Code enforcement. Headed by the strong leadership of Joseph I. Breen and given the authority to halt films' release in the United States, the PCA succeeded. An era of decent films in Hollywood began immediately, lasting until Joe Breen's retirement in 1954.
The Code's opening notes in Section II, Sex, said, "The sanctity of the institution of marriage and the home shall be upheld. Pictures shall not infer that low forms of sex relationship are the accepted or common thing." Article 1 elaborated, "Adultery and illicit sex, sometimes necessary plot material, must not be explicitly treated or justified, or presented attractively." Article 2 declared that scenes of passion "should not be introduced except where they are definitely essential to the plot," and even then, they "should be treated in such manner as not to stimulate the lower and baser emotions." Article 3 said that seduction "should never be more than suggested" and never "shown by explicit method." From all these bans, filmmakers got the message that prostitution, streetwalkers, and brothels were pretty much taboo in Code films.
"Waterloo Bridge" is one of the rare Code films with implied prostitution. Great care was taken to make this difficult subject Code-compliant. The first suggestion comes at sixty-three minutes in, when we see Kitty returning to her shared flat with Myra. Although children might see no difference in her appearance, it's immediately apparent to mature viewers what she has become. Her clothes are gaudy, and she is wearing heavier makeup. The biggest clue is the honkytonk piano accompaniment; the disreputable tune imparts great meaning without words.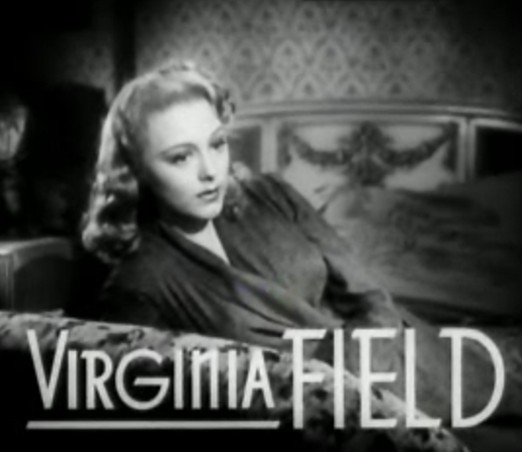 In the following scene, Myra suspiciously demands, "Where's the money coming from? Where are you getting it?" Kitty blurts out, "Where do you think I've been getting it?" The audience must read between the lines of this answer, as Myra does, but Kitty continues to explain, "C'est la guerre. No jobs. No boys who want to marry you. Only men who want to kill a few hours, 'cause they know it may be their last … We're young and it's—it's good to live. Even the life I'm leading! Though, God knows, it—I've heard them call it the easiest way. I wonder who ever thought up that little phrase? I know one thing. It couldn't have been a woman."
In the next scene, we see Myra standing on Waterloo Bridge. A soldier approaches her, and she wordlessly follows him. The next time we see her, we can tell from her clothes, makeup, indolent gait, and the familiar honkytonk theme that she has joined Kitty's profession.
Very Different Characters
"Waterloo Bridge" is a story of star-crossed lovers, who are not fated to find happiness together. Roy is basically the same character in both films; Myra, however, is very different in the remake. Mae Clarke's Myra is the "tart with a heart" character for whom the actress was famous. Vivien Leigh's Myra experiences a much more complex character arc. Beginning as a sweet, innocent, yet sad young ballerina, she experiences true happiness and fulfillment when planning to marry Roy but becomes a soulless, fallen woman who abandons her moral compass because she no longer cares what happens to her.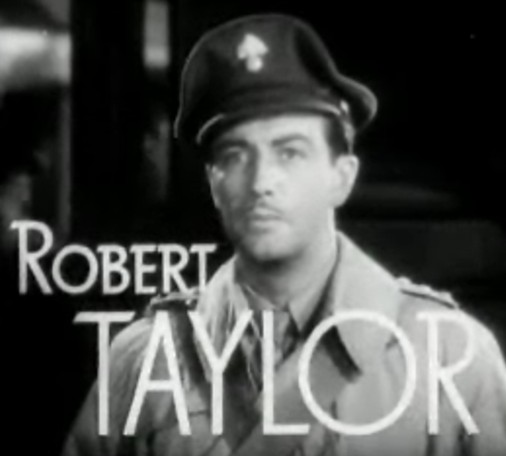 The cinematography is beautiful, evoking a tense time which brought people together even as it ripped them apart. Particularly lovely is the "Swan Lake" sequence, which Myra dances with her ballet troupe. This ballet's dramatic theme by Tchaikovsky is used as Myra's leitmotif throughout the film. It's an ironic, clever touch, since Myra's own story mirrors the tragic tale of the ballet's Swan Queen.
This movie's release was very timely, since it was set during World War I but made during the early days of World War II. The setting was the perfect backdrop for a tragic romance, enacted by two great performers and a strong supporting cast. Although the first "Waterloo Bridge" is remembered as an excellent early film, the remake far surpasses it in terms of story depth, character development, and tragic beauty. Because of the Code, blatant immorality was replaced with the power of subtlety.
Views expressed in this article are the opinions of the author and do not necessarily reflect the views of The Epoch Times.