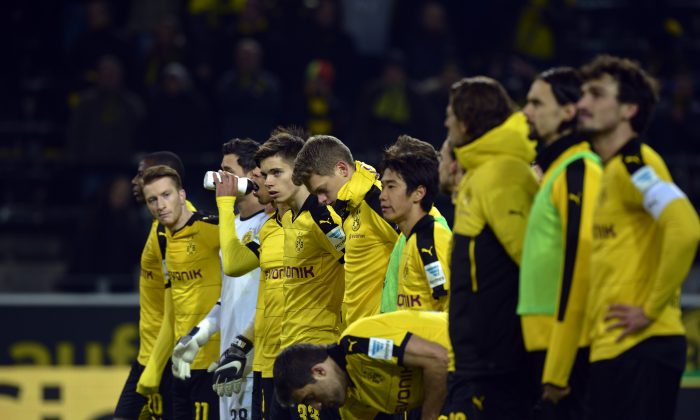 Watch: Borussia Dortmund Fan Dies of Heart Attack at Mainz Game, Silencing Crowd of 81,000
Borussia Dortmund beat Mainz on Sunday afternoon in the Bundesliga, but the details of the game pale in comparison to the news that a Borussia Dortmund fan died of an apparent heart attack at the stadium, during the first half of the contest. The news made the normally raucous stadium eerily quiet.
This is what you call respect. Silence. #BVBM05 pic.twitter.com/Ged6BBfhTI

— Alex Chaffer (@AlexChaffer) March 13, 2016
Full time: #Mainz05 lose 2-0 but sometimes there are more important things than football. #RIP #BVBM05

— 1. FSV Mainz 05 (@Mainz05en) March 13, 2016
There were actually two Borussia Dortmund fans who suffered heart attacks during the game, but the second was reported to be in stable condition before the game ended.
Now hearing that second person is in fact still alive and in stable condition after suffering the heart attack. What a crazy day.

— Cristian Nyari (@CrisNyari) March 13, 2016
Dortmund's legendary Südtribüne unusually quiet today after fan died from a heart attack during game. 📷 @RNBVB pic.twitter.com/fGzVmdAobl

— Cristian Nyari (@CrisNyari) March 13, 2016
Fans sang "You'll Never Walk Alone" at the end of the match.
Dortmund players stand together to observe moment of silence as supporters sing "You'll Never Walk Alone" pic.twitter.com/RRmx0KvTri

— Cristian Nyari (@CrisNyari) March 13, 2016
Danke. // Thank you. #ynwa #rip #bvbm05 pic.twitter.com/VnSIBmNZeq

— Borussia Dortmund (@BVB) March 13, 2016
Aside from the tragedy, goals by Marco Reus and Shinji Kagawa led to a 2–0 victory for Dortmund.
RECOMMENDED