Ambassador to the European Union Gordon Sondland will testify on Wednesday in front of the House impeachment inquiry after earlier witnesses contradicted his earlier deposition in closed-door meetings, which he later amended.
"State Department was fully supportive of our engagement in Ukraine affairs, and was aware that a commitment to investigations was among the issues we were pursuing," Sondland will testify, according to his opening remarks.
He claimed that President Trump, Secretary of State Mike Pompeo, and John Bolton knew about the campaign to pressure for investigations in Ukraine. Trump, Ukrainian officials, and other White House officials have denied any bribery or quid pro quo investigations.
Sondland is a notable witness because he amended his closed-door testimony (pdf) to the House. In the revised testimony, Sondland said the White House clearly engaged in quid pro quo in Ukraine.
In the revision, Sondland claimed he recalled a Sept. 1 meeting with Andriy Yermak, a top aide to Ukrainian President Volodymyr Zelensky, about probes in Ukraine. "After a large meeting, I now recall speaking individually with Mr. Yermak, where I said that resumption of U.S. aid would likely not occur until Ukraine provided the public anti-corruption statement that we had been discussing for many weeks," Sondland said.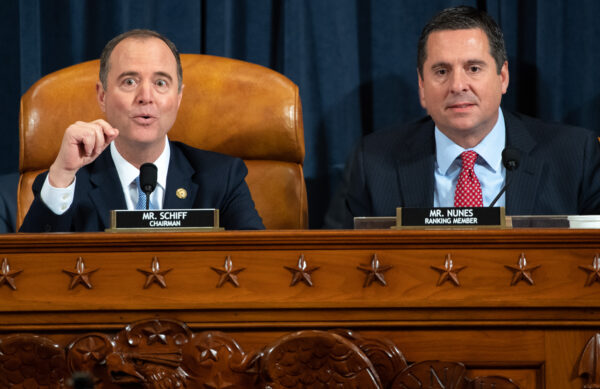 Sondland's claims were contradicted by Ukraine's Foreign Minister Vadym Prystaiko, who said that Sondland didn't link a probe into Joe or Hunter Biden to military aid.
"Ambassador Sondland did not tell us, and certainly did not tell me, about a connection between the assistance and the investigations. You should ask him," Prystaiko stated, Reuters reported. "I have never seen a direct relationship between investigations and security assistance," he added. "Yes, the investigations were mentioned, you know, in the conversation of the presidents. But there was no clear connection between these events."
House Intelligence Chairman Adam Schiff (D-Calif.) said that it "is up to Congress, as the people's representatives, to determine what response is appropriate. If the president abused his power and invited foreign interference in our elections, if he sought to condition, coerce, extort, or bribe an ally into conducting investigations to aid his reelection campaign and did so by withholding official acts."
Rep. Devin Nunes (R-Calif.), the ranking House Intelligence member, again described the impeachment hearing as "a circus" and a continuation of the three-year campaign waged by Democrats to paint Trump as a Russian asset. Special Counsel Robert Mueller earlier this year found that Russia did not collude with Trump.
Democratic "partisan extremists" have "hijacked the Intelligence Committee and turned it into the impeachment committee," Nunes said.
Sondland, "you are here to be smeared" by Democrat congress members, he said.