The Washington Wizards are, like many teams, ramping it up as they jockey for position heading into the playoffs. And their x-factor Paul Pierce has been making his impact after a middling month of February.
To make a deep playoff run, especially if they end up as the fifth seed, the Wizards will need the 37-year-old Pierce to step up and make a big impact.
John Wall is the leader of Washington, and Bradley Beal is the guy everyone pushes to take more shots. But Pierce's assassin-like efficiency and uncanny sense of timing–if he's playing well–will make or break the Wizards' hopes for a run to the Eastern Conference finals or the NBA Finals.
Pierce has shifted his role for his new team, which he joined after playing for the Brooklyn Nets last season. Pierce knows what has to be done, when. Pierce utilizes his wily ways to harass opposing small forwards, even taking on LeBron James and Kevin Durant. On offense, he mostly works to get open for three-pointers, fed by Wall. His shots not the prettiest but it goes in a lot.
Pierce is 18th in the league in total catch and shoot points, at 329, despite playing fewer minutes than almost everyone ahead of him on that list. Pierce averages 4.2 catch and shoot attempts a game, 3.8 of them being from behind the line, and converts 1.8 of them (1.6 from behind the line). 
Pierce's Effective Field Goal Percentage, or a field goal percentage adjusted for 3-pointers being more valuable than 2-pointers, ranks fifth among players with 275 or more catch and shoot points this season.
Pierce's role in the offense serves a critical purpose, especially since Washington typically plays with two traditional bigs that cannot shoot 3-pointers. He's a safety valve that can make contested shots almost as well as uncontested shots, and also produces nice drives, post-ups, and passes on occasion. 
Pierce also displays his savvy on fast breaks. In his old age, he's not beating anyone down the floor. But he hustles and gets in a trailer position, and he and Wall have steadily been building chemistry. Wall knows to look for Pierce if defenders swarm to Beal. The point guard drives to the basket in transition and whips at least a pass or two a game to Pierce, open in the corner or at the top of the key. 
Washington struggled in the middle of this season after a strong start, and so did Pierce at times. But he's caught fire at just the right time, giving confidence that he'll be at his best when the playoffs arrive. The biggest difference in his game has been three-point accuracy–he was already making 38.4 percent overall before the All-Star break, but he's increased that percentage to 46.9 in the 12 games since the break, despite taking 1.3 more per game.
The veteran produced a similar jump last season, raising his game in the latter part and in the playoffs. His efforts are a big reason the Nets made it past the Toronto Raptors; his block in game 7 sealed the deal.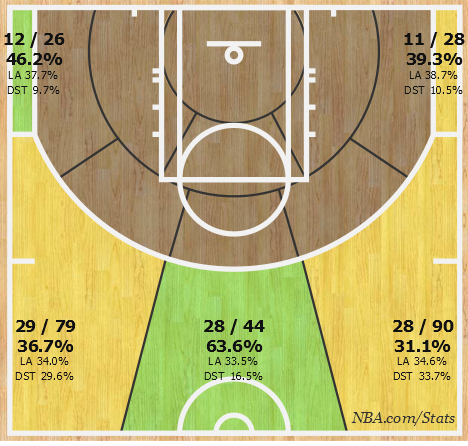 The Wizards need this version of Pierce. His best games this season–25 points and 10 rebounds against the Milwaukee Bucks; 21 points against the Houston Rockets; 11 points, 5 rebounds, and 5 assists against the Los Angeles Clippers–have often resulted in big wins for the team. 
Two pieces of evidence add this point. The Wizards lost back-to-back games to two of the worst teams in the league, the Philadelphia 76ers and Minnesota Timberwolves, in late February. Pierce missed both games due to injury. Since he came back in a win over the Detroit Pistons, the Wizards have gone 7-2. Pierce is having arguably his best month with the team so far in March, hitting over 50 percent of his 3-pointers despite attempting about one more per game than usual.
The latest masterpiece came against the hottest team in the league, the Utah Jazz–Pierce notched 18 points on stellar shooting, including 4-of-5 from 3-point range, and helped seal the game with two free throws and a last-second steal.
The Wizards are one of the big question marks in the East. Will they continue getting back to their early season form and get into the second round, conference finals, or even the NBA finals? Or will they fall in the first round, forcing some tough decisions in the offseason, including from Pierce who has a player option?
A deep playoff run will take best efforts from all of the Wizards, but Pierce is definitely Washington's x-factor.