Washington Week
July 24, 2013 8:04 pm Last Updated: July 24, 2013 8:04 pm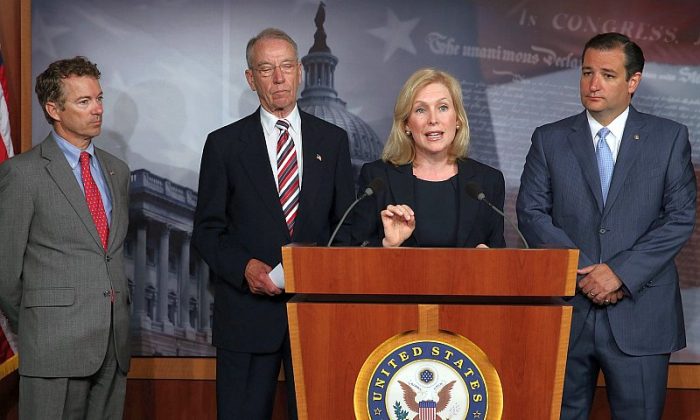 Gillibrand Proceeds with Military Sexual Assault Bill
Sen. Kirsten Gillibrand (D-N.Y.) continued to pursue her bill to curb sexual assault in the military, despite the bill's rejection by the Senate Armed Services Committee. Her measure will not affect military specific crimes, but will remove the decision to prosecute major criminal cases from the chain of command and place it in the hands of military prosecutors. Sen. Rand Paul (R-Ky.) and Sen. Ted Cruz (R-Texas) announced their support for the bill. While military leaders are opposed to the measure, Gillibrand hopes to offer it as an amendment to the defense authorization bill on the Senate floor.
MLK Memorial Quote Removal
Initial work to remove the "Drum Major" inscription from the Martin Luther King Jr. Memorial has commenced in preparation for the arrival of sculptor Lei Yixin July 29. The paraphrased quotation presently reads: "I was a drum major for justice, peace and righteousness," but critics, including poet Maya Angelou, believe the paraphrased inscription distorts the meaning of the full quote. According to the National Park Service, the memorial will remain open during the removal but access to some areas will be restricted.
House Warns Kerry He Could Be 1/16,000th Poorer
Republican lawmakers are threatening to withhold salary representing less than one-sixteen thousandth of multimillionaire Secretary of State John Kerry's net worth. The House Appropriations Committee's measure demands Kerry's agency implement recommendations of a U.S. investigator for Afghan reconstruction. Without progress, he loses a quarter of his salary for three months next year. Kerry's assets are at least $184 million, and his wife is a billionaire.
GOP Leader Introduces DC Budget Autonomy Bill
Rep. Darrell Issa, (R-Calif.), has introduced a new bill that would give the District of Columbia more control over its municipal budget, a move that creates more uncertainty around a referendum approved by district voters that would do many of the same things. It would allow the city to set its own fiscal year and spend local tax dollars on its own.