Washington state is restoring voting rights to people who have served their prison sentence for felony convictions but may still be on parole and owe legal fees, under a law signed by Gov. Jay Inslee on April 7.
When the law takes effect in 2022, it will restore voting rights to more than 20,000 people in the state, according to the Brennan Center for Justice. Currently, people with felonies in the Evergreen State can only regain their right to vote after completing all conditions of their sentence.
"Today, I signed HB 1078, which will restore voting rights for people who have completed their prison sentence. This is a good day for democracy in Washington state," Inslee wrote on Facebook.
State Rep. Tarra Simmons, who introduced the legislation, said at a press conference that this was a personal issue for her.
Simmons, a Democrat, had been convicted of a felony. After her release, she took the bar exam and, in November 2020, became the first former felon elected to the Legislature.
"And there was a time where if a person was convicted of a felony, they lost the right to vote forever. However, over the years, the state legislature has realized the social and racial injustice is inherent in these policies," she said.
Simmons said that prior to her proposal, those who wanted their right to vote restored had to go through a complicated process and weren't allowed to miss a payment on their legal or financial obligations.
"Under House Bill 1078, there will be no more complicated process and the right to vote will be restored if a person is no longer in prison. This makes a lot easier to administer and it also restores some amount of dignity for our neighbors when we welcome them home," she added.
Republican state Rep. Jesse Young, an advocate of the bill, said restoring rights to previous felons should be a nonpartisan issue because everyone deserves a second chance, as he learned watching his mother fight and beat alcoholism.
Fifteen Republican representatives voted in favor of HB 1078. Republicans who opposed the measure argued that completing probation and fulfilling "legal financial obligations" should be met before the restoration of a person's right to vote.
"Beyond voting rights, first comes responsibility," Republican state Rep. Jenny Graham said in the state House in late February. "When somebody makes a decision to harm or kill another individual, there is accountability that is due."
Meanwhile, Inslee praised his state for expanding voting rights with the passing of HB 1078, and criticized states such as Georgia that have enacted laws for stricter voter ID requirements.
"While other states are restricting the right to vote, I'm glad that in Washington, we are expanding access to democracy," Inslee said.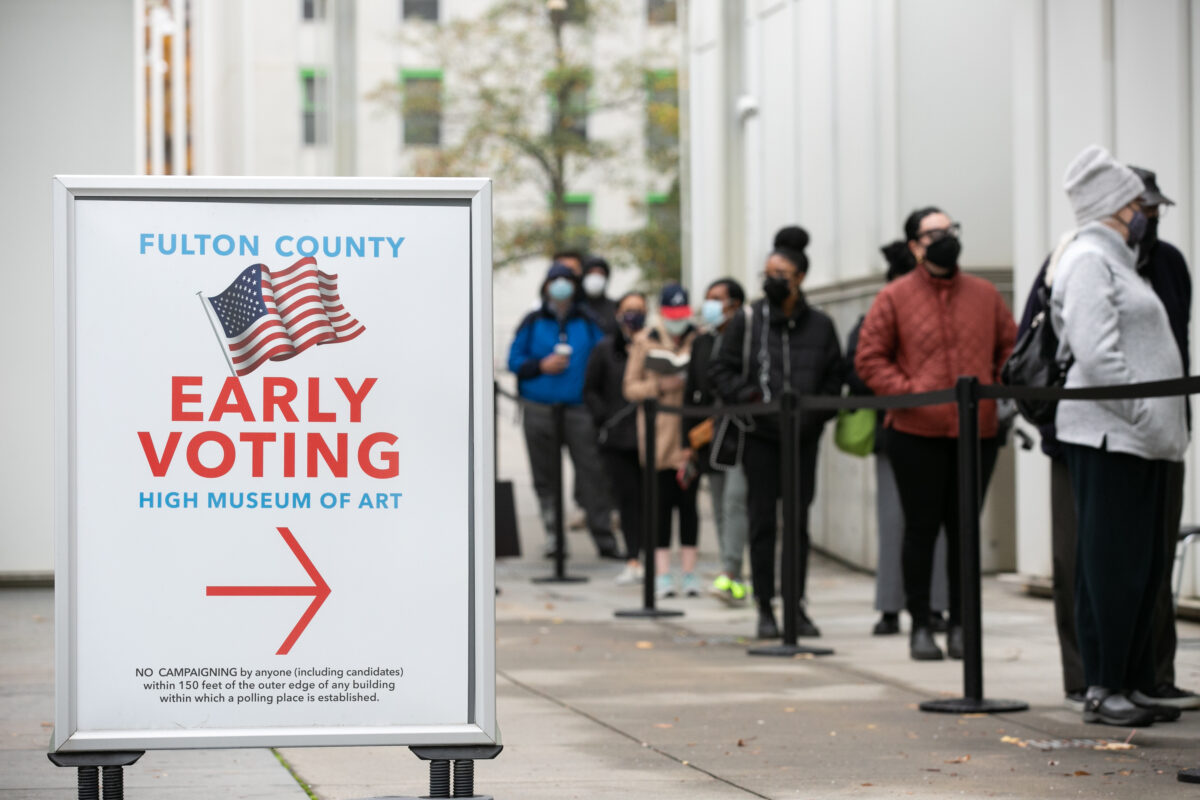 Georgia's 95-page law adds a number of changes to the way Georgians vote, including requiring photo or state-approved identification to vote absentee by mail. The law also mandates that secure drop boxes be placed inside early voting locations, with constant surveillance, and it expands early voting across the state.
The law also shortens the election cycle to four weeks from nine and requires a minimum of one week of early voting before Election Day. People who wish to vote absentee are faced with new requirements as well.
Democrats have been saying laws such as Georgia's are an attempt by Republicans to suppress votes, while Republicans say it is to bring greater integrity to the voting process.
On March 26, President Joe Biden criticized Georgia's law as "a blatant attack on the Constitution and good conscience." He also labeled the law as a "Jim Crow in the 21st century," referring to Jim Crow laws that enforced racial segregation in the south.
Georgia Gov. Brian Kemp dismissed Biden's comments, saying "it is obvious that neither" the president "nor his handlers have actually read" the bill.
"There is nothing 'Jim Crow' about requiring a photo or state-issued ID to vote by absentee ballot—every Georgia voter must already do so when voting in-person," Kemp said. "President Biden, the left, and the national media are determined to destroy the sanctity and security of the ballot box."
Janita Kan contributed to this report.